FAKTOR-FAKTOR YANG MEMPENGARUHI KEPATUHAN PASIEN PADA PENGOBATAN
TELAAH SISTEMATIK
Keywords:
artikel, kepatuhan pasien, telaah sistematik
Abstract
Telaah sistematik ini bertujuan untuk mengkaji penelitian-penelitian yang berkaitan dengan faktor-faktor yang mempengaruhi kepatuhan pasien pada penggunaan obat. Penelusuran artikel dilakukan melalui tiga data base yaitu: MedLine, PubMed dan ProQuest, kurun waktu pencarian dari 1 Januari 2009 sampai 31 Desember 2014. Kata kunci yang digunakan meliputi: social demography, perceptio, quality health care, social capital, drug characterization, concordance, adherence, compliance, persistence, antibiotic, outpatient. Pencarian awal diperoleh sebanyak 21.320 artikel yang sesuai dengan kata kunci. Sebanyak 21.234 artikel dibuang setelah meninjau judul dan abstrak. Tambahan 14 artikel dibuang karena topik tidak menyangkut topik kepatuhan minum obat, dan terakhir 69 dibuang karena tidak tersedia secara full teks, dan satu artikel lagi dibuang karena tidak sesuai topik kepatuhan minum obat, sehingga total artikel untuk telaah sistematik ini menjadi 17 artikel. Banyak faktor yang mempengaruhi kepatuhan pasien pada pengobatan sehingga sulit memprediksi penyebab ketidakpatuhan pada tingkat individu, untuk itu dibutuhkan penelitian-penelitian mengenai pengembangan intervensi untuk meningkatkan kepatuhan pasien pada pengobatan.
References
Brieger, W. R., Okeibunor, J. C., Abiose, A. O., Ndyomugyenyi, R., Wanji, S., Elhassan, E., & Amazigo, U. V. (2012). Characteristics of persons who complied with and failed to comply with annual ivermectin treatment. Tropical Medicine & International Health : TM & IH, 17(7), 920–30. doi:10.1111/j.1365-3156.2012.03007.x

Cené, C. W., Dennison, C. R., Powell Hammond, W., Levine, D., Bone, L. R., & Hill, M. N. (2013). Antihypertensive medication nonadherence in black men: direct and mediating effects of depressive symptoms, psychosocial stressors, and substance use. Journal of Clinical Hypertension (Greenwich, Conn.), 15(3), 201–9. doi:10.1111/jch.12056

Font, R., Espinas, J. A., Gil-Gil, M., Barnadas, A., Ojeda, B., Tusquets, I., … Borras, J. M. (2012). Prescription refill, patient self-report and physician report in assessing adherence to oral endocrine therapy in early breast cancer patients: a retrospective cohort study in Catalonia, Spain. British Journal of Cancer, 107(8), 1249–56. doi:10.1038/bjc.2012.389

Fürthauer, J., Flamm, M., & Sönnichsen, A. (2013). Patient and physician related factors of adherence to evidence based guidelines in diabetes mellitus type 2, cardiovascular disease and prevention: a cross sectional study. BMC Family Practice, 14, 47. doi:10.1186/1471-2296-14-47

Gamble, J., Stevenson, M., & Heaney, L. G. (2011). A study of a multi-level intervention to improve non-adherence in difficult to control asthma. Respiratory Medicine, 105(9), 1308–15. doi:10.1016/j.rmed.2011.03.019

Grigoryan, L., Pavlik, V. N., & Hyman, D. J. (2013). Patterns of nonadherence to antihypertensive therapy in primary care. Journal of Clinical Hypertension (Greenwich, Conn.), 15(2), 107–11. doi:10.1111/jch.12030

Hu, D., Juarez, D. T., Yeboah, M., & Castillo, T. P. (2014). Interventions to increase medication adherence in African-American and Latino populations: a literature review. Hawai'i Journal of Medicine & Public Health : A Journal of Asia Pacific Medicine & Public Health, 73(1), 11–8. Retrieved from http://www.pubmedcentral.nih.gov/articlerender.fcgi?artid=3901167&tool=pmcentrez&rendertype=abstract

Jeffrey, B. A., Hannan, M. T., Quinn, E. K., Zimmerman, S., Barton, B. A., Rubin, C. T., & Kiel, D. P. (2012). Self-reported adherence with the use of a device in a clinical trial as validated by electronic monitors: the VIBES study. BMC Medical Research Methodology, 12, 171. doi:10.1186/1471-2288-12-171

Kardas, P., Lewek, P., & Matyjaszczyk, M. (2013). Determinants of patient adherence: a review of systematic reviews. Frontiers in Pharmacology, 4, 91. doi:10.3389/fphar.2013.00091

Lachaine, J., Yen, L., Beauchemin, C., & Hodgkins, P. (2013). Medication adherence and persistence in the treatment of Canadian ulcerative colitis patients: analyses with the RAMQ database. BMC Gastroenterology, 13, 23. doi:10.1186/1471-230X-13-23

Mindachew, M., Deribew, A., Tessema, F., & Biadgilign, S. (2011). Predictors of adherence to isoniazid preventive therapy among HIV positive adults in Addis Ababa, Ethiopia. BMC Public Health, 11, 916. doi:10.1186/1471-2458-11-916

Peltzer, K., & Pengpid, S. (2013). Socioeconomic factors in adherence to HIV therapy in low- and middle-income countries. Journal of Health, Population, and Nutrition, 31(2), 150–70. Retrieved from http://www.pubmedcentral.nih.gov/articlerender.fcgi?artid=3702336&tool=pmcentrez&rendertype=abstract

Schoenthaler, A., Allegrante, J. P., Chaplin, W., & Ogedegbe, G. (2012). The effect of patient-provider communication on medication adherence in hypertensive black patients: does race concordance matter? Annals of Behavioral Medicine : A Publication of the Society of Behavioral Medicine, 43(3), 372–82. doi:10.1007/s12160-011-9342-5

Traylor, A. H., Schmittdiel, J. A., Uratsu, C. S., Mangione, C. M., & Subramanian, U. (2010). Adherence to cardiovascular disease medications: does patient-provider race/ethnicity and language concordance matter? Journal of General Internal Medicine, 25(11), 1172–7. doi:10.1007/s11606-010-1424-8

Vrijens, B., De Geest, S., Hughes, D. a, Przemyslaw, K., Demonceau, J., Ruppar, T., … Urquhart, J. (2012). A new taxonomy for describing and defining adherence to medications. British Journal of Clinical Pharmacology, 73(5), 691–705. doi:10.1111/j.1365-2125.2012.04167.x

Weiand, D., Thoulass, J., & Smith, W. C. S. (2012). Assessing and improving adherence with multidrug therapy. Leprosy Review, 83(3), 282–91. Retrieved from http://www.ncbi.nlm.nih.gov/pubmed/23356029

Zeber, J. E., Manias, E., Williams, A. F., Hutchins, D., Udezi, W. A., Roberts, C. S., & Peterson, A. M. (2013). A systematic literature review of psychosocial and behavioral factors associated with initial medication adherence: a report of the ISPOR medication adherence & persistence special interest group. Value in Health : The Journal of the International Society for Pharmacoeconomics and Outcomes Research, 16(5), 891–900. doi:10.1016/j.jval.2013.04.014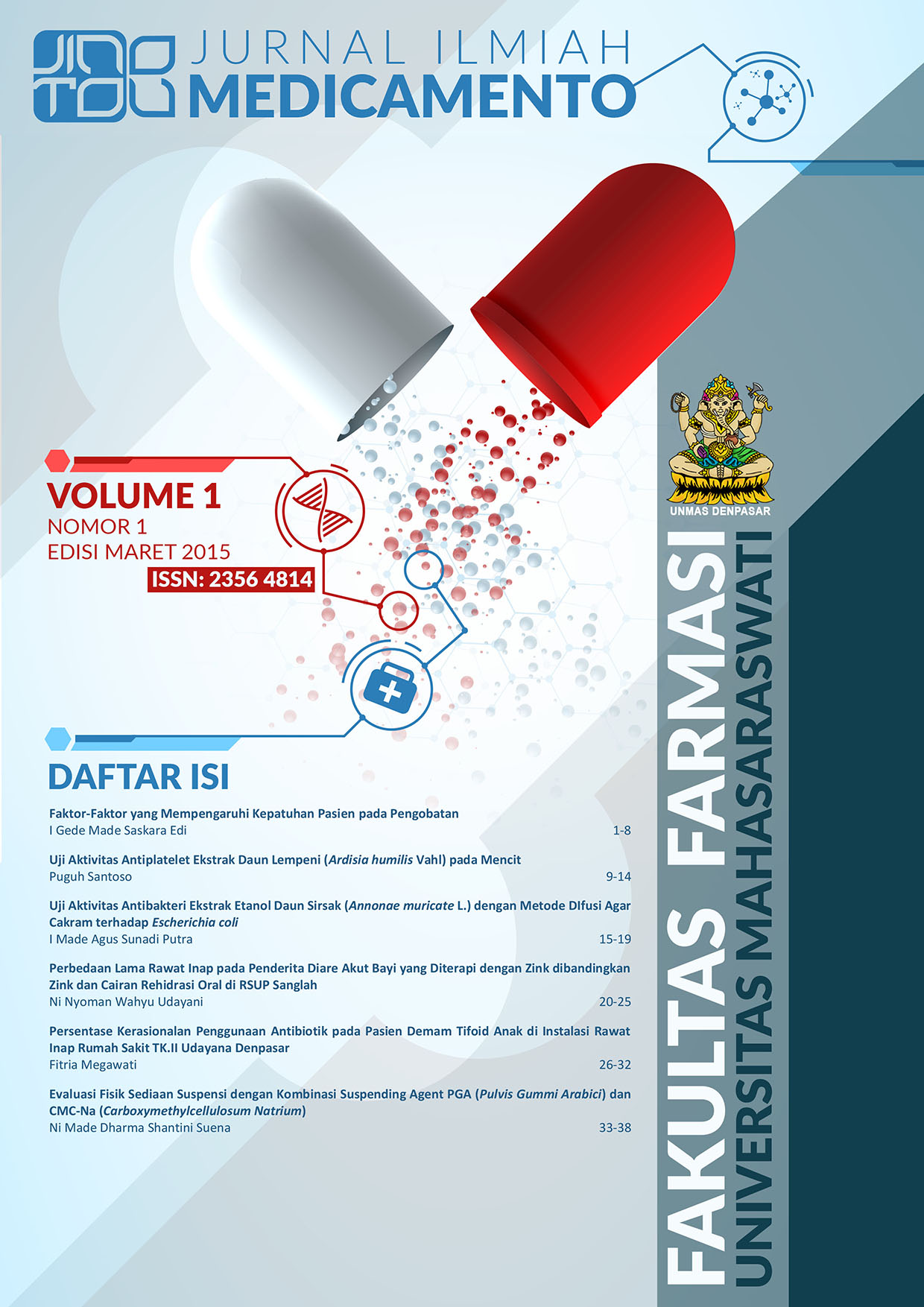 How to Cite
Edi, I. G. M. S. (2020). FAKTOR-FAKTOR YANG MEMPENGARUHI KEPATUHAN PASIEN PADA PENGOBATAN. Jurnal Ilmiah Medicamento, 1(1), 1-8. https://doi.org/10.36733/medicamento.v1i1.719
The copyright holder of the work is Jurnal Ilmiah Medicamento (JINTO).
This work is licensed under a Creative Commons Attribution-NonCommercial-NoDerivatives 4.0 International License.
You are free to:
Share — copy and redistribute the material in any medium or format.
The licensor cannot revoke these freedoms as long as you follow the license terms.
Under the following terms:
Attribution — You must give appropriate credit, provide a link to the license, and indicate if changes were made. You may do so in any reasonable manner, but not in any way that suggests the licensor endorses you or your use.
Non-Commercial — You may not use the material for commercial purposes.
No-Derivatives — If you remix, transform, or build upon the material, you may not distribute the modified material.
No additional restrictions — You may not apply legal terms or technological measures that legally restrict others from doing anything the license permits.
Pemegang Hak Cipta atas karya adalah Jurnal Ilmiah Medicamento (JINTO).
Karya ini dilisensikan di bawah Creative Commons Attribution-NonCommercial-NoDerivatives 4.0 International License.
Anda bebas untuk:
Bagikan — menyalin dan mendistribusikan ulang materi dalam media atau format apa pun.
Pemberi lisensi tidak dapat mencabut kebebasan ini selama Anda mengikuti persyaratan lisensi.
Di bawah ketentuan berikut:
Atribusi — Anda harus memberikan kredit yang sesuai, memberikan tautan ke lisensi, dan menunjukkan jika ada perubahan. Anda dapat melakukannya dengan cara yang wajar, tetapi tidak dengan cara apa pun yang menunjukkan bahwa pemberi lisensi mendukung Anda atau penggunaan Anda.
Non-Komersial — Anda tidak boleh menggunakan materi untuk tujuan komersial.
Tanpa Turunan — Jika Anda me-remix, mengubah, atau membangun materi, Anda tidak boleh mendistribusikan materi yang dimodifikasi.
Tidak ada batasan tambahan — Anda tidak boleh menerapkan persyaratan hukum atau tindakan teknologi yang secara hukum membatasi orang lain untuk melakukan apa pun yang diizinkan oleh lisensi.