PREVALENSI DAN FAKTOR-FAKTOR YANG BERKAITAN DENGAN PELAYANAN SWAMEDIKASI DI APOTEK
Ni Made Oka Dwicandra

Universitas Bali Internasional

Ni Putu Wintariani

Universitas Bali Internasional
Keywords:
faktor risiko, prevalensi, resep, swamedikasi
Abstract
Tingginya kejadian swamedikasi dan banyaknya penggunaan obat yang tidak tepat dalam swamedikasi perlu menjadi perhatian. Penelitian ini bertujuan menentukan prevalensi layanan swamedikasi di Apotek, karakteristik pasien yang melakukan layanan swamedikasi, dan faktor-faktor yang berkaitan dengan layanan swamedikasi di Apotek. Studi dilakukan pada 230 pasien yang melakukan pelayanan kefarmasian (layanan resep maupun swamedikasi di wilayah Denpasar dan Badung. Rancangan penelitian yang digunakan adalah cross sectional. Hasil penelitian menunjukkan sebanyak 60,4% pasien yang berkunjung ke Apotek menggunakan layanan swamedikasi. Pasien yang mendapatkan layanan swamedikasi didominasi oleh pasien perempuan, pasien yang tidak hamil, tidak merokok, pasien yang menikah, tingkat pendidikan SMA, latar belakang pendidikan non kesehatan, tanpa penyakit kronis, dan tidak mengkonsumsi alkohol. Sebanyak lebih dari 65% pasien yang mendapatkan layanan swamedikasi memiliki tingkat keluhan penyakit yang ringan. Rata-rata umur pasien yang mendapatkan layanan swamedikasi adalah 35,06 + 15,35 tahun. Faktor-faktor yang berhubungan dengan kejadian swamedikasi di Apotek wilayah Denpasar dan Badung adalah status merokok, tingkat pendidikan pasien, latar belakang pendidikan pasien, jarak tempat tinggal, tingkat keluhan, dan harga obat (p<0,05).
References
Abay, S. and Amelo, W. (2010) Assessment of self-medication practices among medical, pharmacy, and health science students in Gondar University, Ethiopia.J Young Pharm.2(3).pp. 306–310.

AESGP (2004) The economic and public health value of self-medication.

Afolabi, A. O. (2008) Factors Influencing the Pattern of Self-Medication in an Adult Nigerian Population.Annals of African Medicine.7(3).pp. 120–127. doi: 10.4103/1596-3519.55666.

Arute, J. E., Ud, A., Akonoghrere R and So, A. (2013) Self-Medication Practices Among Adults in Delta State, Nigeria.AJPRD.5(1).pp. 11–16.

Bennadi, D. (2014) Self-medication: A current challenge.Journal of Basic and Clinical Pharmacy.5(1).p. 19. doi: 10.4103/0976-0105.128253.

Berzanskyte, A., Valinteliene, R., Haaijer-Ruskamp, F., Gurevicius, R. and Grigoryan, L. (2006) Self-medication with antibiotics in Lithuania.International Journal of Occupational Medicine and Environmental Health.19(4).pp. 246–253.

Bourne, P. A. (2009) Self-rated health and health conditions of married and unmarried men in Jamaica.N Am J Med Sci.1(7).pp. 345–352.

Choonar, I. and Gill, A. (1996) Nunn A. Drug to deficit servillance in children.Br j din pharmacology.42.pp. 407–410.

Clavinjo, H. (1995) Self-medication during pregnancy.World Health Forum.16.pp. 403–404.

Ebrahimi, H., Atashsokhan, G., Amanpour, F. and Hamidzadeh, A. (2017) Self-medication and its risk factors among women before and during pregnancy.PAMJ.27(183).pp. 1–8. doi: 10.11604/pamj.2017.27.183.10030.

Farmer, J., Iversen, L., Campbell, N., Guest, C., Chesson, R., Deans, G. and MacDonald, J. (2006) Rural/urban differences in accounts of patients' initial decisions to consult primary care.Health & Place.12(2).pp. 210–221.

Figueiras, A., Caamaño, F. and Gestal-Otero, J. (2000) Sociodemographic factors related to self-medication in Spain.European Journal of Epidemiology.16(1).pp. 19–26.

Figueroas, A., Cacmaso, F. and Guestal, O. (2011) Socio demographic factors related to self-medication in Spain.Eru J Epidemical.11(1).pp. 19–26.

Fiscella, K., Goodwin, M. A. and Stange, K. C. (2002) Does patient educational level affect office visits to family physicians?Journal of the National Medical Association.94(3).pp. 157–65.

Galato, D., Galafassi, L. D. M., Alano, G. M. and Trauthman, S. C. (2009) Responsible self-medication: Review of the process of pharmaceutical attendance.Brazilian Journal of Pharmaceutical Sciences.45(4).pp. 625–633. doi: 10.1590/S1984-82502009000400004.

Helal, R. M. and Abou-Elwafa, H. S. (2017) Self-medication in university students from the city of mansoura, Egypt.Journal of Environmental and Public Health.2017.

Hughes, C., McElnay, J. and Fleming, G. (2001) Benefits and risks of self medication.Drug Saf.24.pp. 1027–1037.

Jalilian, F., Seyyed Mohammad Mehdi Hazavehei, Vahidinia, A. A., Jalilian, M. and Moghimbeigi, A. (2013) Prevalence and Related Factors for Choosing Self-Medication among Pharmacies Visitors Based on Health Belief Model in Hamadan Province, West of Iran.JRHS.13(1).pp. 81–85.

James, H., Handu, S., Khalid, A., Khaja, A., Otoom, S. and Sequeira, R. (2006) Evaluation of Knowledge, Attitude and Practise of Self-medication among first year medical student.Med Princ Pract.15.pp. 270–275.

Kasilo, O., Nacho, C. and Mutangadura, E. (1991) Epidemiology of household medications in urban Gweru Harare.Cent Afr med.37.pp. 167–171.

Kementrian Kesehatan Republik Indonesia (2013) Riset Kesehatan Dasar (Riskesdas). Jakarta: Badan Penelitian dan Pengembangan Kesehatan.

Loyola Filho, A., Uchoa, E., Guerra, H., Firmo, J. and Lima Costa, M. (2002) Prevalência e fatores associados à automedicação: resultados do projeto Bambuí.Rev. Saúde Pública.36(1).pp. 55–62.

Lukovic, J. A., Miletic, V., Pekmezovic, T., Trajkovic, G., Ratkovic, N., Aleksic, D. and Grgurevic, A. (2014) Self-medication practices and risk factors for self-medication among medical students in Belgrade, Serbia.PLoS ONE.9(12).pp. 1–14. doi: 10.1371/journal.pone.0114644.

Machado-Alba, J. E., Echeverri-Cataño, L., Londoño-Builes, M. J., Moreno-Gutiérrez, P. A., Machado-Alba, J. E., Echeverri-Cataño, L. F., Ochoa-Orozco, S. A. and Ruiz-Villa, J. O. (2014) Social, cultural and economic factors associated with self-medication.Biomédica ARTÍCULO ORIGINAL Biomédica.3434.pp. 580–8580. doi: 10.7705/biomedica.v34i4.2229.

Martins, A., Miranda, A., Mendes, Z., Soares, M., Ferreira, P. and Nogueira, A. (2002) Self-medication in a Portuguese urban population: a prevalence study.Pharmacoepidemiol Drug Safety.11.pp. 409–414.

Moraes, A. C. F. de, Delaporte, T. R. M., Molena-Fernandes, C. A. and Falcão, M. C. (2011) Factors associated with medicine use and self medication are different in adolescents.Clinics.66(7).pp. 1149–1155.

Murray, M. and Callaran, C. (2003) mproving medication use for older adults: An integrated research agenda.Ann Intern Med.139.pp. 2424–2429.

Mustafa, O. M. and Rohra, D. K. (2017) Patterns and determinants of self-medication among university students in Saudi Arabia.Journal of Pharmaceutical Health Services Research.8(3).pp. 177–185.

Núñez, M., Tresierra-Ayala, M. and Gil-Olivares, F. (2016) Antibiotic self-medication in university students from Trujillo, Peru.Medicina Universitaria.18(73).pp. 205–209. doi: 10.1016/j.rmu.2016.10.003.

Ocan, M., Bwanga, F., Bbosa, G., Bagenda, D., Waako, P., Ogwal-Okeng, J. and Obua, C. (2014) Patterns and Predictors of Self Medication in Northern Uganda.Plos One.9(3).p. e92323.

Oluyemi, J. A., Yinusa, M. ., Abdullateef, R., Sunday, A. and Kehinde, K. (2015) Factors Influencing the Practice of Self-Medication among Bankers in Selected New Generation Banks in Ilorin Nigeria.International Journal of Economics & Management Sciences.4(2).pp. 1–7. doi: 10.4172/2162-6359.1000.
Pagane, J., Ross, S., Yaw, J. and Polsky, D. (2007) Self medication and health insurance coverage in Mexico.Health Policy.75.pp. 170–177.

Pan, H., Cui, B., Zhang, D., Farrar, J., Law, F. and Ba-Thein, W. (2012) Prior knowledge, older age, and higher allowance are risk factors for self-medication with antibiotics among university students in southern China.PloS one.7.p. e41314.

Papakosta, M., Zavras, D. and Niakas, D. (2014) Investigating factors of self-care orientation and selfmedication use in a Greek rural area.Rural and Remote Health.14(2).pp. 1–14.

Petty, D. (2003) Drugs and professional interactions: the modern day pharmacist.Heart.V(89).pp. 31–32.

Saeed, A. (1988) Self medication among primary care patients in Faradak clinic in Riyadh.Soc Sci Med.27.p. 119.

Sawalha, A. (2008) A descriptive study of self-medication practices among Palestinian medical and nonmedical university students.Res Soc Adm Pharm.4(2).pp. 164–172.

Shankar, P. and Partha P, S. N. (2002) Self medication and non-doctor prescription practices in pokhara valley, western Nepal; a questionnaire based study.BMC Fam Pract.p. 317.

Shankar, P., Partha, P. and Shenoy, N. (2002) Self medication and nondoctor prescription practices in Pokhara Valley, Western Nepal: a questionnaire-based study.BMC Family Practice.3.p. 17.

Tenaw, A. and Tsige, G. (2004) Assessment of consumer drug knowledge in Addis Ababa: Across-sectional survey.Ethiopian Journal of health scienc.14(2).pp. 71–80.

Vacas Rodilla, E., Castell Dag, I., Sánchez Giralt, M., Pujol Algué, A., Pallarés Comalada, M. C. and Balagué Corbera, M. (2009) Automedicación y ancianos. La realidad de un botiquín casero.Atencion Primaria.41(5).pp. 1–6. doi: 10.1016/j.aprim.2008.09.018.

Wang, Y., Hunt, K., Nazareth, I., Freemantle, N. and Petersen, I. (2013) Do men consult less than women? An analysis of routinely collected UK general practice data.BMJ Open.3(8).pp. 1–8.

Whittington, Z., Cantrill, J., Hassell, K., Bates, F. and Noyce, P. (2001) Community pharmacy management of minor conditions: the "at the chemist" scheme.Pharm J.266.pp. 425–428.

WHO (2000) WHO guidelines for the regulatory assessment of medicinal products for use in self medication.

Zarkin, G. A., Bray, J. W., Babor, T. F. and Higgins-Biddle, J. C. (2004) Alcohol drinking patterns and health care utilization in a managed care organization.Health Serv.Res.39(3).pp. 553–570.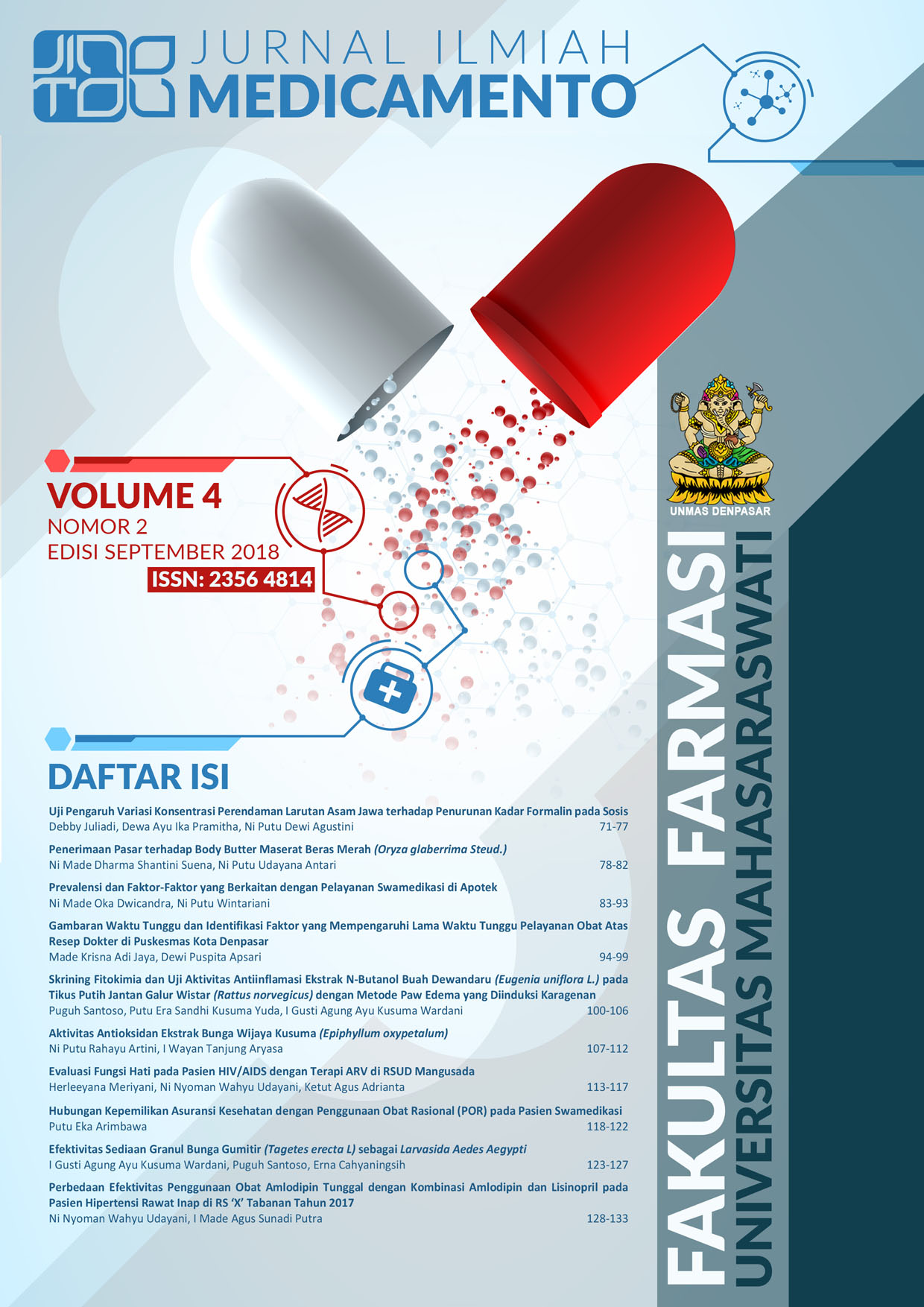 How to Cite
Dwicandra, N. M. O., & Wintariani, N. P. (2018). PREVALENSI DAN FAKTOR-FAKTOR YANG BERKAITAN DENGAN PELAYANAN SWAMEDIKASI DI APOTEK. Jurnal Ilmiah Medicamento, 4(2), 83-93. https://doi.org/10.36733/medicamento.v4i2.856
Copyright (c) 2018 Jurnal Ilmiah Medicamento
This work is licensed under a Creative Commons Attribution-NonCommercial-NoDerivatives 4.0 International License.
Pemegang Hak Cipta atas karya adalah Jurnal Ilmiah Medicamento (JINTO).
Karya ini dilisensikan di bawah Creative Commons Attribution-NonCommercial-NoDerivatives 4.0 International License.
Anda bebas untuk:
Bagikan — menyalin dan mendistribusikan ulang materi dalam media atau format apa pun.
Pemberi lisensi tidak dapat mencabut kebebasan ini selama Anda mengikuti persyaratan lisensi.
Di bawah ketentuan berikut:
Atribusi — Anda harus memberikan kredit yang sesuai, memberikan tautan ke lisensi, dan menunjukkan jika ada perubahan. Anda dapat melakukannya dengan cara yang wajar, tetapi tidak dengan cara apa pun yang menunjukkan bahwa pemberi lisensi mendukung Anda atau penggunaan Anda.
Non-Komersial — Anda tidak boleh menggunakan materi untuk tujuan komersial.
Tanpa Turunan — Jika Anda me-remix, mengubah, atau membangun materi, Anda tidak boleh mendistribusikan materi yang dimodifikasi.
Tidak ada batasan tambahan — Anda tidak boleh menerapkan persyaratan hukum atau tindakan teknologi yang secara hukum membatasi orang lain untuk melakukan apa pun yang diizinkan oleh lisensi.