HUBUNGAN KEPEMILIKAN ASURANSI KESEHATAN DENGAN PENGGUNAAN OBAT RASIONAL (POR) PADA PASIEN SWAMEDIKASI
Keywords:
asuransi kesehatan, POR (Penggunaan Obat Rasional), swamedikasi
Abstract
Kepemilikan asuransi kesehatan (pemerintah atau swasta) merupakan jaminan kesehatan masyarakat agar dapat menjangkau pelayanan kesehatan terutama dalam penggunaan obat rasional (POR) khususnya swamedikasi (pengobatan sendiri). Tujuan Penelitian ini adalah untuk mengetahui hubungan kepemilikan asuransi kesehatan dengan penggunaan obat rasional (POR) pada pasien swamedikasi. Penelitian ini dilakukan dengan desain survey cross sectional. Penelitian menggunakan kuesioner sebagai alat pengumpulan data. Teknik sampling yang digunakan adalah purposive sampling. Jumlah sampel yang digunakan sebanyak 97 pasien yang melakukan pengobatan swamedikasi yang di ambil di 30 apotek di Kota Denpasar. Analisis data menggunakan uji statistika multivariat binary logistik. Hasil penelitian menunjukan bahwa variabel pendidikan (p=0.04; OR=2.37; CI=1.02-5.52) dan kepemilikan asuransi kesehatan (p=0.04; OR=2.77; CI= 1.01-7.53) memiliki hubungan yang signifikan dengan POR pada pasien swamedikasi. Sedangkan variabel lainya seperti jenis kelamin, pernikahan, pekerjaan, dan umur tidak memberikan hubungan yang signifikan (p>0.05). Kepemilikan asuransi oleh pasien akan dapat meningkatkan pemahaman POR dalam swamedikasi terutama memberikan pengetahuan kepada pasien mengenai pengobatan, mengurangi pembiayaan, dan menciptakan kesejahteraan pasien.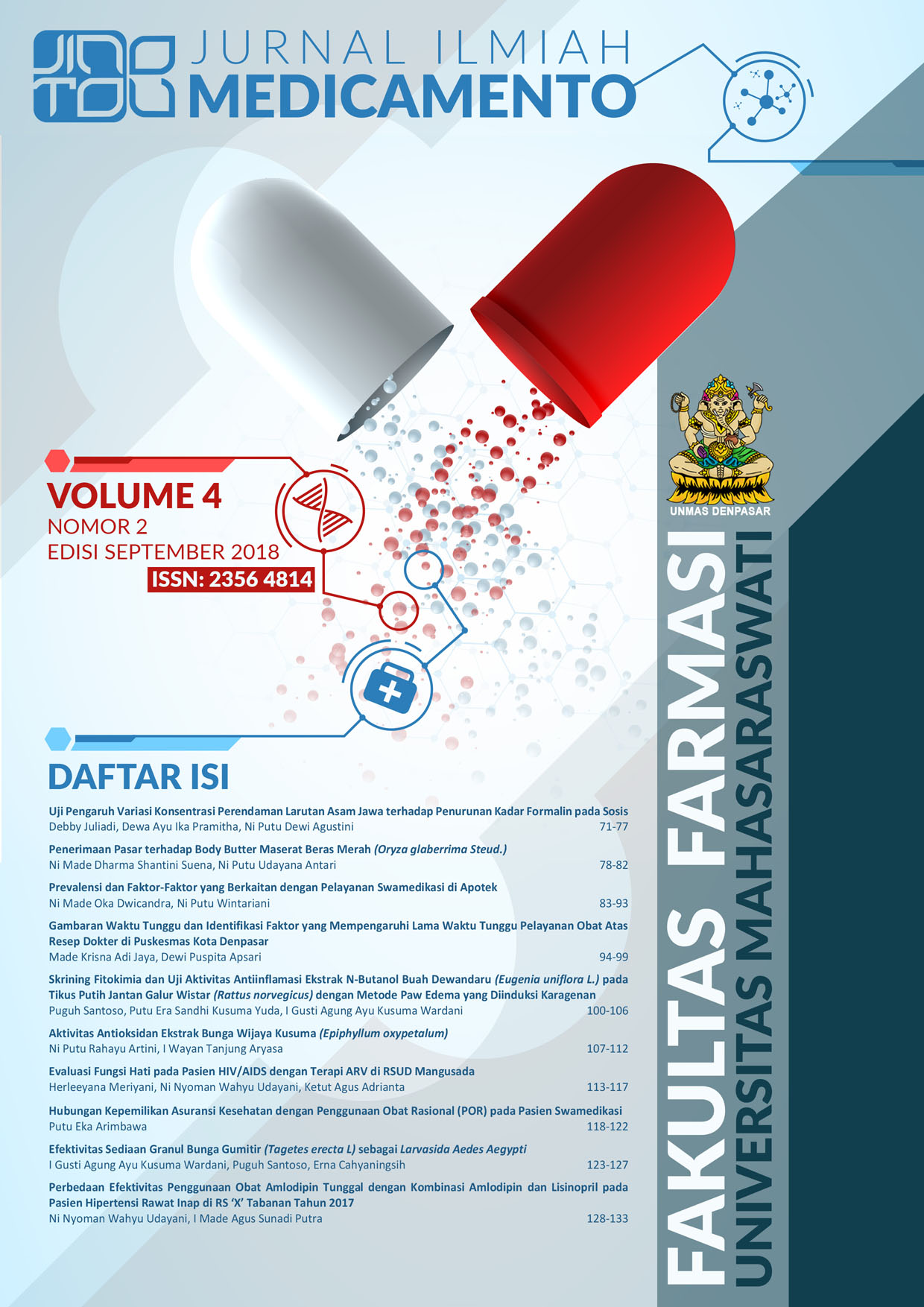 Downloads
How to Cite
Arimbawa, P. E. (2018). HUBUNGAN KEPEMILIKAN ASURANSI KESEHATAN DENGAN PENGGUNAAN OBAT RASIONAL (POR) PADA PASIEN SWAMEDIKASI. Jurnal Ilmiah Medicamento, 4(2). https://doi.org/10.36733/medicamento.v4i2.866
Section
Original Articles
License
The copyright holder for the work is the Jurnal Ilmiah Medicamento.
Jurnal Ilmiah Medicamento is licensed under a Creative Commons Attribution-NonCommercial-NoDerivatives 4.0 International License.
You are free to:
Share — copy and redistribute the material in any medium or format
The licensor cannot revoke these freedoms if you follow the license terms.
Under the following terms:
No additional restrictions — You may not apply legal terms or technological measures that legally restrict others from doing anything the license permits.