Antibacterial Effectiveness Test of 96% Ethanol Extract of Gonda Plant (Sphenoclea zeylanica Gaertn) against Staphylococcus aureus
Keywords:
antibacterial, ethanol 96% extract, Sphenoclea zeylanica Gaertner, Staphylococcus aureus
Abstract
Staphylococcus aureus is a gram-positive bacterium that is the leading cause of infections of the skin, soft tissue, respiratory tract, bones, and joints. The use of traditional medicine is generally considered safer than the use of modern medicine. One of the plants in Indonesia that can be used as medicine is the Gonda plant (Sphenoclea zeylanica Gaertn). The phytochemical compounds in the gonda plant are saponins, flavonoids, phenols, alkaloids, and steroids, which have antibacterial activity. This study aims to determine the content of secondary metabolites and the antibacterial activity of 96% ethanol extract of Gonda plants with different concentration variations against Staphylococcus aureus bacteria. This research is quantitative research with an experimental research design. The results showed that the 96% ethanol extract of the gonda plant contained flavonoids, saponins, tannins, steroids, and alkaloids and showed antibacterial activity. The average inhibition zone concentration of the extract was 5%, 10%, 15%, and 20%, respectively, 9.4 ± 0.19 mm, 12.56 ± 0.18 mm, 14.63 ± 0.30 mm, 17.45 ± 0.36 mm in the medium to strong category. There was a significant difference (P<0.05) between the inhibition zone values of each concentration, where the increase in the inhibition zone value was directly proportional to the increase in the extract concentration. The extract with a concentration of 20% had an immense inhibition zone value of 17.45 mm.
References
Putri R, Hardiansah R, Supriyanta J. Formulasi Dan Evaluasi Fisik Salep Anti Jerawat Ekstrak Etanol 96% Daun Pepaya (Carica papaya L.) Terhadap Bakteri Propionibacterium acnes. J Farmagazine. 2020;7(2):20-29.
Organization WH. Health for the World's Adolescents: A Second Chance in the Second Decade: Summary. World Health Organization; 2014.
Mpila D, Fatimawali F, Wiyono W. Uji aktivitas antibakteri ekstrak etanol daun mayana (Coleus atropurpureus [L] Benth) terhadap Staphylococcus aureus, Escherichia coli dan Pseudomonas aeruginosa secara in-vitro. Pharmacon. 2012;1(1).
Bartlett AH HK. Staphylococcus aureus Pathogenesis. Pediatr Infect Dis J. 2010;29(9):860.
Inayatullah S. Efek Ekstrak Daun Sirih Hijau (Piper betle L.) terhadap Pertumbuhan Bakteri Staphylococcus aureus. Published online 2012.
Tong SYC, Davis JS, Eichenberger E, Holland TL, Fowler Jr VG. Staphylococcus aureus infections: epidemiology, pathophysiology, clinical manifestations, and management. Clin Microbiol Rev. 2015;28(3):603-661.
Mehraj J, Akmatov MK, Strömpl J, et al. Methicillin-sensitive and methicillin-resistant Staphylococcus aureus nasal carriage in a random sample of non-hospitalized adult population in northern Germany. PLoS One. 2014;9(9):e107937.
Mahmudah R, Soleha TU, Ekowati CN. Identifikasi methicillin-resistant staphylococcus aureus (mrsa) pada tenaga medis dan paramedis di ruang intensivecare unit (icu) dan ruang perawatan bedah rumah sakit umum daerah Abdul Moeloek. J Major. 2013;2(4).
Dirga D, Khairunnisa SM, Akhmad AD, Setyawan IA, Pratama A. Evaluasi penggunaan antibiotik pada pasien rawat inap di bangsal Penyakit Dalam RSUD. Dr. H. Abdul Moeloek Provinsi Lampung. J Kefarmasian Indones. Published online 2021:65-75.
Herawati E, Rizkika Nur Amelia T. Otensi Bahan Herbal Ekstrak Etanol Daun Mengkudu Asal Desa Wajak Lor, Tulungagung, Jawa Timur terhadap Bakteri Penyebab Jerawat. J Kesehat. 2018;2(2):173-178.
Sari L. Pemanfaatan obat tradisional dengan pertimbangan manfaat dan keamanannya. Maj ilmu kefarmasian. 2006;3(1):1-7.
Basumatary S, Narzary H. Nutritional value, phytochemicals and antioxidant property of six wild edible plants consumed by the Bodos of North-East India. Med J Nutrition Metab. 2017;10(3):259-271. doi:10.3233/mnm-17168
Cintari L, Antarini AAN, Padmiari IAE, Yoga I. Identifikasi Senyawa Aktif Ekstrak Etanol Sayur Gonda (Sphenoclea zeylanica Gaertner) dan Potensinya Sebagai Antioksidan. J Skala Husada. 2013;10(2):126-135.
Krumsri R, Kato-Noguchi H, Poonpaiboonpipat T. Allelopathic effect of sphenoclea zeylanica gaertn. On rice ('Oryza sativa'L.) germination and seedling growth. Aust J Crop Sci. 2020;14(9):1450-1455.
Burt S. Essential oils: their antibacterial properties and potential applications in foods—a review. Int J Food Microbiol. 2004;94(3):223-253.
Gowri J, Sahayaraj PA, Amaladasan M. Antimicrobial activity of the leaf, flower and stem extracts of Sphenoclea zeylanica. Int J Appl Sci Biotechnol. 2016;4(3):325-329.
Kementrian Kesehatan RI. Farmakope Herbal Indonesia Edisi II Tahun 2017. Direktorat Jenderal Kefarmasian dan Alat Kesehat. Published online 2017:213-218.
Sani RN, Nisa FC, Andriani RD, Maligan JM. Analisis rendemen dan skrining fitokimia ekstrak etanol mikroalga laut Tetraselmis chuii [in press april 2014]. J Pangan dan Agroindustri. 2014;2(2):121-126.
Pinata D, Nawfa R. Uji Kualitatif Etanol yang Diproduksi Secara Enzimatis Menggunakan Z. Mobilis Permeabel. Pros Kim Fmipa. Published online 2011:1-6.
Depkes RI. Materia Medika. Jilid V Jakarta Direktorat Jenderal Pengawas Obat dan Makanan. Published online 1989.
Harborne JB. Metode Fitokimia Edisi ke-2. Padmawinata K, penerjemah) ITB, Bandung. Published online 1987.
Yunita E, Khodijah Z. Pengaruh Konsentrasi Pelarut Etanol saat Maserasi terhadap Kadar Kuersetin Ekstrak Daun Asam Jawa (Tamarindus indica L.) secara Spektrofotometri UV-Vis. Pharm J Farm Indones (Pharmaceutical J Indones. 2020;17(2):273-280.
Nadia S, Riyanti R, Nirmala R. Uji Aktivitas Antioksidan Kombinasi Dari Kulit Buah Naga (Hylocereus costaricensis) dan Bunga rosela (Hibiscus sabdariffa) dengan Metode DPPH (1, 1 Diphenyl-2-picrylhidrazyl) Beserta Bentuk Tunggalnya. J Kesehat Kusuma Husada. Published online 2016.
Kurniawati E. Daya antibakteri ekstrak etanol tunas bambu apus terhadap bakteri Escherichia coli dan Staphylococcus aureus secara in vitro. J Wiyata Penelit Sains dan Kesehat. 2017;2(2):193-199.
Prayoga E. Perbandingan Efek Ekstrak Daun sirih hijau (Piper betle L.) dengan metode difusi disk dan sumuran terhadap pertumbuhan bakteri Staphylococcus aureus. Published online 2013.
Cappuccino JG, Sherman N. Microbiology: a laboratory manual (Vol. 9). Published online 2008.
Davis WW, Stout TR. Disc plate method of microbiological antibiotic assay. II. Novel procedure offering improved accuracy. Appl Microbiol. 1971;22(4):666-670. doi:10.1128/aem.22.4.666-670.1971
Wangkanusa D. Uji aktivitas antibakteri dari ekstrak daun prasman (Eupatorium triplinerve Vahl.) terhadap pertumbuhan bakteri Staphylococcus aureus dan Pseudomonas aeruginosa. PHARMACON. 2016;5(4).
Pratiwi MN. Aktivitas antibakteri fraksi buah jambu wer (Prunus persica (L.) Batsch) terhadap pertumbuhan bakteri Staphylococcu aureus. Published online 2019.
Laily AN. Characteristics of Carica pubescens of Dieng Plateau, Central Java according to its morphology, antioxidant, and protein pattern. Bioteknologi. 2012;9(1):7-13.
Agustina W, Nurhamidah, Handayani D. Skrining Fitokimia dan Aktivitas Antioksidan Beberapa Fraksi dari Kulit Bantang Jarak (Ricinus communis L.). J Pendidik dan Ilmu Kim. 2017;1(2):117-122.
Sinaga RP. Uji Aktivitas Antibakteri Ekstrak Etanol Batang Bayam Duri (Amaranthus spinosus L.) Terhadap Staphylococcus aureus dan Escherichia coli Secara In Vitro. Published online 2019.
Limbong EP. Uji Aktivitas Antibakteri Ekstrak Etanol Daun Bayam Merah (Athernanthera Strigosa Hask.) Terhadap Bakteri Staphylococcus Aureus dan Escherichia Coli. Published online 2017.
Rahman FA, Haniastuti T, Utami TW. Skrining fitokimia dan aktivitas antibakteri ekstrak etanol daun sirsak (Annona muricata L.) pada Streptococcus mutans ATCC 35668. Maj Kedokt Gigi Indones. 2017;3(1):1-7.
Sudira IW, Merdana I, Wibawa I. Uji daya hambat ekstrak daun kedondong (Lannea Grandis Engl) terhadap pertumbuhan bakteri Erwinia carotovora. Bul Vet Udayana. 2011;3(1):45-50.
Amalia A, Sari I, Nursanty R. Aktivitas antibakteri ekstrak etil asetat daun sembung (Blumea balsamifera (L.) DC.) terhadap pertumbuhan bakteri Methicillin Resistant Staphylococcus aureus (MRSA). In: Prosiding Seminar Nasional Biotik. Vol 5. ; 2018.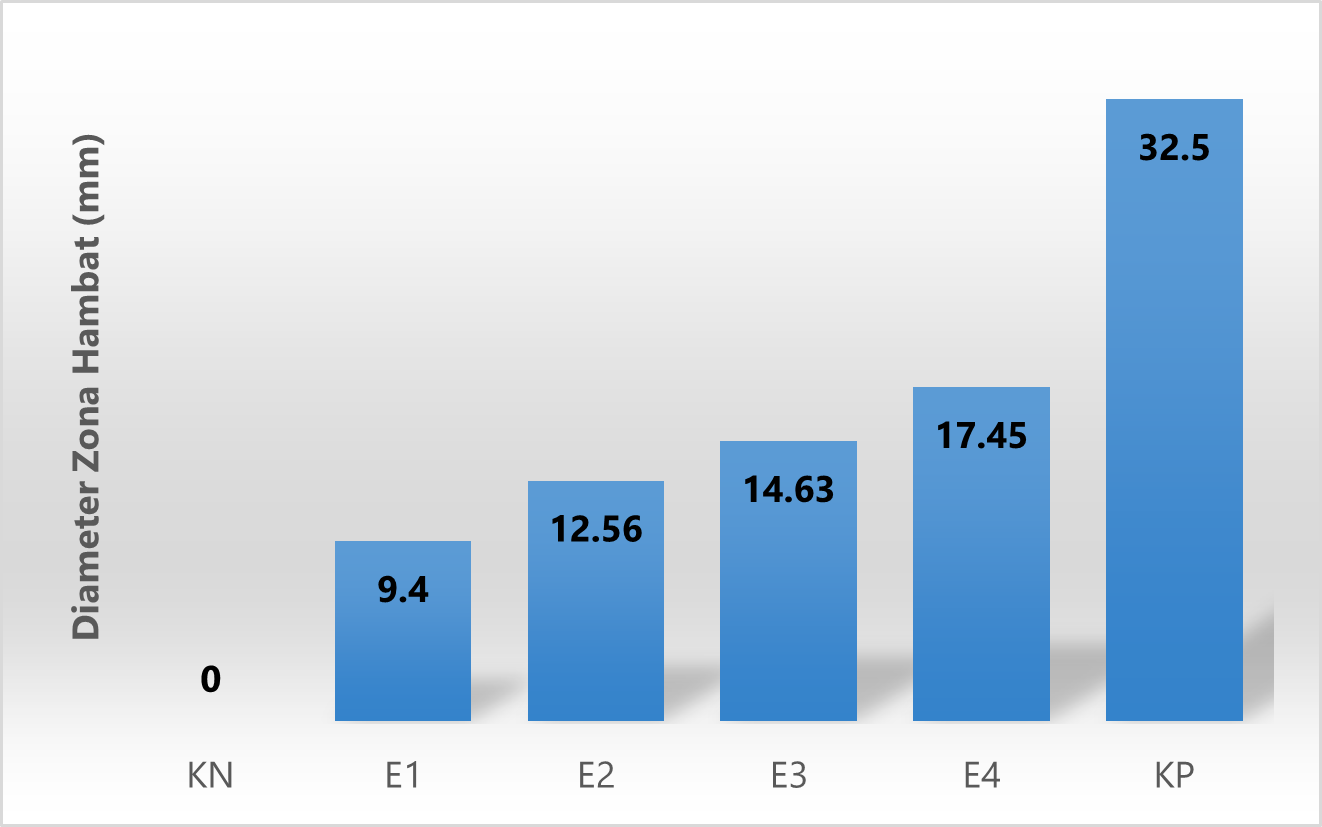 Downloads
How to Cite
Sukadiasa, P. I. K., Wintariani, N. P., & Putra, I. G. N. A. W. W. (2023). Antibacterial Effectiveness Test of 96% Ethanol Extract of Gonda Plant (Sphenoclea zeylanica Gaertn) against Staphylococcus aureus. Jurnal Ilmiah Medicamento, 9(1), 61–69. https://doi.org/10.36733/medicamento.v9i1.4644
Section
Original Articles
License
Copyright (c) 2023 Jurnal Ilmiah Medicamento
This work is licensed under a Creative Commons Attribution-NonCommercial-NoDerivatives 4.0 International License.
The copyright holder for the work is the Jurnal Ilmiah Medicamento.
Jurnal Ilmiah Medicamento is licensed under a Creative Commons Attribution-NonCommercial-NoDerivatives 4.0 International License.
You are free to:
Share — copy and redistribute the material in any medium or format
The licensor cannot revoke these freedoms if you follow the license terms.
Under the following terms:
No additional restrictions — You may not apply legal terms or technological measures that legally restrict others from doing anything the license permits.