Optimization of Green Betel Leaf (Piper betle L.) Extraction Process Through Empirical-based Antioxidant Activity
Keywords:
antioxidant, betel leaves, extraction, optimization
Abstract
Green betel (Piper betle L.) exhibits various pharmacological activities, including antiallergic, analgesic, antibacterial, antiproliferative, and antioxidant, and contains various chemical compounds such as chavibetol, chavibetol acetate, carvacrol, caryophyllene, allyl pyrocatechol diacetate, campene, chavibetol methyl ether. This research was conducted to optimize green betel leaf processing techniques which were applied empirically by the community, through testing the antioxidant activity using the Ferric Reducing Antioxidant Power (FRAP) method. Processing techniques that are optimized are infusion, fresh brewed, and soaked boiled. The antioxidant activity of fresh brewed green betel leaf extract has an antioxidant capacity of 18.126 mg Trolox/g extract. For green betel leaf extract boiled and soaked, it is 21.848 mg Trolox/g extract, while for infusion green betel leaf extract is 22.809 mg Trolox/gram extract. The highest antioxidant activity was given by green betel leaf infusion extract, 22.809 mg Trolox/gram extract.
References
Parfati N, Windono T. Sirih Merah (Piper crocatum Ruiz & Pav.) Kajian Pustaka Aspek Botani, Kandungan Kimia, dan Aktivitas Farmakologi. MPI (Media Pharm Indones. 2017;1(2):106-115. doi:10.24123/mpi.v1i2.193
Astuti IP, Munawaroh E. Karakteristik Morfologi Daun Sirih Merah: Piper crocatum Ruitz & Pav dan Piper porphyrophyllum N.E.Br. Koleksi Kebun Raya Bogor. Berk Penelit Hayati. 2011;7A(Edisi Khusus):83-85.
Silalahi M. Manfaat dan Bioaktivitas Piper betle L. Cendekia J Pharm. 2019;3(2):137-146. doi:10.31596/cjp.v3i2.58
Boangmanalu RK, Zuhrotun A. Review Artikel: Potensi Khasiat Obat Tanaman Marga Piper: Piper nigrum L., Piper retrofractum Vahl., Piper betle Linn., Piper cubeba L., dan Piper crocatum Ruiz & Pav. Farmaka. 2018;16(3):204-212. doi:10.24198/jf.v16i3.17699
Nayaka NMDMW, Sasadara MMV, Sanjaya DA, et al. Piper betle (L): Recent Review of Antibacterial and Antifungal Properties, Safety Profiles, and Commercial Applications. Molecules. 2021;26(8):2321. doi:10.3390/molecules26082321
Hermiati, Naomi Yemima Manalu, Mersi Suriani Sinaga. Ekstrak Daun Sirih Hijau Dan Merah Sebagai Antioksidan Pada Minyak Kelapa. J Tek Kim USU. 2013;2(1):37-43. doi:10.32734/jtk.v2i1.1425
Sari WN, Saebani S, Dhanardhono T. Pengaruh Pemberian Butylated Hydroxytoluene (2,6-Di-Tert-Butyl-4-Methylphenol) Per Oral Dosis Bertingkat terhadap Gambaran Histopatologis Hepar Tikus Wistar. J Kedokt Diponerogo. 2018;7(2):1344-1357. doi:10.14710/dmj.v7i2.21282
Baran A, Yildirim S, Ghosigharehaghaji A, Bolat İ, Sulukan E, Ceyhun S. An approach to evaluating the potential teratogenic and neurotoxic mechanism of BHA based on apoptosis induced by oxidative stress in zebrafish embryo (Danio rerio). Hum Exp Toxicol. 2021;40(3):425-438. doi:10.1177/0960327120952140
Kopong MVU, Warditiani NK. Review artikel: Potensi Daun Sirih Hijau (Piper betle L.) dan Daun Sirih Merah (Piper crocatum) sebagai Antioksidan. J Ilm Multi Disiplin Indones. 2022;2(3 (Spesial Issue)):710-729. doi:10.32670/ht.v2iSpesial%20Issues%203.1504
Maryam S, Baits M, Nadia A. Pengukuran Aktivitas Antioksidan Ekstrak Etanol Daun Kelor (Moringa oleifera Lam.) Menggunakan Metode FRAP (Ferric Reducing Antioxidant Power). J Fitofarmaka Indones. 2016;2(2):115-118. doi:10.33096/jffi.v2i2.181
Setiawan F, Yunita O, Kurniawan A. Uji aktivitas antioksidan ekstrak etanol kayu secang dan FRAP. Media Pharm Indones. 2018;2(2):82-89.
Istiningrum RB. Analysis of Total Antioxidant Capacity on Ingredients of Lotek Menu by Ferric Reducing Antioxidant Power Assay. Eksakta. 2016;13(1-2):40-48. doi:10.20885/eksakta.vol13.iss1-2.art5
Raharjo D, Haryoto. Antioxidant Activity of Mangrove Sonneratia caseolaris L using the FRAP Method. Int Summit Sci Technol Humanit. Published online 2019:623-629.
Syarif S, Kosman R, Inayah N. Uji Aktivitas Antioksidan Terong Belanda (Solanum betaceum Cav.) dengan Metode FRAP. J Ilm As-Syifaa. 2015;7(1):26-33. doi:10.33096/jifa.v7i1.18
Tristanto NA, Budianta TDW, Utomo AR. Pengaruh Suhu Penyimpanan dan Proporsi Teh Hijau: Bubuk Daun Kering Stevia (Stevia rebaudiana) terhadap Aktivitas Antioksidan Minuman Teh Hijau Stevia dalam Kemasan Botol Plastik. J Teknol Pangan dan Gizi. 2017;16(1):21-28. doi:10.33508/jtpg.v16i1.1387
Maesaroh K, Kurnia D, Al Anshori J. Perbandingan Metode Uji Aktivitas Antioksidan DPPH, FRAP dan FIC Terhadap Asam Askorbat, Asam Galat dan Kuersetin. Chim Nat Acta. 2018;6(2):93. doi:10.24198/cna.v6.n2.19049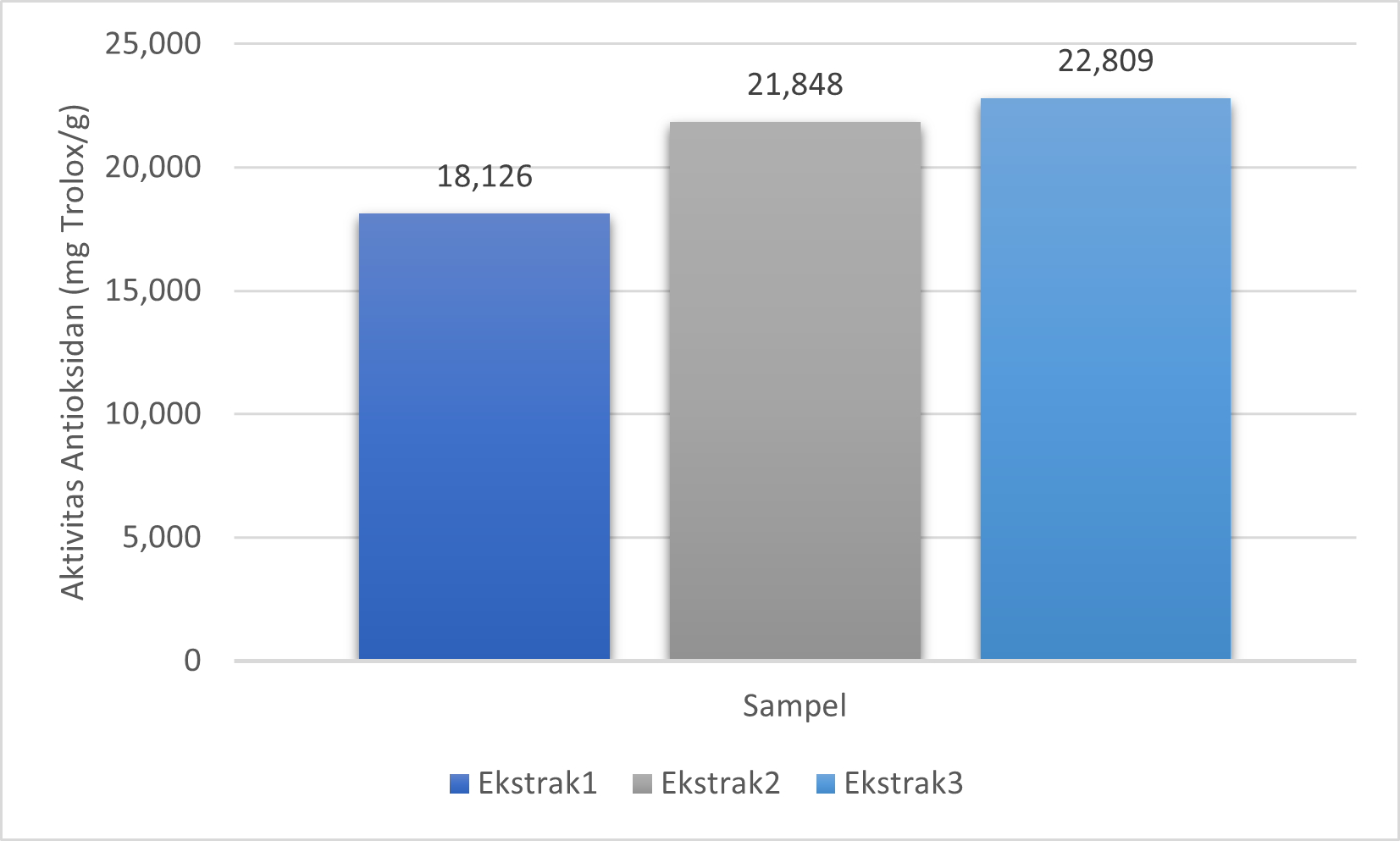 Downloads
How to Cite
Suarantika, F., Patricia, V. M., & Rahma, H. (2023). Optimization of Green Betel Leaf (Piper betle L.) Extraction Process Through Empirical-based Antioxidant Activity. Jurnal Ilmiah Medicamento, 9(1), 16–21. https://doi.org/10.36733/medicamento.v9i1.5253
Section
Original Articles
License
Copyright (c) 2023 Jurnal Ilmiah Medicamento
This work is licensed under a Creative Commons Attribution-NonCommercial-NoDerivatives 4.0 International License.
The copyright holder for the work is the Jurnal Ilmiah Medicamento.
Jurnal Ilmiah Medicamento is licensed under a Creative Commons Attribution-NonCommercial-NoDerivatives 4.0 International License.
You are free to:
Share — copy and redistribute the material in any medium or format
The licensor cannot revoke these freedoms if you follow the license terms.
Under the following terms:
No additional restrictions — You may not apply legal terms or technological measures that legally restrict others from doing anything the license permits.