Formulasi Spray Gel Minyak Atsiri Kayu Cendana (Santalum album L.)
sebagai Salah Satu Kandidat Sediaan Anti Inflamasi
Keywords:
carbopol, sandalwood essential oil, spray gel
Abstract
Secara empiris Cendana (Santalum album L.) digunakan sebagai antidepresan, antiinflamasi, antijamur, astringent, obat penenang, insektisida, dan antiseptik. Penggunaan tanaman obat dapat ditingkatkan kenyamanannya dengan memformulasikan dalam bentuk sediaan obat. Salah satu sediaan topikal yang cocok untuk inflamasi adalah spray gel. Sediaan spray ini lebih praktis dalam penggunaannya dan juga lebih aman sebab tingkat kontaminasi mikroorganisme lebih rendah karena penggunaannya yang disemprotkan tanpa kontak langsung dengan tangan seperti halnya sediaan topikal lainnya. Konsistensi gel yang memiliki daya lekat cukup tinggi membuat waktu kontak obat yang relatif lebih lama dibanding sediaan lainnya. Pada pembuatan spray gel dengan kandungan minyak atsiri diperlukan adanya emulsifying agent. Carbopol sebagai emulsifying agent yang dipilih dalam formulasi spray gel minyak atsiri cendana, akan dapat menstabilkan zat aktif berbentuk minyak dalam basis berair dengan cara menurunkan tegangan permukaan fase air dan fase minyak. Penelitian ini merupakan penelitian laboratorium murni dengan observasional eksperimental. Teknik pengumpulan data dilakukan dengan skala pengamatan dan pengukuran. Pengamatan diakukan terhadap organoleptik dan homogenitas sediaan, serta pengukuran dilakukan terhadap pH, pola penyemprotan, daya sebar lekat dan stabilitas mekanik. Dilakukan analisis statistik terhadap data hasil uji bobot pola penyemprotan dan dilanjutkan dengan uji independent t-test. Berdasarkan hasil penelitian dapat disimpulkan bahwa formulasi spray gel minyak atsiri kayu cendana (Santalum album L.) dengan variasi carbopol 0,1% (F1) memiliki pola penyemprotan yang baik, dan dengan carbopol 0,3% (F2) memiliki daya lekat yang baik.
References
Akhsani, L. W. (2017) Formulasi dan Uji Stabilitas Fisik-Kimia Sediaan Spray Gel Etil P-Metoksisinamat. UIN Syarif Hidayatullah Jakarta.
Arsana, I. N. (2019) 'Keragaman Tanaman Obat dalam Lontar "Taru Pramana" dan Pemanfaatannya untuk Pengobatan Tradisional Bali', Jurnal Kajian Bali (Journal of Bali Studies), 9(1), p. 241. doi: 10.24843/JKB.2019.v09.i01.p12.
Aryani, R. (2015) 'Formulasi dan Uji Stabilitas Krim Kombinasi Alfa Tokoferol Asetat dan Etil Vitamin C sebagai Pelembab Kulit', Jurnal Kesehatan Bakti Tunas Husada: Jurnal Ilmu-ilmu Keperawatan, Analis Kesehatan dan Farmasi, 14(1), p. 38. doi: 10.36465/jkbth.v14i1.110.
Burdock, G. A. and Carabin, I. G. (2008) 'Safety assessment of sandalwood oil (Santalum album L.)', Food and Chemical Toxicology, 46(2), pp. 421–432. doi: 10.1016/j.fct.2007.09.092.
Mantyas, E. (2013) Pengaruh tween 80 sebagai surfaktan dan peg 6000 sebagai basis terhadap sifat fisis dan stabilitas krim ekstrak etil asetat tomat dengan desain faktorial. Universitas Sanata Dharma.
Martono, C. and Suharyani, I. (2018) 'Formulasi Sediaan Sediaan Spray Gel Antiseptik dari Ekstrak Etanol Lidah Buaya (Aloe vera)', Jurnal FARMAKU (Farmasi Muhammadiyah Kuningan), 3(1), pp. 29–37. Available at: http://ojs.stikes-muhammadiyahku.ac.id/index.php/jurnalfarmaku/article/view/55.
Mirza, M., Amanah, S. and Sadono, D. (2017) 'Tingkat Kedinamisan Kelompok Wanita Tani dalam Mendukung Keberlanjutan Usaha Tanaman Obat Keluarga di Kabupaten Bogor, Jawa Barat', Jurnal Penyuluhan, 13(2), pp. 181–193. doi: https://doi.org/10.22500/13201716090.
Mujizah, M. (2016) 'Naskah Usada sebagai Kearifan Lokal Masyarakat Bali', DIALEKTIKA: Jurnal bahasa, sastra, dan pendidikan bahasa dan sastra Indonesia, 3(2), pp. 191–200. doi: http://dx.doi.org/10.15408/dialektika.v3i2.5189.
Nisak, K. (2016) Uji Stabilitas Fisik dan Kimia Sediaan Gel Semprot Ekstrak Etanol Tumbuhan Paku (Nephrolepis falcata (Cav.) C. Chr.). UIN Syarif Hidayatullah Jakarta. Available at: https://repository.uinjkt.ac.id/dspace/bitstream/123456789/34317/1/KHOIRUN NISAK-FKIK.pdf.
Pulasari, J. M. (2009) Nawa Usadha Bali. Indonesia: Paramita.
Rowe, R. C., Sheskey, P. J. and Quinn, M. E. (2009) Handbook of Pharmaceutical Excipients. 6th edn. London; Washington DC.: Pharmaceutical Press and American Pharmacist Association.
Sihombing, L. N. B. (2015) Formulasi dan Evaluasi Sediaan Spray Gel Lidah Buaya (Aloe vera L.) dengan Variasi Konsentrasi Carbomer dan HPMC. Bandung.
Simões, A., Veiga, F. and Vitorino, C. (2019) 'Developing Cream Formulations: Renewed Interest in an Old Problem', Journal of Pharmaceutical Sciences, 108(10), pp. 3240–3251. doi: 10.1016/j.xphs.2019.06.006.
Sinko, P. J. (2007) 'Chemical Kinetics and Stability', in Pharmaceutical Dosage Forms and Drug Delivery. CRC Press, pp. 91–106. doi: 10.1201/b13576-13.
So, P.-L., Tang, J. Y. and Epstein, E. H. (2010) 'Novel investigational drugs for basal cell carcinoma', Expert Opinion on Investigational Drugs, 19(9), pp. 1099–1112. doi: 10.1517/13543784.2010.504714.
Suena, N. M. D. S., Antari, N. P. U. and Cahyaningsih, E. (2017) 'Physical Quality Evaluation Of Body Butter Formulation From Etanol Extract Of Mangosteen (Garcinia Mangostana L.) Rind', Jurnal Ilmu Kefarmasian Indonesia, 15(1), pp. 63–69. Available at: http://jifi.farmasi.univpancasila.ac.id/index.php/jifi/article/view/455.
Suyudi, S. D. (2014) Formulasi Gel Semprot Menggunakan Kombinasi Karbopol 940 dan Hidroksipropil Metilselulosa (HPMC) sebagai Pembentuk Gel. UIN Syarif Hidayatullah Jakarta.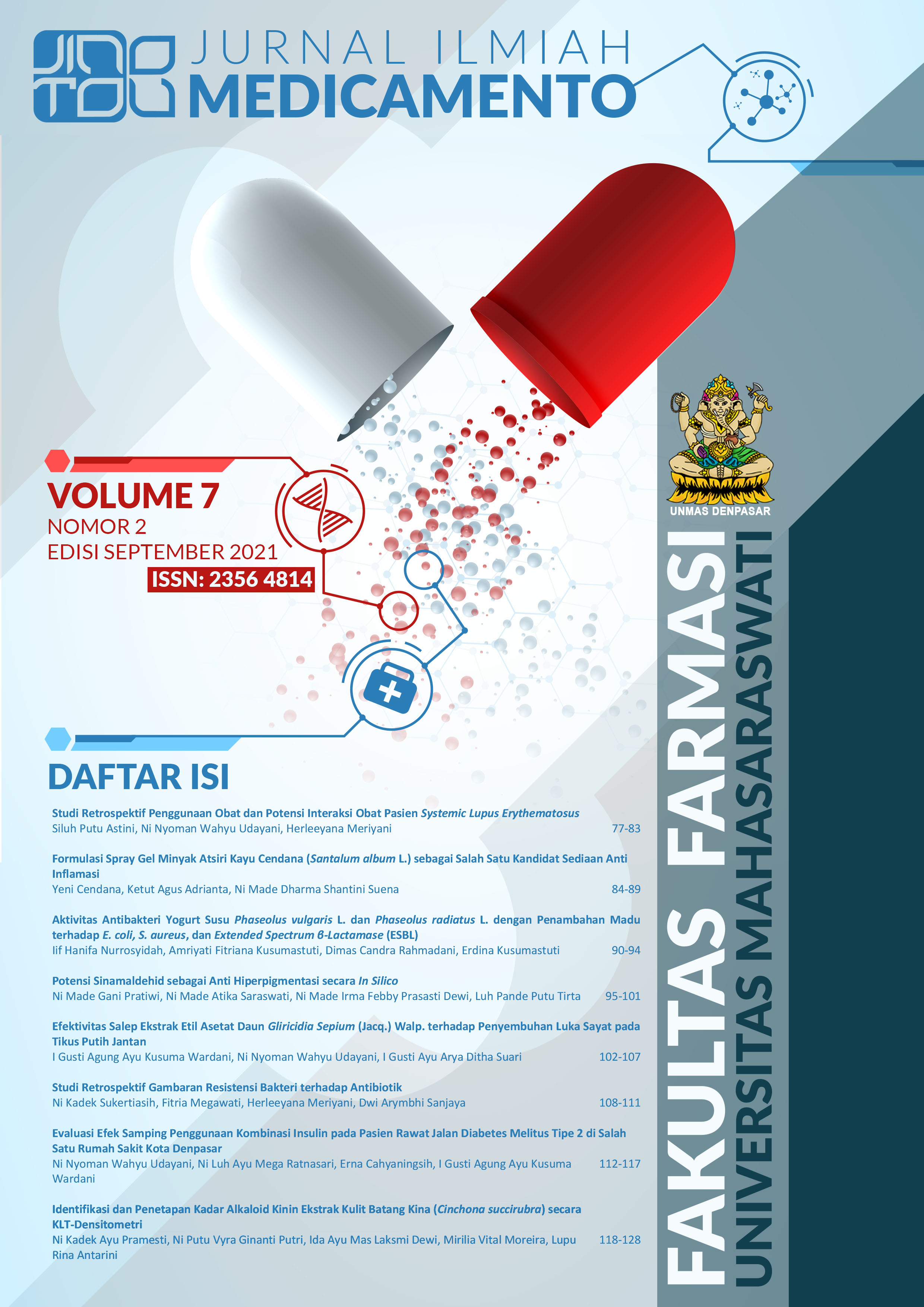 Downloads
How to Cite
Cendana, Y., Adrianta, K. A. ., & Suena, N. M. D. S. (2021). Formulasi Spray Gel Minyak Atsiri Kayu Cendana (Santalum album L.): sebagai Salah Satu Kandidat Sediaan Anti Inflamasi. Jurnal Ilmiah Medicamento, 7(2), 84–89. https://doi.org/10.36733/medicamento.v7i2.2272
Section
Original Articles
License
Copyright (c) 2021 Jurnal Ilmiah Medicamento
This work is licensed under a Creative Commons Attribution-NonCommercial-NoDerivatives 4.0 International License.
The copyright holder for the work is the Jurnal Ilmiah Medicamento.
Jurnal Ilmiah Medicamento is licensed under a Creative Commons Attribution-NonCommercial-NoDerivatives 4.0 International License.
You are free to:
Share — copy and redistribute the material in any medium or format
The licensor cannot revoke these freedoms if you follow the license terms.
Under the following terms:
No additional restrictions — You may not apply legal terms or technological measures that legally restrict others from doing anything the license permits.