EVALUASI FISIK SEDIAAN SUSPENSI DENGAN KOMBINASI SUSPENDING AGENT PGA (Pulvis Gummi Arabici) DAN CMC-Na (Carboxymethylcellulosum Natrium)
Ni Made Dharma Shantini Suena

Fakultas Farmasi Universitas Mahasaraswati Denpasar
Keywords:
CMC-Na, PGA, Suspending agent, suspensi
Abstract
Suspensi dibuat karena beberapa zat aktif obat mempunyai kelarutan yang praktis tidak larut dalam air, tetapi diperlukan dalam bentuk cair. Konsentrasi PGA sebagai suspending agent adalah 5-10%, namun PGA pada konsentrasi kurang dari 10% memiliki viskositas yang rendah sehingga dapat mempercepat terjadinya sedimentasi. Oleh karena itu PGA dikombinasikan dengan CMC-Na yang merupakan suspending agent yang dapat meningkatkan viskositas serta dapat meningkatkan kestabilan suspensi. Sifat fisik yang diinginkan adalah suspensi memiliki partikel yang tidak cepat mengendap dan mudah diredispersi. Tujuan penelitian adalah untuk mengetahui karakteristik suspensi dengan kombinasi suspending agent PGA dan CMC-Na. Penelitian ini menggunakan metode eksperimental dengan pengolahan data secara deskriptif. Pada penelitian dibuat empat formula yaitu formula I, II, III, dan IV untuk diamati tampilan, warna, bau dan rasa, dihitung kecepatan dan volume sedimentasi yang terbentuk, serta diuji redispersibilitas dari masing-masing formula. Kombinasi PGA dan CMC-Na berturut-turut dari formula I, II, III, dan IV adalah 5% dan 0,25%; 3,75% dan 0,5%; 2,5% dan 0,75%; 1,25% dan 1%. Hasil pengujian kecepatan sedimentasi formula I, II, III, dan IV berturut-turut adalah 0,2318; 0,233; 0,124; dan 0,0021 (cm/menit). Sedangkan hasil pengujian volume sedimentasi adalah 0,031; 0,046; 0,152; dan 0,554. Hasil pengujian redispersibilitas yaitu 0%; 0%; 15%; dan 50%. Formula I dan II merupakan formula dengan sistem kombinasi dimana sistem deflokulasi lebih dominan sedangkan formula III dan IV juga merupakan formula dengan sistem kombinasi tetapi sistem flokulasi lebih dominan. Di akhir pengamatan, pada formula I dan IV tidak ada perubahan bau dan rasa sedangkan pada formula II dan III ada perubahan bau dan rasa.
References
Adinugraha MP dkk, 2005, Synthesis and Characterization of Sodium Carboxymethyl Cellulose From Cavendish Banana Pseudo Stem (Musa Cavendishii LAMBERT), Carbohydrate Polymers, 62: 164-169.

Agoes G, 2012, Sediaan Farmasi Liquida-Semisolida (SFI-7), Penerbit ITB Bandung, 124, 142-143.

Anggreini DB, 2013, Optimasi Formula Suspensi Siprofloksasin Menggunakan Kombinasi Pulvis Gummi Arabici (Pga) Dan Hydroxypropyl Methylcellulose (Hpmc) Dengan Metode Desain Faktorial, Skripsi tidak dipublikasikan, Pontianak, Program Studi Farmasi Fakultas Kedokteran Universitas Tanjungpura Pontianak.

Anonim, 1979, Farmakope Indonesia Edisi III, Departemen Kesehatan RI, Jakarta, 32, 96, 271, 567, 591.

Chaerunisaa AY, 2009, Farmasetika Dasar, Widya Padjajaran, Bandung, 95-97.

Hui YH, 1992, Encyclopedia of Food Science and Technology, Volume II, John Willey and Sons Inc, Canada.

Lachman L, Lieberman AH, Kanig LJ, 2008, Teori Dan Praktek Fisika Farmasi Industri III, Terjemahan oleh Siti Suyatmi, 1994, Jakarta, UI-Press.

Nisa D, Putri RDW, 2014, Pemanfaatan Selulosa dari Kulit Buah Kakao sebagai Bahan Baku Pembuatan CMC, Jurnal Pangan dan Agroindustri, Vol. 2 No. 3 p. 34-42, (online)

Nussinovitch A, 1997, Hydrocolloid Applications Chapman & Hall, UK, hal 128.

Priyambodo B, 2007, Manajemen Farmasi Industri, Global Pustaka Utama, Yogyakarta, 116, 190-191.

Rowe CR, Sheskey JP, Quinn EM, 2009, Handbook of Pharmaceutical Excipients 6th Ed, Washington, American Pharmacists Association.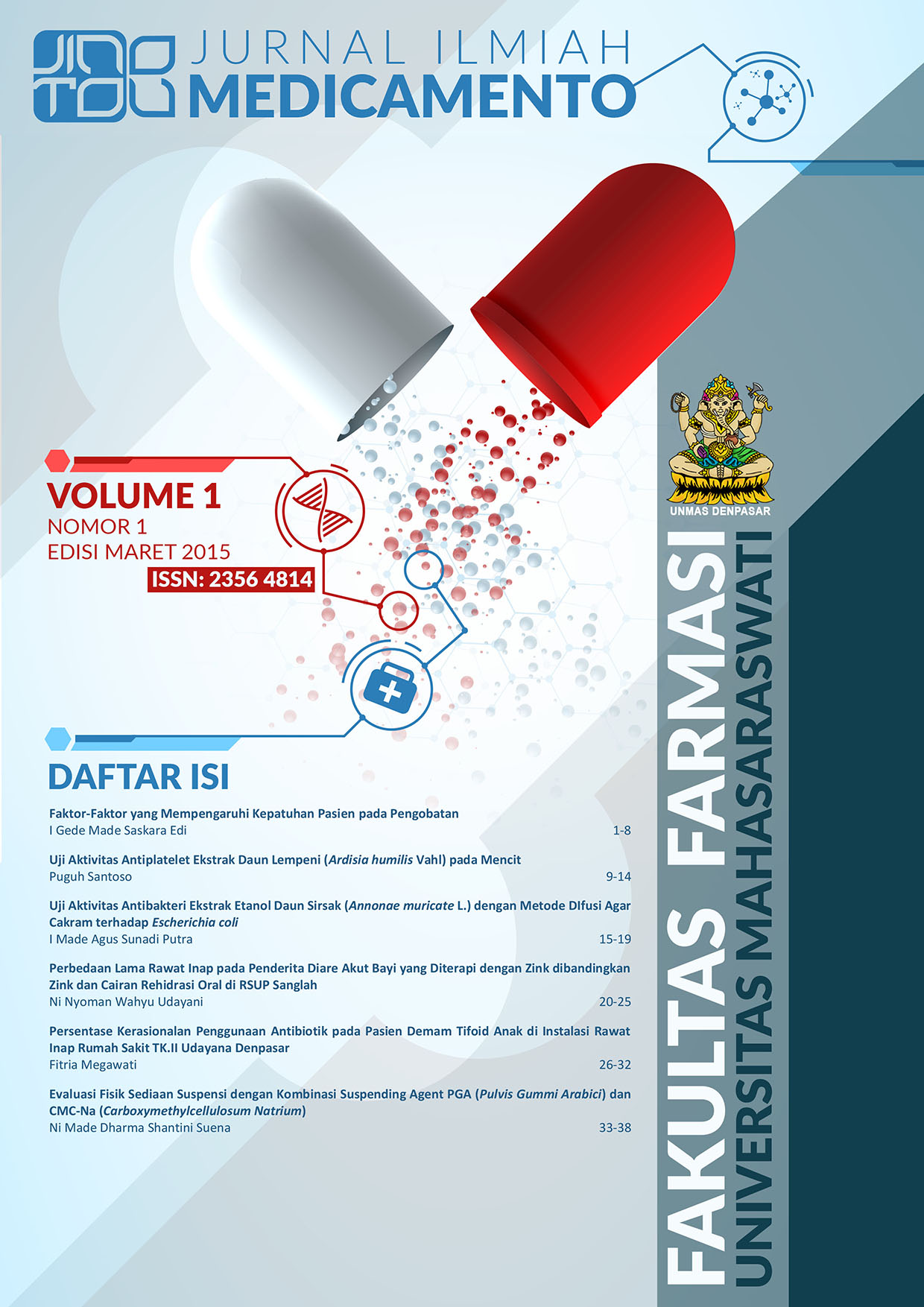 How to Cite
Suena, N. M. D. S. (2020). EVALUASI FISIK SEDIAAN SUSPENSI DENGAN KOMBINASI SUSPENDING AGENT PGA (Pulvis Gummi Arabici) DAN CMC-Na (Carboxymethylcellulosum Natrium). Jurnal Ilmiah Medicamento, 1(1), 33-38. https://doi.org/10.36733/medicamento.v1i1.724
The copyright holder of the work is Jurnal Ilmiah Medicamento (JINTO).
This work is licensed under a Creative Commons Attribution-NonCommercial-NoDerivatives 4.0 International License.
You are free to:
Share — copy and redistribute the material in any medium or format.
The licensor cannot revoke these freedoms as long as you follow the license terms.
Under the following terms:
Attribution — You must give appropriate credit, provide a link to the license, and indicate if changes were made. You may do so in any reasonable manner, but not in any way that suggests the licensor endorses you or your use.
Non-Commercial — You may not use the material for commercial purposes.
No-Derivatives — If you remix, transform, or build upon the material, you may not distribute the modified material.
No additional restrictions — You may not apply legal terms or technological measures that legally restrict others from doing anything the license permits.
Pemegang Hak Cipta atas karya adalah Jurnal Ilmiah Medicamento (JINTO).
Karya ini dilisensikan di bawah Creative Commons Attribution-NonCommercial-NoDerivatives 4.0 International License.
Anda bebas untuk:
Bagikan — menyalin dan mendistribusikan ulang materi dalam media atau format apa pun.
Pemberi lisensi tidak dapat mencabut kebebasan ini selama Anda mengikuti persyaratan lisensi.
Di bawah ketentuan berikut:
Atribusi — Anda harus memberikan kredit yang sesuai, memberikan tautan ke lisensi, dan menunjukkan jika ada perubahan. Anda dapat melakukannya dengan cara yang wajar, tetapi tidak dengan cara apa pun yang menunjukkan bahwa pemberi lisensi mendukung Anda atau penggunaan Anda.
Non-Komersial — Anda tidak boleh menggunakan materi untuk tujuan komersial.
Tanpa Turunan — Jika Anda me-remix, mengubah, atau membangun materi, Anda tidak boleh mendistribusikan materi yang dimodifikasi.
Tidak ada batasan tambahan — Anda tidak boleh menerapkan persyaratan hukum atau tindakan teknologi yang secara hukum membatasi orang lain untuk melakukan apa pun yang diizinkan oleh lisensi.