TEKNIK BONE TISSUE ENGINEERING (BTE) UNTUK REGENERASI JARINGAN PERIODONTAL DAN ESTETIK PADA EDENTULOUS RIDGE
Keywords:
Bone Graft, Bone Tissue Engineering Technique (BTE), Edentulous Area
Abstract
The resorption of alveolar bone in the edentulous area can lead to reduced prosthetic support and loss of periodontal tissue attachment, and reduce aesthetics. Dental implants are an alternative treatment option for patients with partial or complete loss of teeth. Not all dental implants provide good results, especially in relation to bone contact with implants. One way to overcome alveolar bone deficiency is implant placement with bone grafting procedures. Bone Tissue Engineering (BTE) can be performed in the edentulous area that experiences alveolar bone resorption, to replace lost bone (osteoconduction) and stimulate new bone formation (osteoinduction), so that the denture in the edentulous area is better with adequate support, and more aesthetics. Osteon (Biphasic Calcium Phosphate) is one of the unique products made from marine coral, which contains Calcium Carbonate in the structure of Calcium Hydroxyapatite. The advantage of this material is that the structure of the sea coral is similar to trabecular bone. Biphasic Calcium Phosphate has several disadvantages, namely slow degradation rates, weak resistance to fractures, high crystallinity, and has limitations in stimulating the regeneration of bone cells; and coated with collagen, so that it can enable immunological / allergic reactions in patients who have hypersensitivity.
Downloads
Download data is not yet available.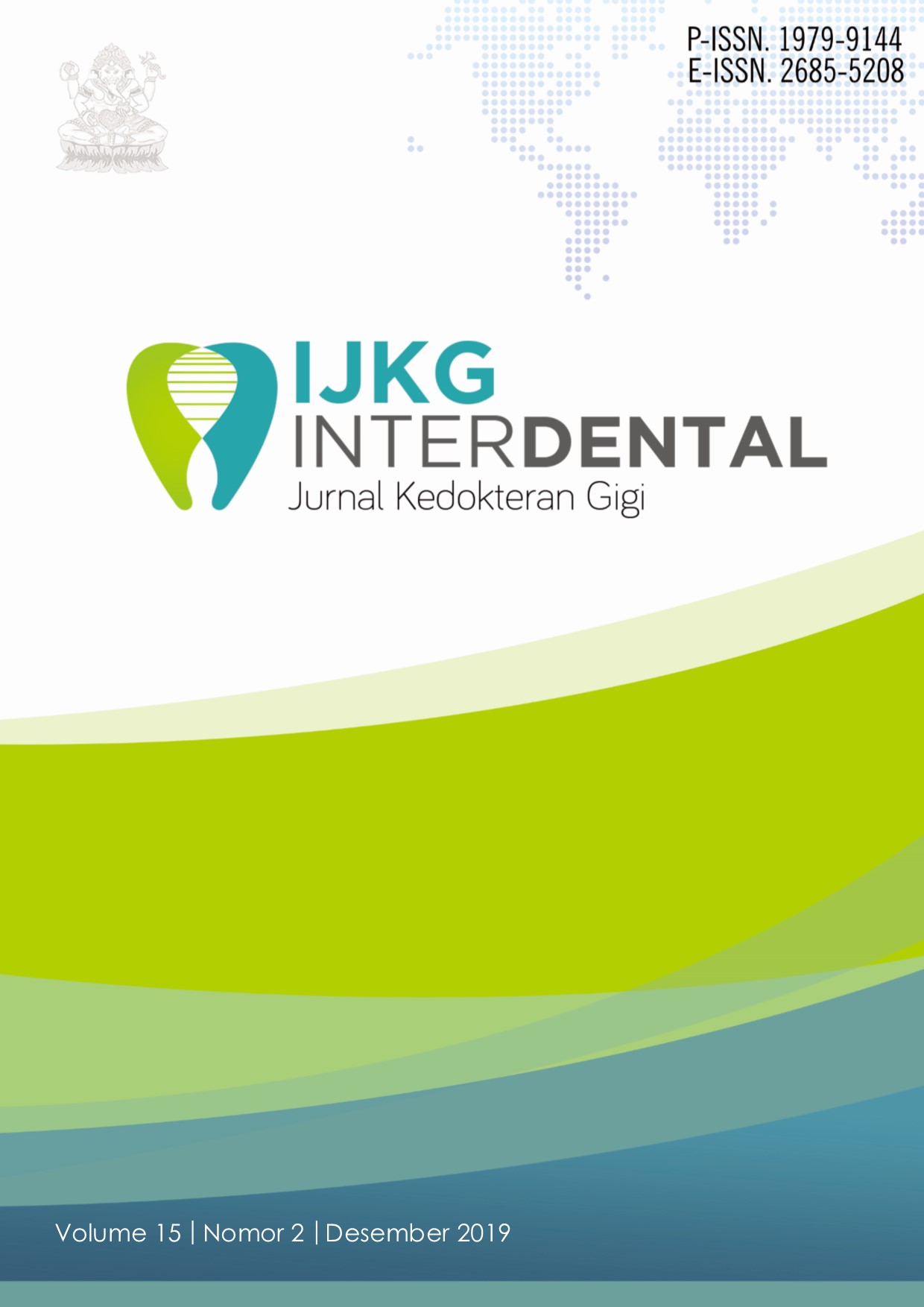 Downloads
How to Cite
Poernomo, H. (2019). TEKNIK BONE TISSUE ENGINEERING (BTE) UNTUK REGENERASI JARINGAN PERIODONTAL DAN ESTETIK PADA EDENTULOUS RIDGE. Interdental Jurnal Kedokteran Gigi (IJKG), 15(2). https://doi.org/10.46862/interdental.v15i2.592