EFEKTIFITAS MINYAK CENGKEH DAN PULPERYL® TERHADAP BAKTERI STAPHYLOCOCCUS AUREUS (secara in vitro)
Keywords:
Clove oil, Staphylococcus aureus, dry socket, antibacterial
Abstract
One of the complications that can occur after tooth extraction is an infection at the extraction site. Staphylococcus aureus is of the bacterias that plays a significant role in causing infection. Eugenol is an active substance of clove oil and pulperyl, where eugenol has antibacterial properties. The aim of the research is to compare the effectivity between clove oil and pulperyl in inhibiting the accumulation of Staphylococcus aureus. The research used in vitro laboratory experimental method by comparing the inhibition rate of clove oil 5% and pulperyl 5% along with a negative control of ethanol against Staphylococcus aureus in form of clear zone measured with a caliper. The medium of culture used was Mueller Hinton Agar (MHA). The result shows that the Pulperyl 5% has an average inhibition zone of 12 mm which is more effective compared to clove oil 5% which has an average inhibition zone 10 mm in inhibiting Staphylococcus aureus. The test result showed statistically significant results (ANOVA test = 0.001 with p<0.05). Pulperyl and clove oil contain eugenol that may damaged protein membrane and inhibit bacterial growth.The conclusion is that Pulperyl 5% and clove oil 5% can inhibit accumulation of Staphylococcus aureus, in which Pulperyl® 5% has higher inhibition rate compared to clove oil 5%.
Downloads
Download data is not yet available.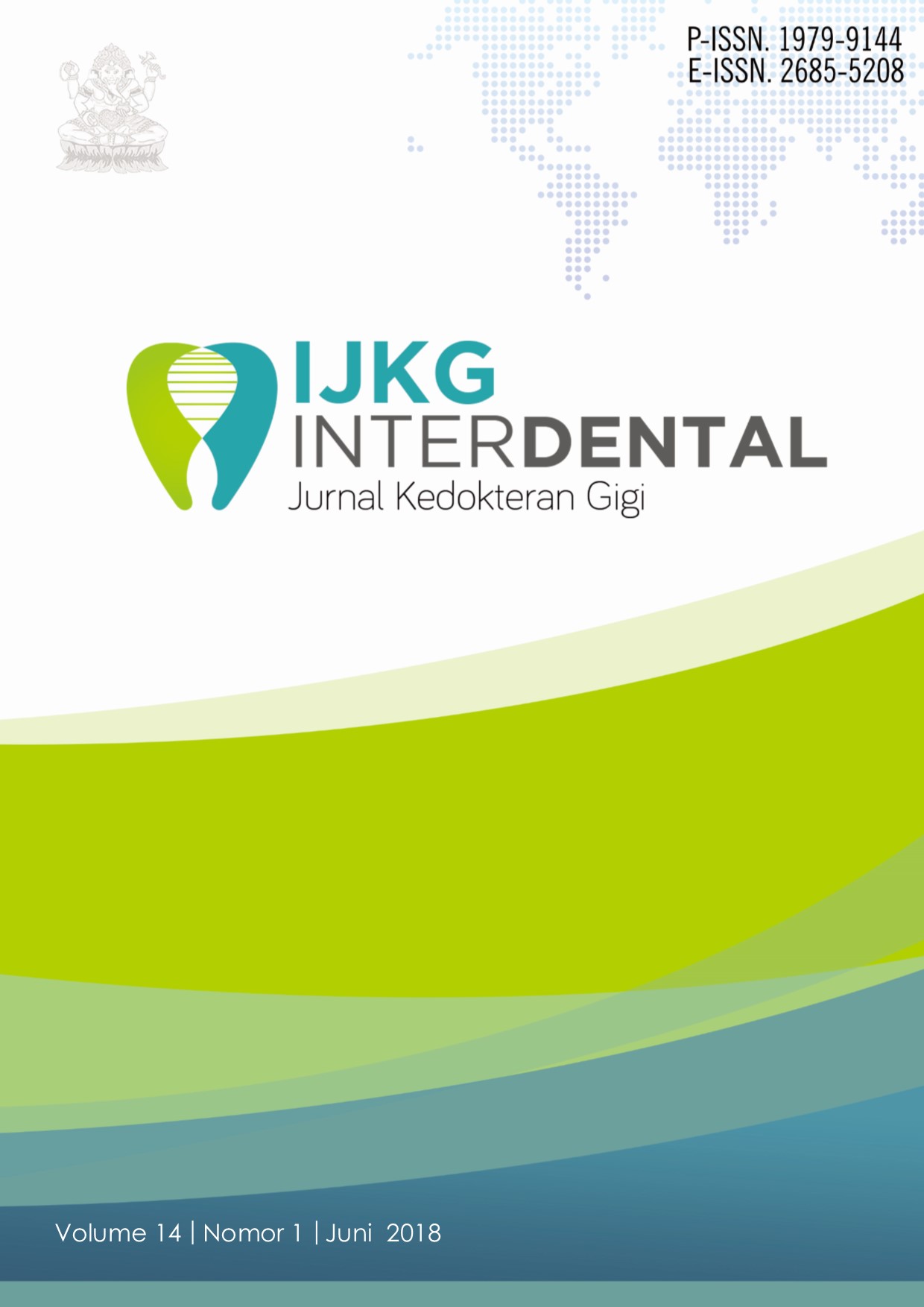 Downloads
How to Cite
Poernomo, H., Setiawan, S., & Senopati, S. (2018). EFEKTIFITAS MINYAK CENGKEH DAN PULPERYL® TERHADAP BAKTERI STAPHYLOCOCCUS AUREUS (secara in vitro). Interdental Jurnal Kedokteran Gigi (IJKG), 14(1). https://doi.org/10.46862/interdental.v14i1.369