THE EFFECT OF GARLIC EXTRACT GEL (Allium sativum L.) TO MACROPHAGE CELL NUMBER OF GUINEA PIG (Cavia porcellus) GINGIVAL INCISION WOUND HEALING
PENGARUH GEL EKSTRAK BAWANG PUTIH (Allium Sativum L.) TERHADAP JUMLAH SEL MAKROFAG PADA PENYEMBUHAN LUKA INSISI GINGIVA MARMUT (Cavia Porcellus)
Keywords:
Keywords: Garlic extract, Wound healing, Macrophages
Abstract
Introduction: Surgical with an incision or tissue incision process can causes injury or tissue damage to the oral cavity, especially the gingiva. Wound healing can last a long time, this condition can increase the potential for complications such as infections and less blood supply. Garlic contains several active substances including flavonoids, tannins, phenols and alkaloids and organosulfur compounds namely allicin. The content is believed to stimulate macrophage cells and help the work of macrophages in cleaning the wound area, so that it accelerates into the phase of proliferation and wound healing. Materials and method: The research method is using experimental laboratory research with post-test design group. Results: The results showed that the average number of macrophage cells in the control group CMC-Na 2% 97,50 cells, mean group of 40% garlic extract gel was 58,83 cells, mean group of 50% garlic extract gel was 18,00 cells, mean 60% garlic extract gel group was 7,83 cells. Discussion: The results of statistical tests show that there are significant differences (ρ <0,05) in the four study groups. Conclussion: Garlic extract gel in concentration of 60% was more effective in reducing the number of macrophage cells in guinea pig gingival incision because the percentage of active content.
Downloads
Download data is not yet available.
References
Saleh, M., Perbandingan Tingkat Keberhasilan Perawatan Pulpotomi dan Pulpektomi Pada Gigi Molar Sulung, Media Kesehatan Gigi; 2017; 16(2): 64-71.
Al-badawi EA, Al-otaibi NAT, Almutairi MR, Alotaibi WS. An Overview Of Procedure Pulpectomy For Primary Molar Teeth. 2020;07(01):1063–9.
Najjar RS, Alamoudi NM, El-Housseiny AA, Al Tuwirqi AA, Sabbagh HJ. A comparison of calcium hydroxide/iodoform paste and zinc oxide eugenol as root filling materials for pulpectomy in primary teeth: A systematic review and meta-analysis. Clin Exp Dent Res. 2019;5(3):294–310.
Rahaswanti LWA. Evaluasi keberhasilan pengisian saluran akar dengan sediaan zinc oxide eugenol dan campuran calcium hydroxide dengan pasta iodoform. Intisari Sains medis. 2017;8(1):1–7.
Sirat NM, Senjaya AA, Wirata IN. Hubungan Pola Jajan Kariogenik dengan Karies pada Siswa Sekolah Dasar di Wilayah Kerja Puskesmas III Denpasar Selatan , Bali 2016. J Intisari Sains Medis [Internet]. 2016;8(3):193–7. Available from: https://www.isainsmedis.id/index.php/ism/article/view/146
Fajriani. Penatalaksanaan penyakit pulpa pada gigi anak. Bagian Ilmu Kedokt Gigi Anak Fak Kedokt Gigi Univ Hasanuddin [Internet]. 2015;2(6):2–4. Available from: http://pdgimakassar.org/journal/file_jurnal/1607030308423FAJRI-5.pdf
Aly, AH. Pulpectomy procedures in primary molar teeth. Eur J Gen Dent. 2015;3(1):3.
Tannure PN, Azevedo CP, Barcelos R, Gleiser R, Primo LG. Long-term outcomes of primary tooth pulpectomy with and without smear layer removal: A randomized split-mouth clinical trial. Pediatr Dent. 2015;33(4):316–20.
Brustolin JP, Mariath AAS, Ardenghi TM, Casagrande L. Survival and factors associated with failure of pulpectomies performed in primary teeth by dental students. Braz Dent J. 2017;28(1):121–8.
Damayanti A, Kaswindiarti S. Perawatan Pulpektomi Non Vital pada Gigi Desidui Anterior Maksila. J Ilmu Kedokt Gigi [Internet]. 2017;1(1):58–63. Available from: http://journals.ums.ac.id/index.php/jikg/article/download/4159/2669
Bahrololomi Z, Zamaninejad S, Dentistry P, Sadoghi S, Sciences M. Success Rate of Zinc Oxide Eugenol in Pulpectomy of Necrotic Primary Molars : A Retrospective Study. JDMT;2015;4(2):89–94.
Parisay I, Ghoddusi J, Forghani M. A review on vital pulp therapy in primary teeth. Iran Endod J. 2015;10(1):6–15.
Firly , N., Perbedaan Pembentukan Dentinal Bridge Antara Pasta ZOE- Karbonat Apatit dengan Kalsium Hidroksida setelah dilakukan Direct Pulp Capping pada Molar Satu Maksila Tikus Wistar (Pengamatan Selama 2 Minggu), Skripsi, Fakultas Kedokteran Gigi, Universitas Sumatra Utara; 2019,h.11-12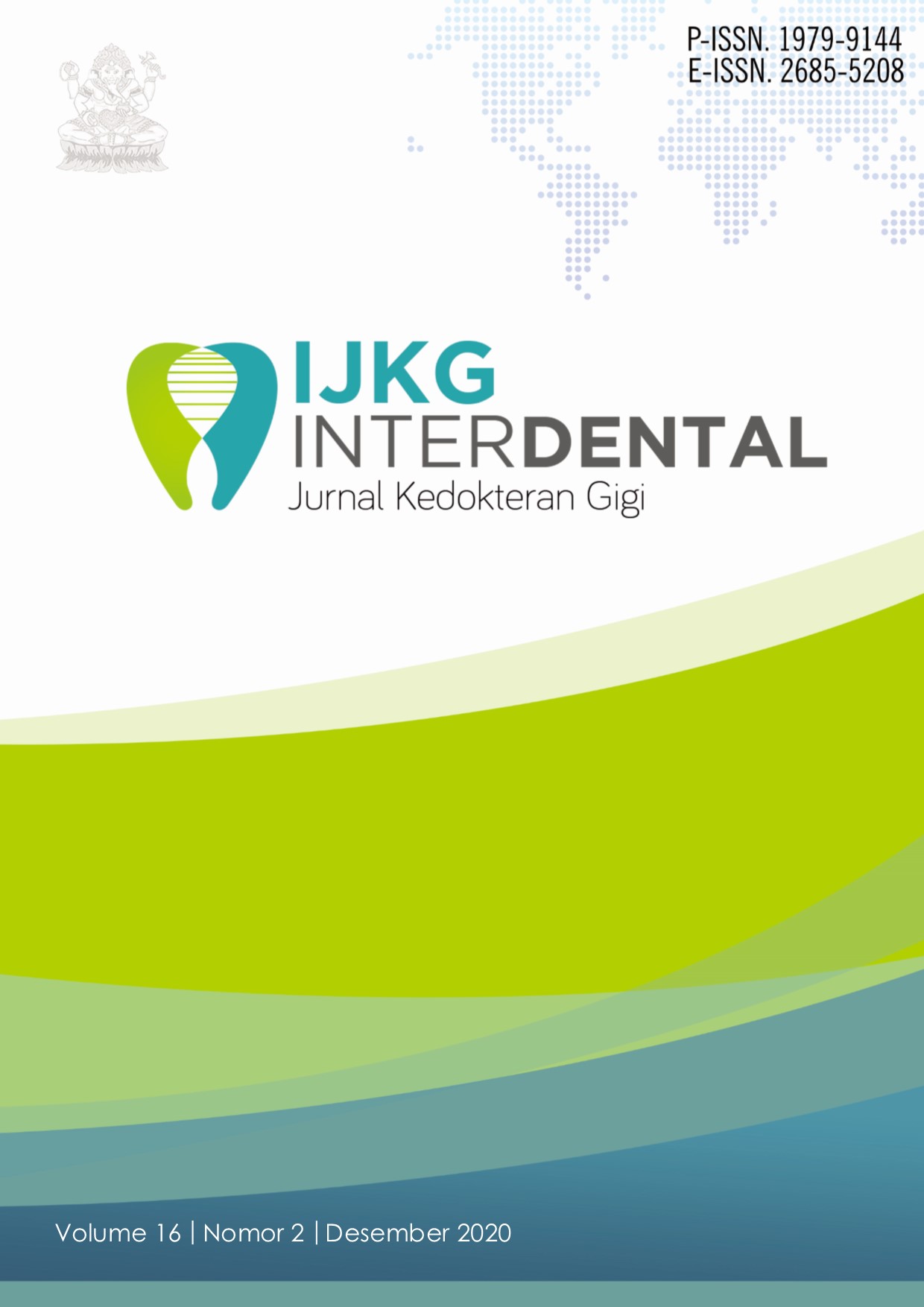 Downloads
How to Cite
Poernomo, H., & Taha Ma'ruf, M. (2020). THE EFFECT OF GARLIC EXTRACT GEL (Allium sativum L.) TO MACROPHAGE CELL NUMBER OF GUINEA PIG (Cavia porcellus) GINGIVAL INCISION WOUND HEALING : PENGARUH GEL EKSTRAK BAWANG PUTIH (Allium Sativum L.) TERHADAP JUMLAH SEL MAKROFAG PADA PENYEMBUHAN LUKA INSISI GINGIVA MARMUT (Cavia Porcellus). Interdental Jurnal Kedokteran Gigi (IJKG), 16(2), 36–44. https://doi.org/10.46862/interdental.v16i2.1065