EFFECTIVENESS OF WEARING STERILE GLOVES ON PREVENTING MOUTH IRRITATION POST TOOTH EXTRACTION
EFEKTIFITAS PEMAKAIAN SARUNG TANGAN STERIL TERHADAP PENCEGAHAN IRITASI RONGGA MULUT PASCA PENCABUTAN GIGI
Keywords:
Sterile gloves, tooth extraction, irritation
Abstract
The use of gloves in dental practice is imperative to prevent cross-infection between the patient and the operator or vice versa, besides that the use of gloves can prevent irritation of the oral cavity after permanent tooth extraction. The research method used a quasi-experiment with a pre-test and post-test approach with 40 samples. The results showed that 2 people experienced irritation and 28 people who did not experience irritation after permanent tooth extraction using sterile gloves while using non-sterile gloves experienced irritation as many as 3 people out of 10 control samples. Based on the T-test calculation, it was found that the difference was not significant (p>0,05). In the study, the t-count value was 3,808 with a p value of 0,001. Conclusion: The use of sterile gloves can prevent the risk of irritation in permanent tooth extraction patients.
Downloads
Download data is not yet available.
References
Crow S, Asepsis – The Foundation of Infection Control Practices, Louisiana State University Health Care Centre, 1989
Darmadi, Infeksi Nosokomial Problematika dan Pengendaliannya, Ed. ke-1, Salemba Medika, Jakarta, 2008.
Lata, Choundhary, Effectivness of Sterile Versus Nonsterile Gloves Following Dental Extraction, Indian Journal of Dental Sciences. 2012;3(4).
Sunny Deshmukh dkk, Surgical versus examination gloves in exodontia: A randomized, double-blind, controlled trial, Nigerian Journal of Surgical Sciences, Vol. 27, Issue 1, Medknow Publications and Media Pvt. Ltd, 2017
Philipp Moog dkk, Do your surgical glove characteristics and wearing habits affect your tactile sensibility?, J Ann Med Surg,V 8;57:281-286. doi: 10.1016, 2020.
Kohli A, Puttaiah, R, Infections Control and Occupational Safety Recommendations For Oral Health Professional, Dental Council of India, India, 2007.
Jerry D Brewer dkk, Comparison of Sterile vs Nonsterile Gloves in Cutaneous Surgery and Common Outpatient Dental Procedures: A Systematic Review and Meta-analysis, JAMA Dermatol, V.1;152 (9):1008-14, 2016.
Yang Xia dkk, Infection rates of wound repairs during Mohs micrographic surgery using sterile versus nonsterile gloves: a prospective randomized pilot study, Randomized Controlled Trial, J Dermatol Surg,
V.37(5):651-6, 2011.
Samiya Khan dkk, Reappraising Elements of the Aseptic Technique in Dermatology: A Review, J Dermatol Pract Concept, V.11(1), 2021. 10. Samaranayake, Essentials of Microbiology for Dentistry, Ed. Ke-2, Churchill Livingstone., London, 2002.
Emma C, Pemberton MN, Latex and synthetic rubber glove usage in UK general dental practice: changing trends, J Heliyon, V.5;6(5), 2020.
Sudiono J, Pengaruh Pemakaian Obat Kumur Senyawa Fenol Terhadap Gambaran SEM Epitel Mukosa Bukal Mulut. M I Kedokteran Gigi FKG Usakti; 38:70-5, 1999.
Departemen Kesehatan RI, Pedoman Pelaksanaan Kewaspadaan Universal Di Pelayanan Kesehatan, Direktoral Jendral Pemberantasan Penyakit Menular dan Penyehatan Lingkungan., Jakarta, 2003.
Thurnell J. R., latex glove allergy, available at : http;/www.lifeworkpotensial.com/html/ latexglove.html. 2001.
Philips P, The latex glove manufacturing process, director surgical materials testing labolatory bincess of walles hospital, bridgend walles. 2002.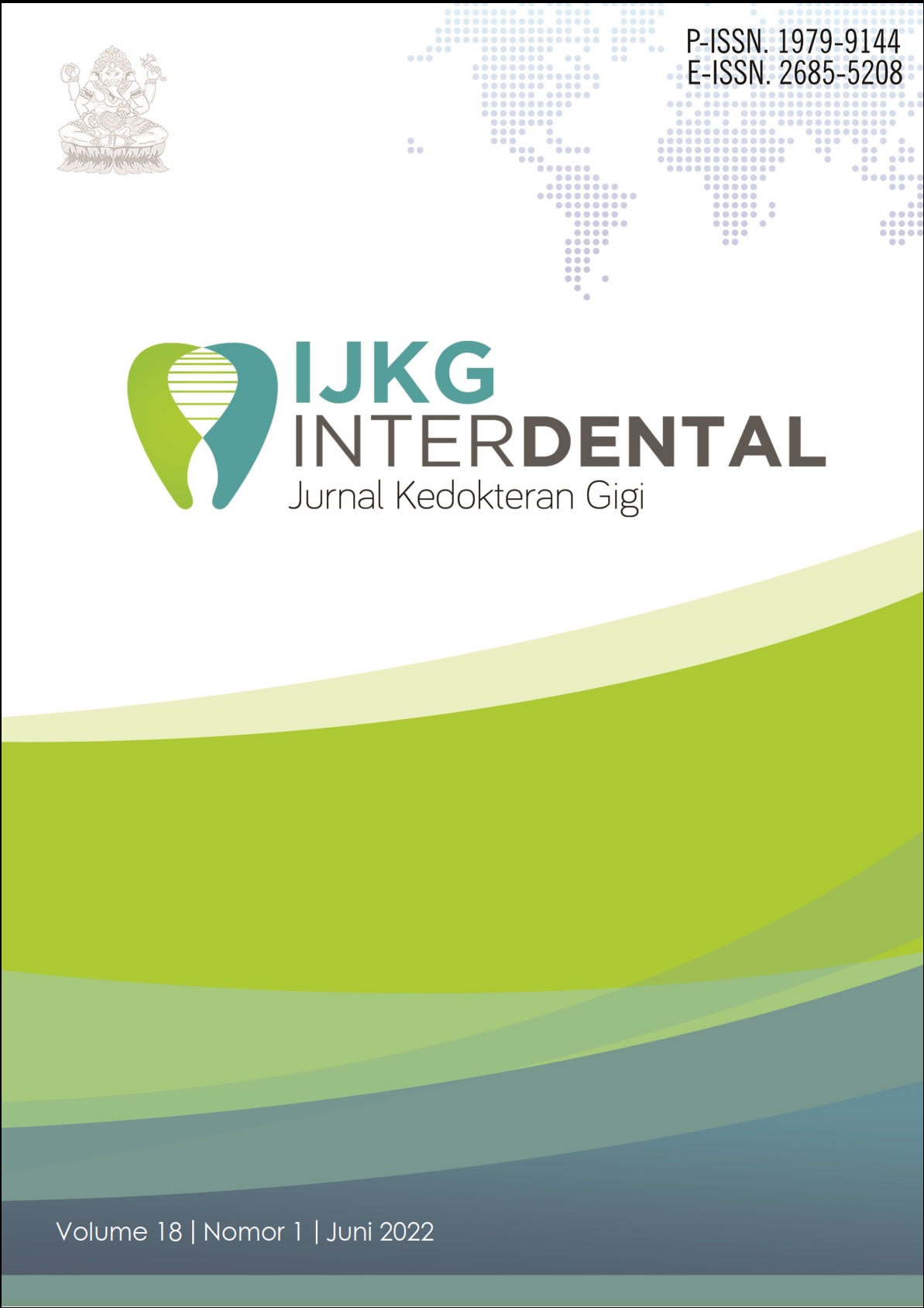 Downloads
How to Cite
Poernomo, H., & Setiawan. (2022). EFFECTIVENESS OF WEARING STERILE GLOVES ON PREVENTING MOUTH IRRITATION POST TOOTH EXTRACTION: EFEKTIFITAS PEMAKAIAN SARUNG TANGAN STERIL TERHADAP PENCEGAHAN IRITASI RONGGA MULUT PASCA PENCABUTAN GIGI. Interdental Jurnal Kedokteran Gigi (IJKG), 18(1), 33–39. https://doi.org/10.46862/interdental.v18i1.4313