THE EFFECT OF MORINGA LEAF (Moringa Oleifera)GEL ON THE BLEEDING TIME AND COLLAGEN DENSITY OF GINGIVAL INCISION WOUND HEALINGIN MARMOT (Cavia porcellus).
Keywords:
Moringa leaf gel, collagen density, bleeding time, incision wound
Abstract
Bleeding is one of the most common causes of death, one of which can be caused by surgery. The purpose of this study was to determine the effect of administration of 15% Moringa leaf gel on bleeding time and collagen density on the healing of guinea pig gingival incision (Cavia porcellus). This type of laboratory experiment was carried out in vivo with a post test only control group design that was carried out in gingival incisions. The samples were male guinea pigs divided into 2 control groups and 2 treatment groups. The control group was given 2% CMC-Na and the treatment group was given 15% concentrated Moringa leaf gel and observed on day 4 and 7. The results of the study showed that 15% moringa leaf gel concentration applied to guinea pig gingival incision could affect bleeding time and collagen density, in the statistical test (ρ <0.05), where there were significant differences between the control and treatment groups. Conclusion: Moringa leaf gel with a concentration of 15% can shorten bleeding time and be effective in increasing the amount of collagen in the post incision healing process onmarmot.
Downloads
Download data is not yet available.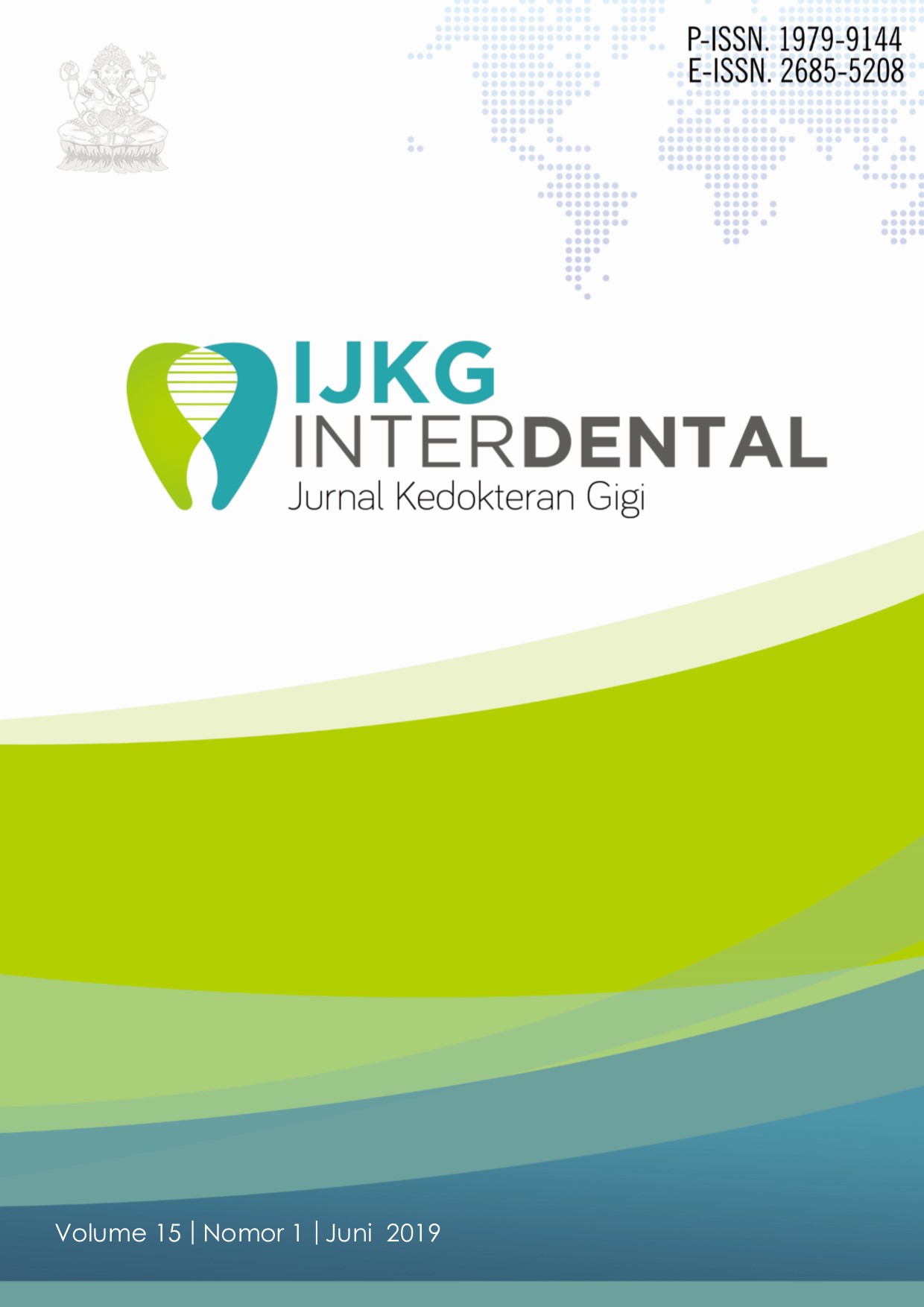 Downloads
How to Cite
Poernomo, H., & Setiawan, S. (2019). THE EFFECT OF MORINGA LEAF (Moringa Oleifera)GEL ON THE BLEEDING TIME AND COLLAGEN DENSITY OF GINGIVAL INCISION WOUND HEALINGIN MARMOT (Cavia porcellus). Interdental Jurnal Kedokteran Gigi (IJKG), 15(1). https://doi.org/10.46862/interdental.v15i1.342