AKTIVITAS EKSTRAK DAUN RUMPUT BERMUDA (Cynodon dactylon L. Pers) TERHADAP PENYEMBUHAN LUKA BAKAR PADA KELINCI (Oyctolagus cuniculus)
Nurlaila Ramadhani

Universitas Tadulako Palu

Mr. Yusriadi

Universitas Tadulako Palu

Khildah

Universitas Tadulako Palu
Keywords:
ekstrak daun rumput bermuda (Cynodon dactylon L. Pers), luka bakar, kelinci
Abstract
Penelitian ini bertujuan untuk mengetahui aktivitas ekstrak daun rumput bermuda (Cynodon dactylon L. Pers) terhadap penyembuhan luka bakar serta mengetahui konsentrasi yang efektif terhadap penyembuhan luka bakar. Hewan uji yang digunakan pada penelitian ini adalah kelinci jantan (Oryctolagus cuniculus) yang dibagi dalam 5 kelompok uji. Setiap kelinci dibuat luka bakar di bagian punggung dengan diameter 2 cm, kelompok uji I diberi gel Bioplasenton (kontrol positif), kelompok II diberi basis Na CMC (kontrol negatif), kelompok uji III, IV, dan V diberi sediaan ekstrak daun rumput bermuda dengan konsentrasi masing-masing 1%, 3%, dan 5%. Pengukuran luka bakar menggunakan alat jangka sorong dilakukan setiap hari selama 21 hari. Data yang diperoleh dianalisis menggunakan uji One way Anova dan dilanjutkan uji Post hoc Duncan. Hasil statistik menunjukkan bahwa ekstrak daun rumput bermuda memiliki aktivitas dalam penyembuhan luka bakar pada kelinci. Konsentrasi yang efektif adalah konsentrasi 5%.
References
Aisah, P I Utami and E Genatrika, 2018, The Effectiveness of Ointment of Patah Tulang Stem's (Euphorbia Tirucalli) Ethanol Extract for Burn Wound Healing on White Rats (Rattus Norvegicus). Faculty of Pharmacy Universitas Muhammadiyah Purwokerto

Dirjen POM Depkes RI, (1986), Sediaan Galenik, Departemen Kesehatan RI, Jakarta.

Grace PA, Borley NR, Safitri A. 2006. At a glance ilmu bedah. Edisi ke-3. Jakarta: Erlangga.

Gupta VK, Pathak SS, Jain MK. Evaluation of burn wound healing property of ocimun sanctum by monitoring of reepithelization in rabbits. Int. basic clin pharmacol. 2016: 5: 146-148.

Jailani, M. (2005). SYSTEMIC INFLAMMATORY RESPONSE SYNDROME (SffiS) PADA LUKA BAKAR. Jurnal Kedokteran Syiah Kuala, 5(1), 27-39.

Kaliyaperumal, A., Kumarakurubaran, S., and Saradha D, M. (2013). Cynodon dactylon (L.) Pers.: An updated review of its phytochemistry and pharmacology. Journal of Medicinal Plants Research, Vol. 7, 3477-3478.

Mappa, T., H.J., E. and K.N., 2013, Formulasi Gel Ekstrak Daun Sasaladahan (Peperomia pellucid L.) dan Uji Efektivitasnya Terhadap Luka Bakar pada Kelinci (Oryctolagus cuniculus), Jurnal Ilmiah Farmasi, 2(2), pp.49–56.

Martin, L., Y., dan Alexander, G., 2017, Bioengineering In Wound Healing A System Approach, World Scientific Publishing, London.

Moenadjat, Yefta. (2003). Luka Bakar dan Tatalaksana Edisi ke 4. Jakarta: FKUI.

Rowe, R.C. et Al. (2009). Handbook of Pharmaceutical Excipients, 6 th Ed, The Pharmaceutical Press, London.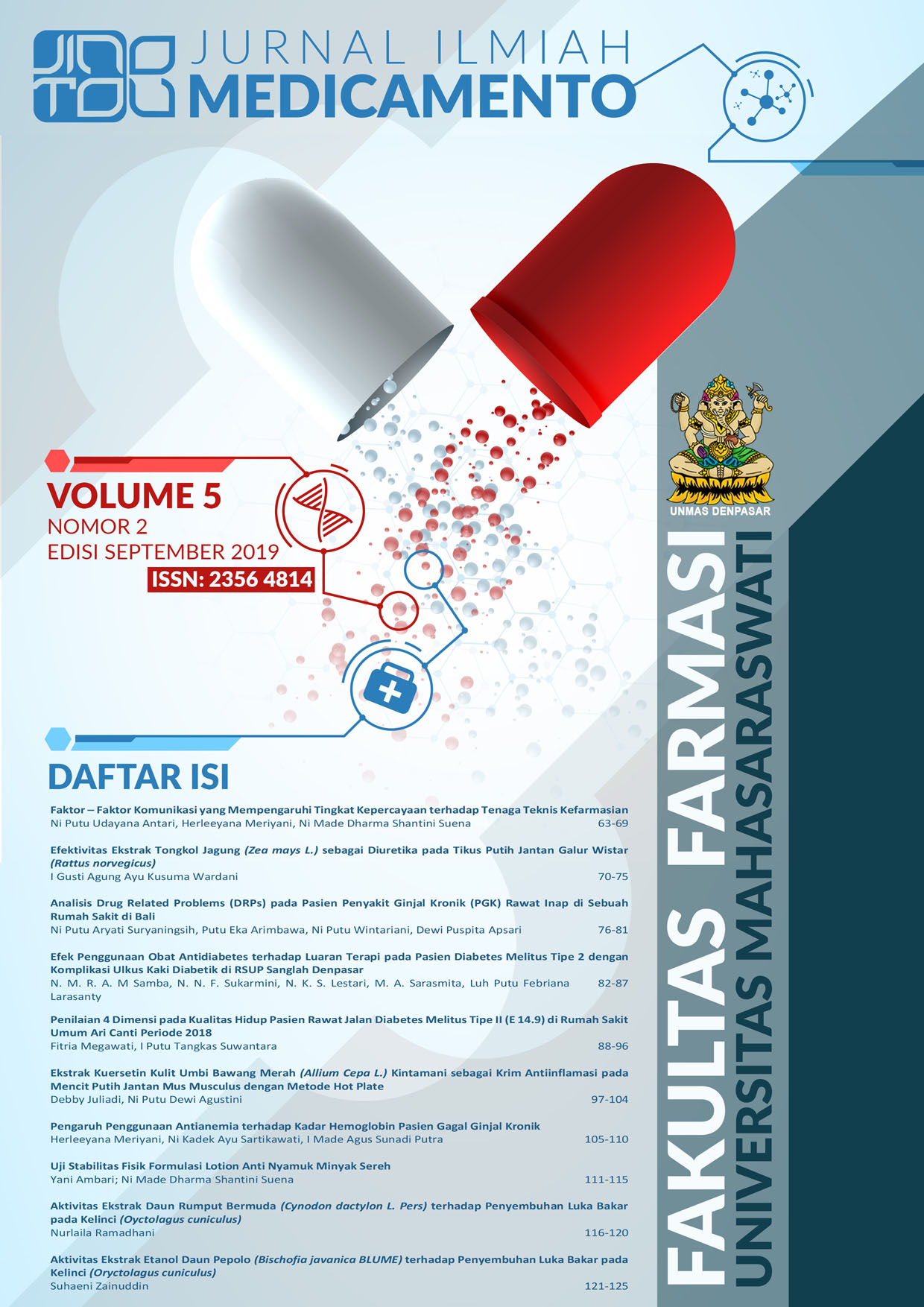 How to Cite
Ramadhani, N., Yusriadi, & Khaerati, K. (2020). AKTIVITAS EKSTRAK DAUN RUMPUT BERMUDA (Cynodon dactylon L. Pers) TERHADAP PENYEMBUHAN LUKA BAKAR PADA KELINCI (Oyctolagus cuniculus). Jurnal Ilmiah Medicamento, 5(2), 116-120. https://doi.org/10.36733/medicamento.v5i2.846
Copyright (c) 2019 Jurnal Ilmiah Medicamento
This work is licensed under a Creative Commons Attribution-NonCommercial-NoDerivatives 4.0 International License.