AKTIVITAS EKSTRAK ETANOL DAUN PEPOLO (Bischofia javanica BLUME) TERHADAP PENYEMBUHAN LUKA BAKAR PADA KELINCI (Oryctolagus cuniculus)
Suhaeni Zainuddin

Universitas Tadulako Palu

Mr. Yusriadi

Universitas Tadulako Palu

Mr. Khumaidi

Universitas Tadulako Palu
Keywords:
Bischofia javanica Blume, daun pepolo, ekstrak etanol, luka bakar, kelinci
Abstract
Tumbuhan daun pepolo (Bischofia javanica Blume) merupakan salah satu tumbuhan yang digunakan untuk pengobatan luka bakar. Penelitian ini bertujuan untuk mengetahui aktivitas ekstrak daun pepolo terhadap penyembuhan luka bakar pada kelinci (Oryctolagus cuniculus). Pengujian aktivitas ekstrak etanol daun pepolo menggunakan 5 ekor kelinci yang dibagi dalam 5 kelompok perlakuan yaitu kontrol negatif (basis gel tanpa ekstrak), ekstrak etanol daun pepolo dalam basis gel dengan konsentrasi 5%, 10%, 15% dan kontrol positif (gel Bioplacenton). Pengukuran diameter luka dilakukan pada hari ke- 1, 3, 5, 7, 9, 11, 13, 15, 17, 19, dan 21. Data yang diperoleh dianalisis secara statistik dengan Metode One Way Anova. Hasil analisis statistik menunjukkan bahwa ekstrak daun pepolo pada konsentrasi 5%, 10% dan 15% memiliki aktivitas penyembuhan luka bakar. Penyembuhan luka bakar yang efektif yaitu konsentrasi 15%, yang memberikan penyembuhan sebesar 92,34%.
References
Ekrami, A and Kalantar, E. 2007. Bacterial Infections in Burn Patients at A Burn Hospital in Iran. Indian Journal Medical Research. 126:541-544.

Gupta VK, Pathak SS, Jain MK. Evaluation of burn wound healing property of Ocimum sanctum by monitoring of period of reepithelization in rabbits. Int. J Basic Clin Pharmacol. 2016; 5:146-148.

Hamzah, M. Mazwadehet al. 2006. Anti-Inflammatory Activity ofAchillea and Ruscus Topical Gel on Carrageenan-Induced Paw Edema in Rats. Acta Poloniae Pharmaceutica - Drug Research. 63(4): 277-280.

Khorasani, G., S.J. Hosseinimehr, M. Azadbakht, A. Zamani and M.R. Mahdavi, (2009). Aloe versus silver sulfadiazine creams for second-81 degree burns: a randomized controlled study. Surg. Today, 39: 587-591.

Lin, T.S., Azian, A.L., Srijit, D., 2010. Use of Traditional Herbal. Journal of Clinical Dermatology, pp.1-5.Majid, A., Prayogi, A.S., 2013. Perawatan Pasien Luka Bakar. Yogyakarta: Gosyen Publishing.

Lingadurai S, Roy S, Joseph RV, Nath LK. Antileukemic activity of the leaf extract of Bischofia javanica blume on human leukemic celllines. Indian J Pharmacol 2011;43:143-149

Moenadjat, Yefta. 2009. Luka Bakar dan Tatalaksana Edisi ke 4. Jakarta: FKUI.

Peck Michael, Joseph Molnar & Dehran Swart. 2009. Bulletin of the World Healt Organization A global plan for burn prevention and care.
Prasad Devi AG, Shyma TB, Medicinal plants used by the tribes of Vythiritaluk, Wayanad district (Kerala state) for the treatment of human and domestic animal ailments, Journal of Medicinal Plants Research, 7, 2013, 1439-1451

Rajbongshi, P.P., Kamaruz, Z, Sangeeta, B., dan Simanti, D. (2014). A Review on Traditional Use and Phytopharmacological Potential of Bischofia Javanica Blume. International Journal of Pharmaceutical Sciences Review and Research.

Departemen Kesehatan Republik Indonesia. Laporan Hasil Riset Kesehatan Dasar Indonesia (Riskesdas). 2013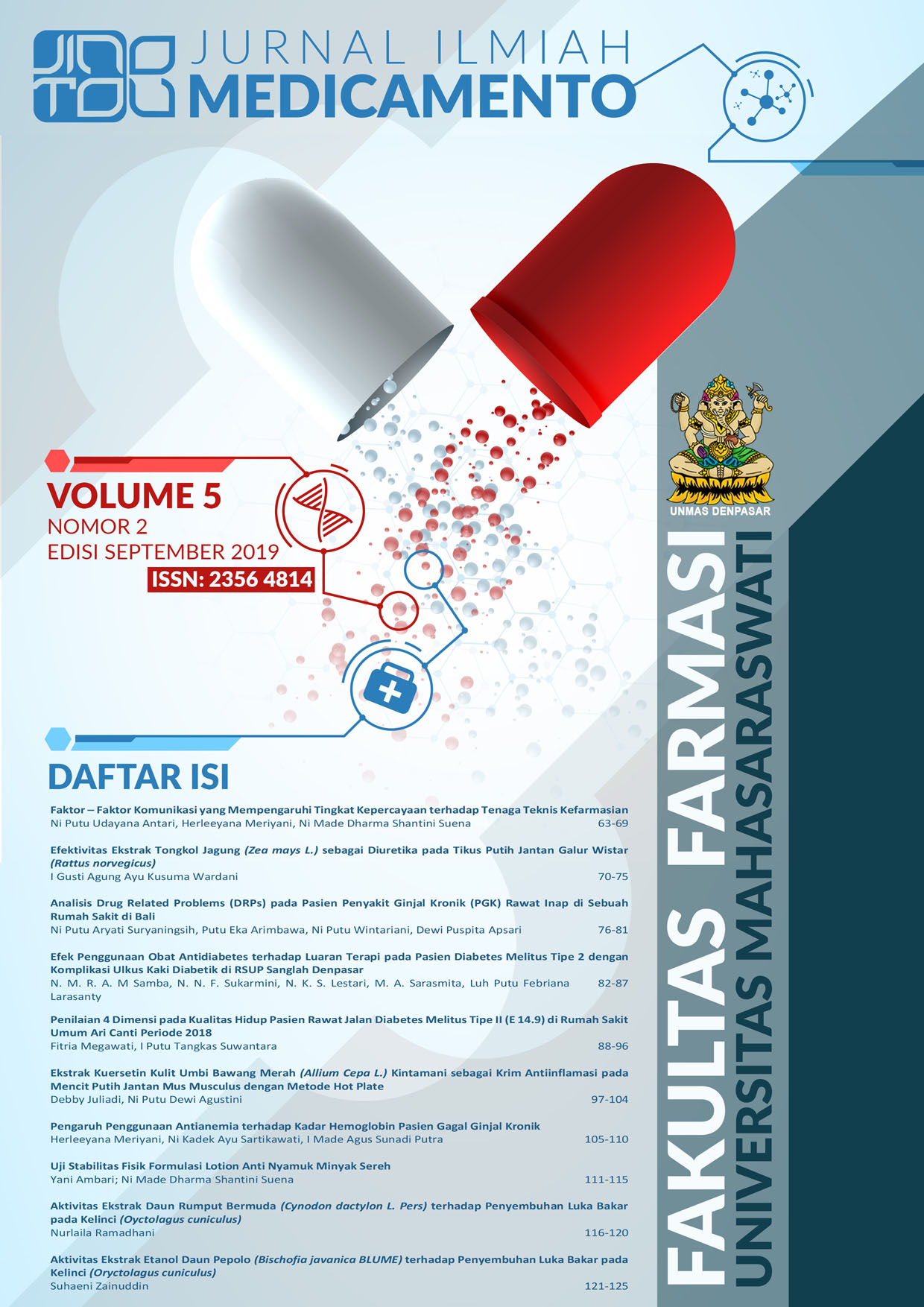 How to Cite
Zainuddin, S., Yusriadi, & Khumaidi, A. (2019). AKTIVITAS EKSTRAK ETANOL DAUN PEPOLO (Bischofia javanica BLUME) TERHADAP PENYEMBUHAN LUKA BAKAR PADA KELINCI (Oryctolagus cuniculus). Jurnal Ilmiah Medicamento, 5(2), 121-125. https://doi.org/10.36733/medicamento.v5i2.848
Copyright (c) 2020 Jurnal Ilmiah Medicamento
This work is licensed under a Creative Commons Attribution-NonCommercial-NoDerivatives 4.0 International License.