Formulation and Test of Antioxidant and Sunscreen Activity of Cream Acetone Extract Avocado Fruit Seed
Keywords:
antioxidants, avocado seeds, acetone extract, cream, sunscreen
Abstract
The skin often exposed to sunlight and pollution requires treatment with products that protect it from UV radiation and free radicals. Avocado seeds are known to have the potential as a sunscreen and have good antioxidant activity. This study aims to prove the antioxidant and sunscreen activity of acetone avocado seed extract, produce a cream formula that functions as a sunscreen and antioxidant for the skin, and determine the correlation of extract concentration with the activity of avocado seed acetone extract sunscreen cream. Testing of sunscreen and antioxidant activity was carried out in vitro. The results showed that the SPF and IC50 values of the extract were 39.636 and 10.36 ppm, respectively. The SPF value of F1, F2, and F3 creams were 1.859 ± 0.152, 2.941 ± 0.065, and 3.629 ± 0.053, respectively. The SPF value of the three creams was significantly different (p<0.05), and there was a significant (p<0.001) and strong correlation between the concentration of the extract and the SPF value. The IC50 values of formula F1, F2, and F3 were 9.74 ppm, 7.02 ppm, and 6.86 ppm, respectively. Based on these results, it can be concluded that acetone extract from avocado seeds has a high level of sunscreen activity and very strong antioxidant activity. The cream has an SPF value under the category of low protection level and very strong antioxidant activity. A significant and strong correlation exists between the extract's concentration and the cream's SPF value.
References
Dreher F, Thiele J, Levin J. Cosmeceuticals and active cosmetics. In: Sivamani RK, Jagdeo JR, Elsner P, Maibach HI, eds. Cosmeceuticals and Active Cosmetics. 3rd ed. CRC Press; 2016:177-190.
Baki G, Alexander KS. Introduction to Cosmetic Formulation and Technology. John Wiley & Sons; 2015.
Webster Z. Cosmetic formulation: principles and practice. In: Benson HAE, Roberts MS, Leite-Silva VR, Walters K, eds. Cosmetic Formulation: Principles and Practice. CRC Press; 2019:279-308.
Setyawan HY, Sukardi S, Puriwangi CA. Phytochemicals properties of avocado seed: A review. In: IOP Conference Series: Earth and Environmental Science. Vol 733. IOP Publishing; 2021:1-6.
Mutua O, Kindt, Jamnadass, Anthony. Persea americana Miller Lauraceae. Argoforestry Database. 2009;0:1-5.
Mansuri R, Diwan A, Kumar H, Dangwal K, Yadav D. Potential of Natural Compounds as Sunscreen Agents. Pharmacogn Rev. 2021;15(29):47-56. doi:10.5530/phrev.2021.15.5
Suhaenah A, Widiastuti H, Arafat M. Potensi Ekstrak Etanol Biji Alpukat (Persea americana Mill.) sebagai Tabir Surya. ad-Dawaa'Journal Pharm Sci. 2019;2(2):88-94.
Vo TS, Le PU. Free radical scavenging and anti-proliferative activities of avocado (Persea americana Mill.) seed extract. Asian Pac J Trop Biomed. 2019;9(3):91-97.
Dabas D, Shegog R, Ziegler G, Lambert J. Avocado (Persea americana) Seed as a Source of Bioactive Phytochemicals. Curr Pharm Des. 2013;19(34):6133-6140. doi:10.2174/1381612811319340007
Folasade OA, Aderibigbe Olaide R, Olufemi TA. Antioxidant Properties of Persea Americana M. Seed As Affected By Different Extraction Solvent. Orig Res Artic J Adv Food Sci Technol. 2016;3(2):101-106. doi:10.13140/RG.2.1.1714.2165
Pacheco-Coello F, Seijas-Perdomo D. Evaluation of the antioxidant activity of the aqueous and methanolic extracts of seeds of Persea Americana Mill, variety hass, from the state Aragua in Venezuela. Rev Boliv Química. 2020;37(3):142-147.
Shaikh JR, Patil MK. Qualitative tests for preliminary phytochemical screening: An overview. Int J Chem Stud. 2020;8(2):603-608.
Banu KS, Cathrine Ljij. General techniques involved in phytochemical analysis. Int J Adv Res Chem Sci. 2015;2(4):25-32.
Amnuaikit T, Boonme P. Formulation and characterization of sunscreen creams with synergistic efficacy on SPF by combination of UV filters. J Appl Pharm Sci. 2013;3(8):1-5.
Mailana D, Nuryanti H, Harwoko H. Formulasi Sediaan Krim Antioksidan Ekstrak Etanolik Daun Alpukat (Persea americana Mill.). Acta Pharm Indones. 2016;4(2):7-15.
Erwiyani AR, Destiani D, Kabelen SA. Pengaruh Lama Penyimpanan Terhadap Sediaan Fisik Krim Daun Alpukat (Persea Americana Mill) dan daun sirih hijau (Piper betle Linn). Indones J Pharm Nat Prod. 2018;1(1):23-29.
Yacobus AR, Lau SHA, Syawal H. Formulasi Dan Uji Stabilitas Krim Ekstrak Methanol Daun Beluntas Pluchea Indica L.) Dari Kota Benteng Kabupaten Kepulauan Selayar Provinsi Sulawesi Selatan. J Farm Sandi Karsa. 2019;5(1):19-25.
Lumentut N, Edi HJ, Rumondor EM. Formulasi dan Uji Stabilitas Fisik Sediaan Krim Ekstrak Etanol Kulit Buah Pisang Goroho (Musa acuminafe L.) Konsentrasi 12.5% Sebagai Tabir Surya. J MIPA. 2020;9(2):42. doi:10.35799/jmuo.9.2.2020.28248
Safitri EG, Parfati N. Stabilitas Fisika‐Kimia Sediaan Krim Dan Gel Esktrak Kental Daun Kelor (Moringa Oleifera). CALYPTRA. 2020;9(1).
Donglikar MM, Deore SL. Sunscreens: A review. Pharmacogn Journals. 2016;8(3):171-179.
Susanty S, Bachmid F. Perbandingan metode ekstraksi maserasi dan refluks terhadap kadar fenolik dari ekstrak tongkol jagung (Zea mays L.). J Konversi. 2016;5(2):87-92.
Choi D, Choi O-Y, Park J, Kim H-S, Kim R. Potential application of acetone extract of Astragalus sinicus Linne seed to functional cosmetics. Korean J Chem Eng. 2011;28(3):890-894.
Arukwe U, amadi BA, Duru MKC, et al. Chemical Composition of Persea Americana Leaf , Fruit and Seed. Ijrras. 2012;11(2):346-349.
Rivai H, Putri YT, Rusdi R. Qualitative and quantitative analysis of the chemical content of hexane, acetone, ethanol and water extract from avocado seeds (Persea americana Mill.). Sch Int J Tradit Complement Med. 2019;2(3):25-31.
Rowe RC, Sheskey PJ, Quinn ME. Handbook of Pharmaceutical Excipients. 6th ed. Pharmaceutical Press and American Pharmacist Association; 2009.
Proksch E. pH in nature, humans and skin. J Dermatol. 2018;45(9):1044-1052.
Djiobie Tchienou GE, Tsatsop Tsague RK, Mbam Pega TF, et al. Multi-Response Optimization in the Formulation of a Topical Cream from Natural Ingredients. Cosmetics. 2018;5(1):1-14. doi:10.3390/cosmetics5010007
Jain G, Khar RK, Ahmad FJ. Theory and Practice of Physical Pharmacy-E-Book. Elsevier Health Sciences; 2011.
Garg T, Rath G, Goyal AK. Comprehensive review on additives of topical dosage forms for drug delivery. Drug Deliv. 2015;22(8):969-987.
Lionetti N, Rigano L. The new sunscreens among formulation strategy, stability issues, changing norms, safety and efficacy evaluations. Cosmetics. 2017;4(2):2-11.
Sukandar D, Nurbayti S, Rudiana T, Husna TW. Isolation and Structure Determination of Antioxidants Active Compounds from Ethyl Acetate Extract of Heartwood Namnam (Cynometra cauliflora L.). J Kim Terap Indones. 2017;19(1):11-17. doi:10.14203/jkti.v19i1.325
Alothman M, Bhat R, Karim AA. Antioxidant capacity and phenolic content of selected tropical fruits from Malaysia, extracted with different solvents. Food Chem. 2009;115(3):785-788. doi:10.1016/j.foodchem.2008.12.005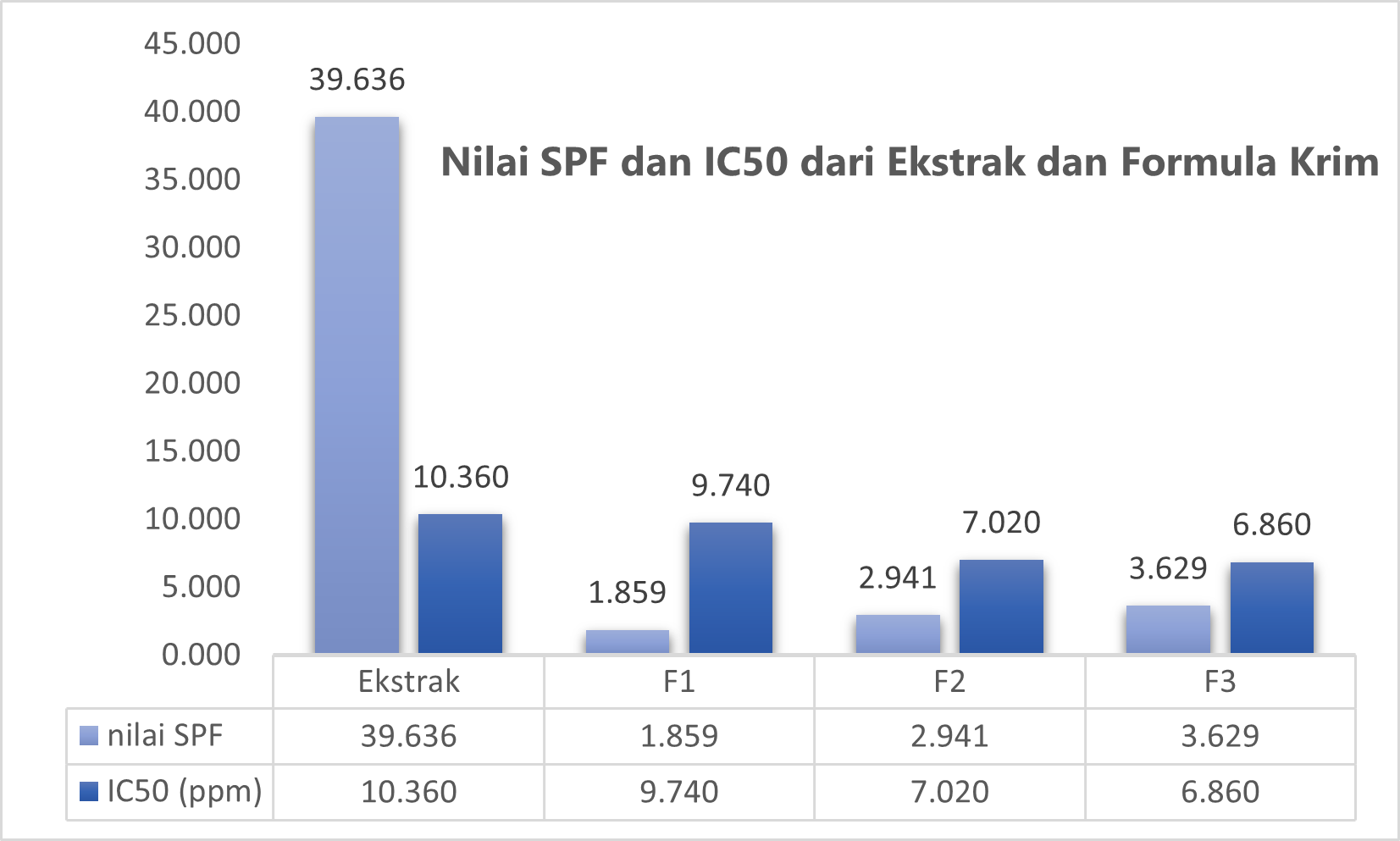 Downloads
How to Cite
Suradnyana, I. G. M., Juliadi, D., & Suena, N. M. D. S. (2023). Formulation and Test of Antioxidant and Sunscreen Activity of Cream Acetone Extract Avocado Fruit Seed. Jurnal Ilmiah Medicamento, 9(1), 42–51. https://doi.org/10.36733/medicamento.v9i1.5504
Section
Original Articles
License
Copyright (c) 2023 Jurnal Ilmiah Medicamento
This work is licensed under a Creative Commons Attribution-NonCommercial-NoDerivatives 4.0 International License.
The copyright holder for the work is the Jurnal Ilmiah Medicamento.
Jurnal Ilmiah Medicamento is licensed under a Creative Commons Attribution-NonCommercial-NoDerivatives 4.0 International License.
You are free to:
Share — copy and redistribute the material in any medium or format
The licensor cannot revoke these freedoms if you follow the license terms.
Under the following terms:
No additional restrictions — You may not apply legal terms or technological measures that legally restrict others from doing anything the license permits.