ANALISIS DRUG RELATED PROBLEMS (DRPs) PADA PASIEN PENYAKIT GINJAL KRONIK (PGK) RAWAT INAP DI SEBUAH RUMAH SAKIT DI BALI
Keywords:
drug related problems, penyakit ginjal kronik, pasien rawat inap
Abstract
Pasien penyakit ginjal kronik (PGK) memiliki risiko mengalami masalah-masalah terkait obat atau Drug Related Problems (DRPs). Penelitian bertujuan untuk mengetahui frekuensi dan jenis terjadinya DRPs pada pasien PGK stage 3,4, dan 5 rawat inap di sebuah Rumah Sakit di Bali serta mengetahui hal-hal yang menyebabkan terjadinya DRPs. Penelitian ini dilakukan dalam dua tahapan dengan dua pendekatan yang berkesinambungan pendekatan kuantitatif dan kualitatif. Pada tahap kuantitatif dilakukan secara observasional dan tahap kualitatif melalui wawancara dengan tenaga kesehatan. Sebanyak 58 pasien yang diikuti secara prospektif, yang kemudian dikelompokkan ke dalam stage 3, 4 dan 5. DRPs tersering adalah Reaksi Obat yang Tidak Dikehendaki (ROTD) sebanyak 68,39% dan penyebab (causes) tersering adalah terkait pemilihan dosis sebanyak 38,55% dan terkait dengan asuransi sebesar 5,16%. Hal-hal yang mempengaruhi terjadinya DRPs yaitu kebijakan, ketersediaan obat, komunikasi, keterbatasan sumber daya, error atau kesalahan tidak disengaja, pengetahuan dan persepsi terhadap outcome. DRPs yang paling sering terjadi adalah (ROTD) dengan penyebab yang paling sering pemilihan dosis selain itu disebabkan karena pemilihan obat, bentuk sediaan obat dan proses penggunaan obat. Perlunya adanya farmasi di ruangan yang bertugas untuk melihat terapi dan obat-obatan yang diterima pasien.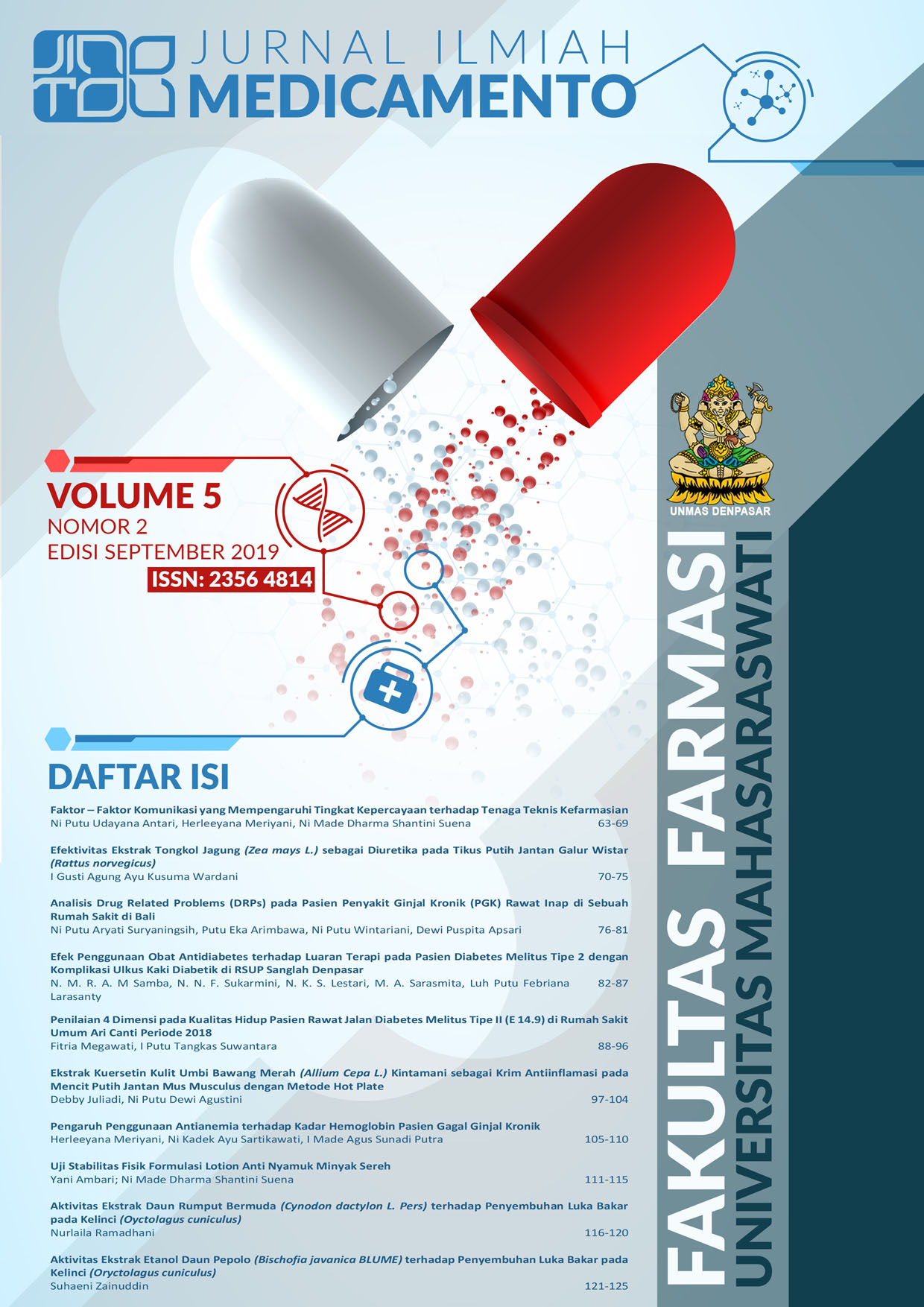 Downloads
How to Cite
Suryaningsih, N. P. A., Arimbawa, P. E., Wintariani, N. P., & Apsari, D. P. (2019). ANALISIS DRUG RELATED PROBLEMS (DRPs) PADA PASIEN PENYAKIT GINJAL KRONIK (PGK) RAWAT INAP DI SEBUAH RUMAH SAKIT DI BALI. Jurnal Ilmiah Medicamento, 5(2). https://doi.org/10.36733/medicamento.v5i2.433
Section
Original Articles
License
The copyright holder for the work is the Jurnal Ilmiah Medicamento.
Jurnal Ilmiah Medicamento is licensed under a Creative Commons Attribution-NonCommercial-NoDerivatives 4.0 International License.
You are free to:
Share — copy and redistribute the material in any medium or format
The licensor cannot revoke these freedoms if you follow the license terms.
Under the following terms:
No additional restrictions — You may not apply legal terms or technological measures that legally restrict others from doing anything the license permits.