Antioxidant and Antibacterial Potency of Red Chillies Extract (Capsicum annum var. Longum)
Keywords:
antibacterial, antioxidant, Capsicum, chili
Abstract
Chili (Capsicum annum var. Longum) is a horticultural plant that is widely used as raw material for the food and pharmaceutical industry. Generally, chili fruit contains phenolic chemical compounds of flavonoid and capcaisinoid compounds. Bioactive compounds in chili such as phenols, flavonoids and capsaicinoid have a positive relationship to antioxidant and antimicrobial activity. Capsicum annum var. Longum contains secondary metabolites such as alkaloids, phenols, flavonoids, tannins and saponins. The total phenol content is 0.81% (807.76 mg GAE/100 g). The total content of flavonoids is 5.64% (5646.08 mg QE/100 g). Antioxidant activity was carried out using the 1,1-diphenyl-2-picrylhydrazyl (DPPH) method with an IC50 value of 505.35 ppm. Antibacterial activity was carried out by disc diffusion method with the growth inhibition of Escherichia coli bacteria of 8.56 mm and Staphylococcus aureus of 3.55 mm.
References
Chang, C.-C., Yang, M.-H., Wen, H.-M., & Chern, J.-C. (2002). Estimation of total flavonoid content in propolis by two complementary colorimetric methods. Journal of food and drug analysis, 10(3).
Dungir, S. G., Katja, D. G., & Kamu, V. S. (2012). Aktivitas antioksidan ekstrak fenolik dari kulit buah manggis (Garcinia mangostana L.). Jurnal MIPA, 1(1), 11-15.
Indrawati, I., & Rizki, A. F. M. (2017). Potensi Ekstrak Buah Buni (Antidesma bunius L) Sebagai Antibakteri Dengan Bakteri Uji Salmonella thypimurium Dan Bacillus cereus. Jurnal Biodjati, 2(2), 138-148.
Latifah, N. (2018). Stabilitas Antosianin, Aktivitas Antioksidan, Dan Kadar Air Tepung Beras Hitam Berdasarkan Jenis Kemasan Dan Lama Penyimpanan. Universitas Muhammadiyah Semarang.
Materska, M., & Perucka, I. (2005). Antioxidant activity of the main phenolic compounds isolated from hot pepper fruit (Capsicum annuum L.). Journal of Agricultural and Food Chemistry, 53(5), 1750-1756.
Pratiwi, D., & Wardaniati, I. (2019). Pengaruh Variasi Perlakuan (Segar dan Simplisia) Rimpang Kunyit (Curcuma domestica) terhadap Aktivitas Antioksidan dan Kadar Fenol Total. Jurnal Farmasi Higea, 11(2), 159-165.
Rahmadeni, Y., Febria, F. A., & Bakhtiar, A. (2019). Potensi Pakih Sipasan (Blechnum orientale) sebagai Antibakteri terhadap Staphylococcus aureus dan Methicillin-Resistant Staphylococcus aureus. Metamorfosa. Journal of Biological Sciences, 6(2), 224.
Senet, M., Raharja, I., Darma, I., Prastakarini, K., Dewi, N., & Parwata, I. (2018). Penentuan kandungan total flavonoid dan total fenol dari akar kersen (Mutingia calabura) serta aktivitasnya sebagai antioksidan. Jurnal Kimia, 12(1), 13-18.
Shahidi, F., & Naczk, M. (2003). Phenolics in food and nutraceuticals: CRC press.
Sudarma, I. M.,Puspawati, N. M., Suniti, N. W., & Bagus,I.G.N. (2014). Status Penyakit Layu pada Tanaman Cabai Rawit (Capsicum Frutescens L.) di Banjarangkan, Klungkung.
Sudewi, S., & Lolo, W. A. (2016). Kombinasi ekstrak buah mengkudu (Morinda citrifolia L.) dan daun sirsak (Annona muricata L.) dalam menghambat bakteri Escherichia coli dan Staphylococcus aureus. Kartika: Jurnal Ilmiah Farmasi, 4(2), 36-42.
Susanah, R. W., Retno, K., & Dira, S. I. M. (2018). Total phenolic and flavonoid contents and antimicrobial activity of Acorus calamus L. rhizome ethanol extract. Research Journal of Chemistry and Environment, 22, 65-70.
Tiandora, M., Widyawati, W., & Darmawangsa, D. (2017). Kadar Hambat Minimum (KHM) dan Kadar Bunuh Minimum (KBM) pada buah cabai keriting (Capsicum annum, L) Terhadap Bakteri Streptococcus viridans Secara In Vitro. B-Dent: Jurnal Kedokteran Gigi Universitas Baiturrahmah, 4(1), 9-14.
Tumbel, D. J., Maarisit, W., Haryadi, H., & Saroinsong, Y. (2021). Uji Aktivitas Antibakteri Salep Ekstrak Etanol Daun Cabai Rawit Capsicum Frutescens L. Terhadap Bakteri Staphylococcus Aureus. Biofarmasetikal Tropis, 4(1), 1-9.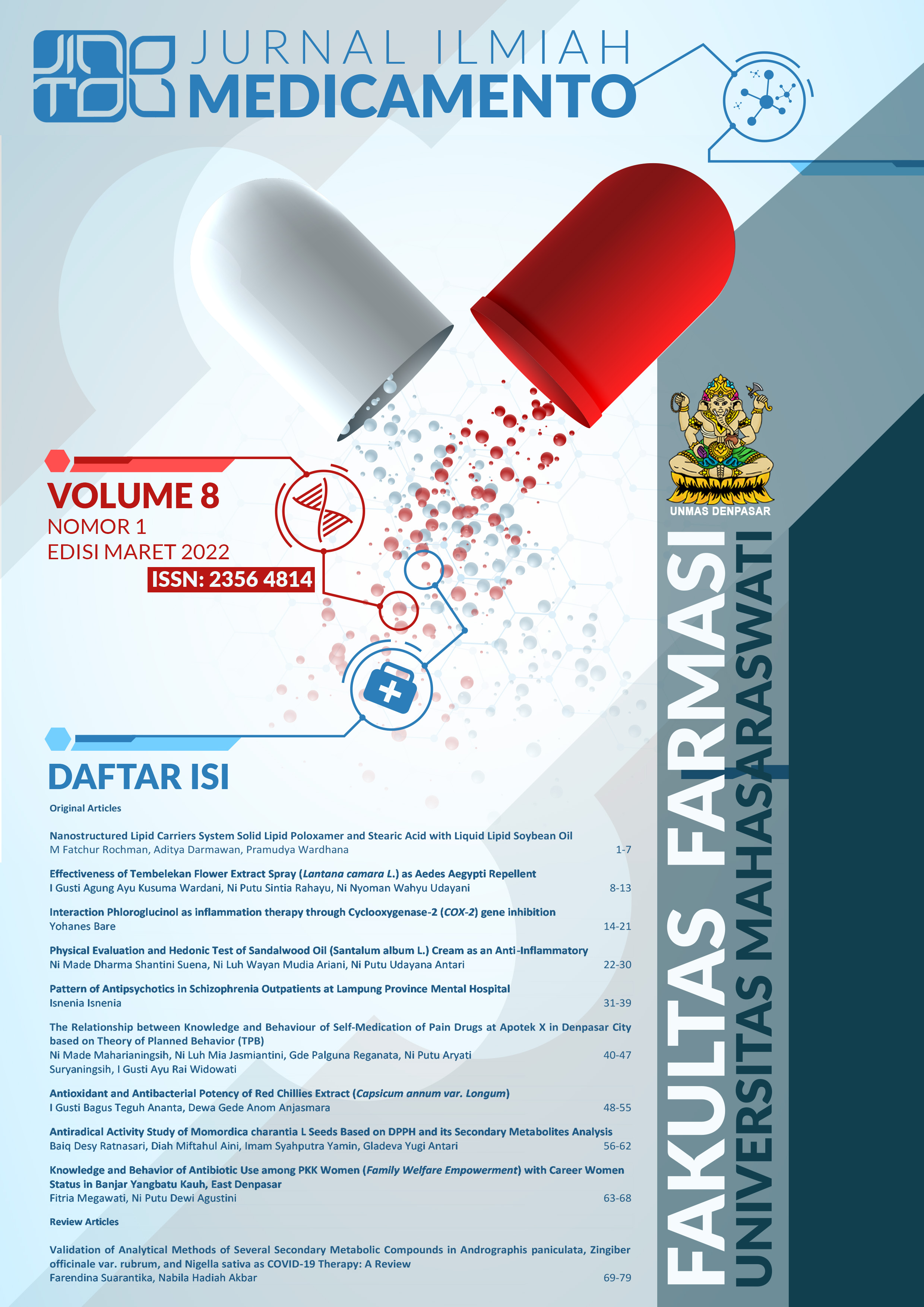 Downloads
How to Cite
Ananta, I. G. B. T., & Anjasmara, D. G. A. (2022). Antioxidant and Antibacterial Potency of Red Chillies Extract (Capsicum annum var. Longum). Jurnal Ilmiah Medicamento, 8(1), 48–55. https://doi.org/10.36733/medicamento.v8i1.3170
Section
Original Articles
License
Copyright (c) 2022 Jurnal Ilmiah Medicamento
This work is licensed under a Creative Commons Attribution-NonCommercial-NoDerivatives 4.0 International License.
The copyright holder for the work is the Jurnal Ilmiah Medicamento.
Jurnal Ilmiah Medicamento is licensed under a Creative Commons Attribution-NonCommercial-NoDerivatives 4.0 International License.
You are free to:
Share — copy and redistribute the material in any medium or format
The licensor cannot revoke these freedoms if you follow the license terms.
Under the following terms:
No additional restrictions — You may not apply legal terms or technological measures that legally restrict others from doing anything the license permits.