KEGIATAN LABORATORIUM DENGAN MODEL PEMBELAJARAN INKUIRI TERBIMBING UNTUK MENINGKATKAN KETERAMPILAN PROSES SAINS PESERTA DIDIK
Keywords:
Laboratory Activities, Guided Inquiry, Process Science Skills
Abstract
Activities undertaken within the laboratory can be used to train and develop students' science process skills. The students' science process skills provide hands-on experience with the material they are working on. But the fact is the lack of material management by involving the potential of students and the surrounding environment so that biology learning becomes less meaningful, and also leads the students' learning process skills less than optimal. This study aims to analyze the improvement of students' science process skills in laboratory activities through guided inquiry learning model. This type of research is Pre-experimental design. With the design of One Group Pretest- Posttest design. Implementation of this research in second semester of academic year 2017/2018 that is January-April 2018, which is located at SMP Negeri 4 Denpasar. The population in this study is all students of class VII SMP Negeri 4 Denpasar. The technique used in determining the sample is the technique of Simple Random Sampling, selected by class VII 3. The research instrument is rubric with eight aspects: asking questions, making hypotheses, predicting, planning experiments or investigating, observing, interpreting, applying concepts or principles, and communicating to measure students' learning process skills. Data were analyzed descriptively and inferentially by using one-way ANAVA test. The result of the research shows that there are real differences between KPS I, KPS II, and KPS III as evidenced by the statistical test of F Antara (55,32)> F table (3,47). The conclusion of this research is laboratory activity through guided inquiry model can improve students' learning process skill.
Downloads
Download data is not yet available.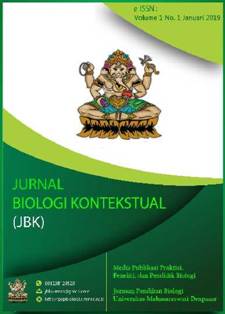 Downloads
How to Cite
Pio, K. T. P., Yuwono, C. S. M., & Puspawati, D. A. (2019). KEGIATAN LABORATORIUM DENGAN MODEL PEMBELAJARAN INKUIRI TERBIMBING UNTUK MENINGKATKAN KETERAMPILAN PROSES SAINS PESERTA DIDIK. Jurnal Biologi Konstektual (JBK), 1(1). Retrieved from https://e-journal.unmas.ac.id/index.php/JBK/article/view/221