KOMBINASI MODEL PEMBELAJARAN KOOPERATIF TIPE STAD DENGAN VIDEO PEMBELAJARAN BIOLOGI TERHADAP HASIL BELAJAR PESERTA DIDIK
Keywords:
STAD type cooperative learning, biology learning video, learning outcomes
Abstract
The process of implementation of classroom learning at this time indicates that it has been using some cooperative learning model, but in the implementation has not shown the activeness and innovation of learners in understanding the biological material, consequently the biology learning process is not well understood so that the achievement of learners' learning outcomes has not been maximized. One of the aternative learning models that can be used to improve the activity and student learning outcomes is still low is STAD type cooperative learning model that is integrated with aspects of technology that is laptop, LCD, and biology learning video in Kingdom Animalia material. This study aims to improve student learning outcomes through a combination of STAD (Student Teams-Achievement Divisions) type of learning model with biology learning video in SMA Saraswati 1 high school students (SLUA) ​​Saraswati 1 Denpasar. This type of research is quasi experimental design with Nonequivalent Control Group Design design implemented at SMA (SLUA) ​​Saraswati 1 Denpasar from April 16 until May 5, 2018. Data collection using multiple choice test questions 30 numbers consisting of 3 aspects of cognitive domain with 20 questions c2 4 questions c3 and 6 questions c4. The results of this study indicate that the combination of STAD type cooperative learning model with biology learning videos on student learning outcomes in the Kingdom Animalia material, students in the experimental class is better than the control class. The differences were reinforced by the Independent T-Test test results showing the significant differences in the results of the study of Kingdom animalia material with a significance level of 0.05 (*) between the experimental class and the control class. Thus, the combination of STAD Type Co-operative learning model with Biology learning video is better than conventional method.
Downloads
Download data is not yet available.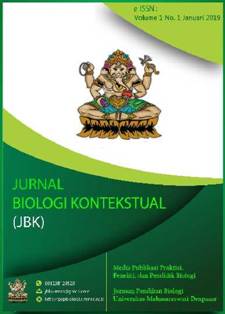 Downloads
How to Cite
Katoda, Y., Ratnani, D. A. S., & Yuwono, C. S. M. (2019). KOMBINASI MODEL PEMBELAJARAN KOOPERATIF TIPE STAD DENGAN VIDEO PEMBELAJARAN BIOLOGI TERHADAP HASIL BELAJAR PESERTA DIDIK. Jurnal Biologi Konstektual (JBK), 1(1). Retrieved from https://e-journal.unmas.ac.id/index.php/JBK/article/view/220