PENERAPAN MODEL PEMBELAJARAN JIGSAW ARONSON TERHADAP HASIL BELAJAR BIOLOGI PESERTA DIDIK
Keywords:
Aronson Jigsaw, biology study result, posttest-pretest
Abstract
Current phenomena indicate that the biology learning process has used several types of existing learning models, but in the implementation it has not shown the students' activeness in optimizing their basic potential in understanding the concept of biology, as a result the students' absorptive power is still low so that students' biology learning outcomes are not optimal. The Aronson jigsaw cooperative learning model is a learning model that emphasizes active and responsible learning in the learning process. The main objective in this study was to improve the learning outcomes of biology students of class XI MIA SMA (SLUA) Saraswati 1 Denpasar academic year 2017/2018. The type of research used is preexperimental design. The study was conducted from April 4 to May 7 involving 45 students.
The data collected in this study in the form of qualitative data were collected using 30 objective test questions consisting of 4 aspects, namely understanding, applying, analyzing, and evaluating. Data were analyzed using descriptive statistical techniques and inferential data by using Kolmogrov-Smirnov Test statistics to test its normality, using Leven's statistics Test of Quality of Error Variance to test homogeneity and then using paired t test to test the learning hypothesis. The results of testing hypotheses using paired t-test known jigsaw type of cooperative learning model affects the results of student biology learning with the acquisition of sig values (p = 0.000 <0.05). Thus the conclusion of this study is the application of the Aronson type jigsaw cooperative learning model can improve student biology learning outcomes
Downloads
Download data is not yet available.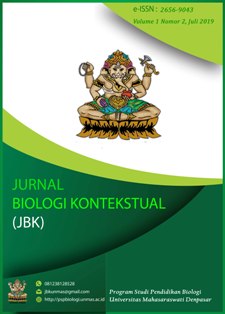 Downloads
How to Cite
Mbambuk, F. M., Yuwono, C. S. M., & Ekayanti, N. W. (2019). PENERAPAN MODEL PEMBELAJARAN JIGSAW ARONSON TERHADAP HASIL BELAJAR BIOLOGI PESERTA DIDIK. Jurnal Biologi Konstektual (JBK), 1(2). Retrieved from https://e-journal.unmas.ac.id/index.php/JBK/article/view/622