PENERAPAN MODEL PEMBELAJARAN INKUIRI TERBIMBING BERBASIS KEGIATAN LABORATORIUM TERHADAP KETERAMPILAN PROSES SAINS PESERTA DIDIK
Keywords:
Guided Inquiry, Laboratory Activities, Skills of Science Process
Abstract
Science learning activities conducted in the laboratory have the benefit to develop the intellectual skills of learners through observation activities, as well as to develop the skills of the science process. Scientific process skills provide meaning for learners to learn directly, but the learning outcomes both cognitive, affective, and psychomotor aspects in the form of skills and the ability of the application of science process skill is about 85%. For example, on the simplest aspect of science process skills, 70% of learners are less conscientious in making observations on the material classification of living things. The purpose of this study is to analyze the improvement of students' science process skills in laboratory activities through guided inquiry learning model. The type of research is Pre-Experimental Designs. The Research Design is One-Group Pretest Posttest Design. Sampling with Simple Random Sampling Technique. The data collection using the science-process skill observation sheet indicator is asking questions, making hypotheses, forecasting, classifying tools and materials, identifying, returning tools, observing, interpreting, drawing conclusions, linking data with theories, references used, communicating. The instrument is already in content validation by the expert validator. Descriptive data are tested using Range and Gain Score, quantitative data using F test to test the hypothesis that has been submitted accepted or rejected. The results showed that there were significant differences in students' learning skill skills (F = 28.90, P = 0.05). The conclusion of this research is guided inquiry learning based on laboratory activities able to improve the science process skills of learners.
Downloads
Download data is not yet available.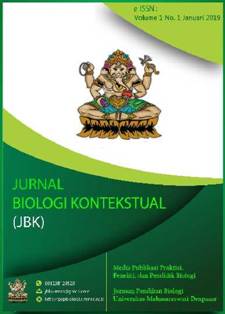 Downloads
How to Cite
Bili, E. M., Yuwono, C. S. M., & Setiawati, G. A. D. (2019). PENERAPAN MODEL PEMBELAJARAN INKUIRI TERBIMBING BERBASIS KEGIATAN LABORATORIUM TERHADAP KETERAMPILAN PROSES SAINS PESERTA DIDIK. Jurnal Biologi Konstektual (JBK), 1(1). Retrieved from https://e-journal.unmas.ac.id/index.php/JBK/article/view/227