PENERAPAN MODEL PEMBELAJARAN KOOPERATIF TIPE TAKE AND GIVE TERHADAP MINAT SISWA
Keywords:
Interest in learning, learning outcomes, learning take and gives
Abstract
The use of learning models accept and give (take and give) has the potential to build student learning concepts, increasing understanding of the material obtained in this case IPA biological eye (Biologi). The purpose of this research is to anlyse the type of take and give cooperative learning model toward the interest of SMP (SLUB) Saraswati 1 Denpasar. Type of reseach used is quasi experiment design with design non-equivalent control group design. Random sampling taken in class VII E and VII F class control. Data collection using questionnaire interest in student learning. The instrument is already in content validation (content validity) by expert validator. The data were analysed descriptively using gain score and were inferred using Mann Witney U Test. The results showed that there was a difference in students, interest in pretest and posttest. The average score in the class is 117.16 and the posttest average score 126.45 has  increased student learning interest by applying cooperative learning model of take and give type and supported by uni Mann Witney U Test which get significant result with probality (p) =0,000<0.01. The conclusion of this reseach is cooperative learning model take and give type can increase student learning interest in SMP (SLUB) Saraswati 1 Denpasar.
Downloads
Download data is not yet available.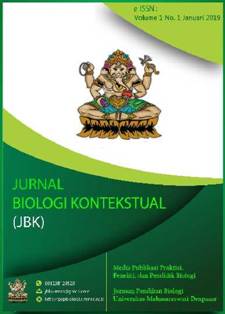 Downloads
How to Cite
Diala, M. M., Setiawati, G. A. D., & Puspawati, D. A. (2019). PENERAPAN MODEL PEMBELAJARAN KOOPERATIF TIPE TAKE AND GIVE TERHADAP MINAT SISWA. Jurnal Biologi Konstektual (JBK), 1(1). Retrieved from https://e-journal.unmas.ac.id/index.php/JBK/article/view/218