PENERAPAN MODEL PEMBELAJARAN GROUP INVESTIGATION BERBASIS PHOTOVOICETERADAP HASIL PHOTOVOICE DAN KEPEDLIAN LINGKUNGAN PESERTA DIDIK DISMA 8 DENPASAR
Stephanus Suhardi

Program Studi Pendidikan Biologi, Fakultas Keguruan dan Ilmu Pendidikan, Universitas Mahasaraswati Denpasar

Dewa Ayu Sri Ratnani

Program Studi Pendidikan Biologi Fakultas Keguruan dan Ilmu Pendidikan Universitas Mahasaraswati Denpasar

I Made Diarta

Program Studi Pendidikan Biologi Fakultas Keguruan dan Ilmu Pendidikan Universitas Mahasaraswati Denpasar
Keywords:
Group Investigation, Media photovoice, Concern of learners
Abstract
The Various questions in the world of education, one of which is the result of observation and interview in SMA N 8 Denpasar, in learning activities of biology model and learning media used is still less varied and innovative. The process of learning is only by way of lectures and discussions only so that learners become less active in developing the care of learners to the environment. To overcome these problems it is necessary that learning strategies can improve to increase awareness of students in the environment, with cooperative learning Group-based Investigation media photovoice. The purpose of this research is to increase the awareness of learners to the environment through the Group Investigation learning model with the media photovoice on environmental pollution material in SMA N 8 Denpasar. The type of this research is Quasi Experimental Design prettest-posttest with the design of Intact Group Comparison .. Sampling is done randomly by using the lottery so that obtained two classes experiment and control class. Data collection by using photovoice assessment rubric and questionnaire of concern of students of photovoice result assessment. For data analysis technique that is by using Mann-Whitney U Test.Indicates that there is a significant effect of the application of photovoice-based environmental pollution material to the group investigation model of student attention (Z = 67,655, p = 0,000) and there is a significant difference between the students' scientific writing that applies the photovoice-based students with the model group Investigation with students who did not apply group investigation model (Z = -2,694, p = 0,000).
Downloads
Download data is not yet available.
References
Arikunto, Suharsimi. (2010). Prosedur Penelitian Suatu Pendekatan Praktik. Yogyakarta: Rineka Cipta.
Sugiyono. (2012). Metode Penelitian Kuantitatif, Kualitatif, dan R&D. Cetakan ke-17. Bandung: Alfabeta.
Bernadette West, (1993), Panduan Pemberitaan Lingkungan Hidup, (Jakarta: Yayasan Obor Indonesia, 1998), hlm. 42
Kusuma, Indra. (2014). Pengembangan Karakter Siswa yang Peduli Lingkungan Melalui Penerapan 3R (reduce, reuse,recycle) dalam pembelajaran IPA.
Sugiyono, (2008) Metode Penelitian Kuantitatif dan Kualitatif, Bandung Alfabeta,
______, 2010, Statistika untuk Penelitian, Cetakan ke-17, Bandung : Alfabeta.
Suharsimi Arikunto, op.cit. Riduwan, Dasar-Dasar Statistika, (Bandung: Alfabeta, 2008), hlm.
Sugiyono, 2014, Imperium. Jakarta.
Setyosari, P.(2003) Metode Penelitian Pendidikan dan pengembangan Edisi Keempat, (Kencana Prenamedia Group
Winataputra, Udin, S. (2001) Model- model Pembelajaran Inovatif. Jakarta Pusat: Direktorat Jenderal Pendidikan Tinggi Departemen Pendidikan Nasional.
SPSS. 2007 Base 16 .0 user 's guide .Chicago , IL: SPSS Inc.
Slavin, R. E. 1995. Cooperatif Learning, Theory, Research, and Practice. Second Edition. Boston: Ally Mand Bacon Publisher. Winataputra, U.S. 1994. Belajar dan Pembelajaran. Jakarta: Universitas Terbuka, Depdikbud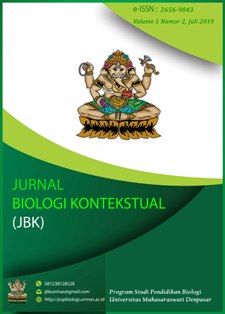 How to Cite
Suhardi, S., Ratnani, D. A. S., & Diarta, I. M. (2019). PENERAPAN MODEL PEMBELAJARAN GROUP INVESTIGATION BERBASIS PHOTOVOICETERADAP HASIL PHOTOVOICE DAN KEPEDLIAN LINGKUNGAN PESERTA DIDIK DISMA 8 DENPASAR. Jurnal Biologi Konstektual (JBK), 1(2), 132-138. Retrieved from http://e-journal.unmas.ac.id/index.php/JBK/article/view/626