PENGARUH PENERAPAN MODEL PEMBELAJARAN PROBLEM BASED LEARNINGMELALUI MEDIA POSTER TERHADAPPERILAKU BERKELOMPOK DAN POSTER HASIL PRAKTIKUM SISWA
Keywords:
PBL, practicum, posters
Abstract
The purpose of this study was to determine the effect the implementation of learning model Problem Based Learning (PBL) through poster media lab results on the behavior of students and student groups poster practicum student outcomes. Quasi-experimental research design using a design with a comparison group design intact. The study population was all students of class VII semester SMP (SLUB) Saraswati 1 Denpasar academic year 2014/2015. Samples are VIIE grade students as a control group and grade students VIIG as the experimental group. Data collection techniques and behavioral skills group posters results using a rubric. The results showed that the application of PBL through posters lab results have real impact on the behavior of students in groups, with the results of Mann Whitney Test (Z = -5.422; P = 0.000 <0.05), which states there is a real difference between the experimental class and control class. And the application of PBL Through posters media lab results are also significantly influenced the results of a poster with the results Utest Mann Whitney test (Z = -2.887; P = 0.004 <0.05). Behavioral models make use of PBL student groups and practicum Poster better results in the experimental class in comparison with the control class. So the use of PBL learning model through poster media lab results influence the behavior of the student groups and the results of poster junior high school students (SLUB)Saraswati 1 Denpasar.
Downloads
Download data is not yet available.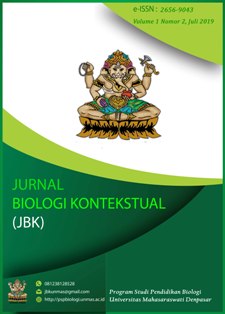 Downloads
How to Cite
Moni, A. G., Budiningsih, D. N., & Diarta, I. M. (2019). PENGARUH PENERAPAN MODEL PEMBELAJARAN PROBLEM BASED LEARNINGMELALUI MEDIA POSTER TERHADAPPERILAKU BERKELOMPOK DAN POSTER HASIL PRAKTIKUM SISWA. Jurnal Biologi Konstektual (JBK), 1(2). Retrieved from https://e-journal.unmas.ac.id/index.php/JBK/article/view/627