IMPROVING SPEAKING SKILL AND DEVELOPING CHARACTER OF THE STUDENTS THROUGH COLLABORATION OF THINK-PAIR-SHARE AND THE CONCEPT OF TRI KAYA PARISUDHA
Keywords:
keterampilan berbicara, karakter, think-pair-share, tri kaya parisudha
Abstract
Keterampilan berbicara merupakan salah satu keterampilan yang harus selalu dilatih agar mereka dapat berkomunikasi dengan baik.Di samping itu, karakter juga merupakan salah satu hal yang sangat penting karena orang yang sukses bukan hanya karena hard skill tetapi juga soft skill.Penelitian ini ditujukan untuk mengatasi permasalahan yang dihadapi oleh mahasiswa semester tiga Program Studi Pendidikan Bahasa Inggris yaitu keterampilan berbicara dan karakter.Penelitian dilaksanakan dalam beberapa siklus penelitian tindakan kelas dengan menerapkan model pembelajaran kolaborasi think-pair-share dengan konsep tri kaya parisudha. Setelah beberapa siklus, hasil penelitian menunjukkan terjadinya peningkatan dari pra siklus sampai siklus IV.Hal ini menunjukkan bahwa model pembelajaran yang diterapkan telah berhasil meningkatkan keterampilan berbicara dan mengembangkan karakter disiplin, jujur, kooperatif, kreatif dan saling menghormati.
Downloads
Download data is not yet available.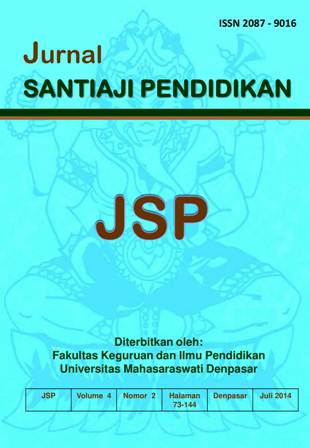 Downloads