A PROCEDURAL AND EFFECTIVE LANGUAGE TEACHING-LEARNING THROUGH PPP TECHNIQUE
Keywords:
procedural, effective, language teaching, PPP technique
Abstract
English is an international language that should be mastered if we want to communicate with people around the world. Unfortunately in Indonesia, English becomes a frightening lesson. This condition might happen because the inability of the lecturers in choosing and varying teaching technique. This hence encourages the writer to try to offer a procedural and effective teaching technique to support learning the language, that is, PPP (Presentation Practice and Production). Each phase of this technique is well organized as it has different things to be applied so that the students will find the technique much more various and interesting. During the three phases, both lecturer and students will do different activities, for example, participation or lecturers' roles and students' roles, types of control, and mistakes' treatment. The only thing that makes this technique is quite different with other techniques is that it provides the students with a plenty of times to practice what they have already studied in the classroom. Therefore, the students will learn the language contextually by using a procedural and effective teaching technique.
Downloads
Download data is not yet available.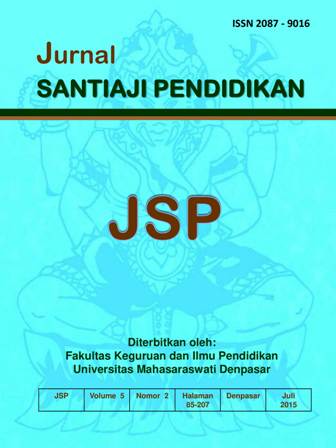 Downloads