IMPROVING SPEAKING SKILL THROUGH NUMBERED HEADS TOGETHER OF THE SEVENTH GRADE STUDENTS OF SMP PGRI 4 DENPASAR IN ACADEMIC YEAR 2014/2015
Keywords:
Speaking, Numbered Heads Together
Abstract
This study was intended to figure out the effectiveness of Numbered Heads Together in improving speaking skill of the seventh grade students of SMP PGRI 4 Denpasar. This study was conducted in class VII B which consisted of 16 students: 12 males and 4 females. This study was conducted by the fact that the subjects still faced problem in speaking skill especially in vocabulary, pronunciation, and grammar. Based on the result of the pre-test which was carried out in the pre-cycle, among 16 subjects who did the pre-test, there was none of the subjects passed the minimum score. The present study was then carried out by implementing Numbered Heads Together in successive two cycles where each cycle consisted of two sessions. The results of post-tests score for cycle I was 2.67 while in cycle II was 3.18. The results of post-test in each cycle showed that there was a significant progressing achievement of the subjects' speaking skill. In addition, the data analysis of questionnaire score showed the comparative percentages figures of 55.78% for option A, 42.40% for option B, 1.80% for option C and 0% of option D. The result of the questionnaire above clearly showed that the students' learning behavior and motivation have been improved significantly when Numbered Heads Together was implemented in teaching speaking. In conclusion, the present classroom action study proved that Numbered Heads Together was effective to improve the seventh grade students' of SMP PGRI 4 Denpasar ability in speaking skill; in addition, the subjects also responded positively to the implementation of Numbered Heads Together.
Downloads
Download data is not yet available.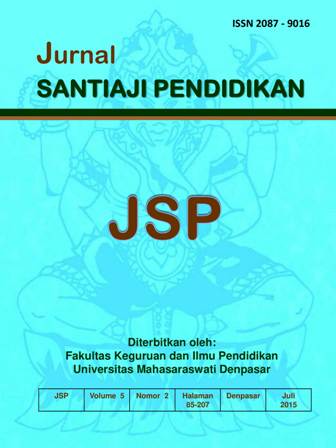 Downloads