IMPLEMENTASI MULTIPLE INSIDE-OUTSIDE CIRCLE UNTUK MENINGKATKAN KETERAMPILAN BERBICARA
Keywords:
speaking skill, Multiple Inside-Outside Circle
Abstract
This study was designed as a classroom action research (CAR). This study was conducted in some cycles consisted of two sessions in each cycle: Planning, Action, Observation, and Reflection. This study is conducted to the students of Germania Class Airport Handling Management Bali Aviation Training Center Denpasar (BATC) which consisted of 22 students (6 male and 16 female) who had low ability in speaking English. It  was proven by the average score of pre-test which was 66,59. To solve the problem, the researcher used Multiple Inside-Outside Circle. The data collected  from this research were obtained from pre-test, post-test, and questionnaire. The data were analyzed by analysis statistial desriptive. The first finding of this study was there was a significant improvement on students' speaking skill after the use of Multiple Inside-Outside Circle which can be seen from the average score of pre-test, cycle I and cycle II. The second finding showed that the subjects showed positive respond to the implementation of the Multiple Inside-Outside Circle.
Downloads
Download data is not yet available.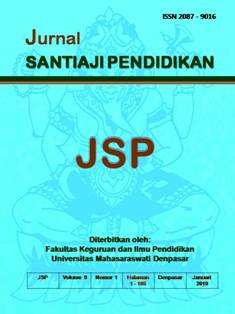 Downloads