Perawatan Dalam Bidang Konservasi Kedokteran Gigi Dengan Menggunakan Terapi Ozon (03)
Keywords:
Ozone, caries, endodontic
Abstract
Ozone (O3) is a gas that naturally exists in the earth's atmosphere formed from oxygen molecules and oxygen atoms can decompose quickly into oxygen. Ozone is a strong disinfectant and can kill 99% of bacteria, fungi, viruses quickly. Ozone therapy in the medical field is used to treat: vascular abnormalities, myocardial infarction, diabetes mellitus, wounds, and gynecological disorders. While in dentistry it is used as an alternative therapy for endodontic treatment, pit caries and fissure, root caries and cervical caries, caries on the tooth surface, deep caries care, root sensitivity, orthodontics, soft tissue treatment, and mandibular fractures. In the treatment of caries, there are still many doctors who treat with conventional techniques. The treatment process uses burial which can cause pain and fear especially in children. Ozone therapy as a safe and effective method for preventing damage to healthy tissue and caring for teeth by restoring the remineralization process and can reduce pain and fear.
Downloads
Download data is not yet available.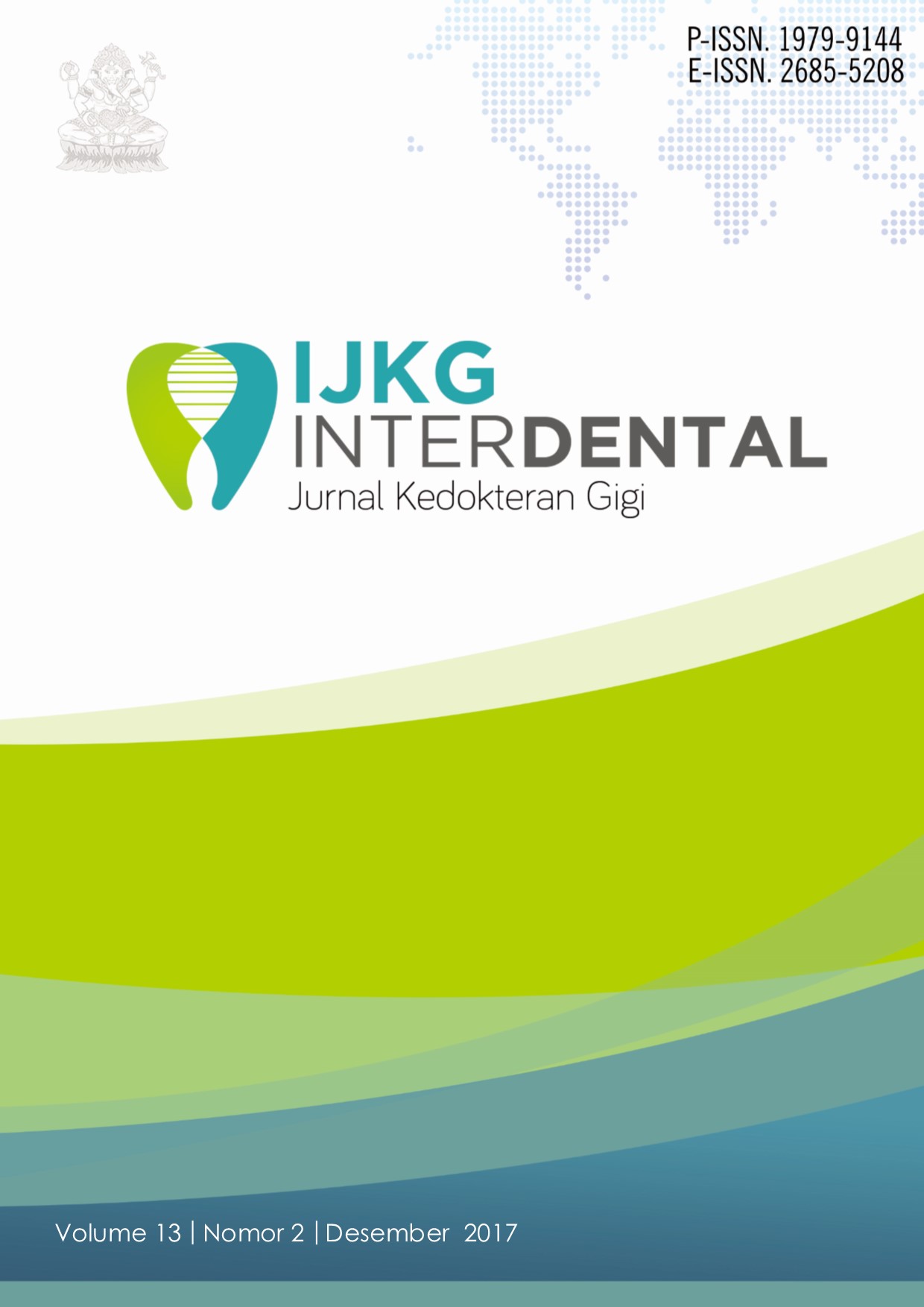 Downloads
How to Cite
Wedagama, D. M., & Hartini, I. G. A. A. (2017). Perawatan Dalam Bidang Konservasi Kedokteran Gigi Dengan Menggunakan Terapi Ozon (03). Interdental Jurnal Kedokteran Gigi (IJKG), 13(2). https://doi.org/10.46862/interdental.v13i2.359