Pengaruh Teknik Sandwich Terhadap Kebocoran Tepi Pada Restorasi Kavitas Kelas II
Keywords:
edge microleakage, sandwich technique restorations, glass ionomer cement
Abstract
The edge microleakage is one factor in the failure of the restoration. Edge microleakage may be reduced by using Glass ionomer cement as a base in sandwich technique restorations. Glass ionomer cement attaches chemically to the chemical adhesion, has good biocompatibility, the coefficient of thermal expansion is the same as the tooth structure, the dimensions are stable and the shrinkage process is minimal when setting, so that it may produce good edge closure. The aimed of this study was to evaluate the effect of sandwich techniques to avoid edge microleakage in class II cavity restorations. Twenty extracted human mandibular first premolars were made Class II DO cavities and divided into two groups. Ten teeth in the first group were restored with sandwich techniques, while the second group was restored with composite resin without sandwich technique. Both groups were immersed in a disclosing agent solution for 24 hours. After that the sample is cleaned and cut in the middle of the restoration (mesiodistal) with diamond disk and observations of the dye penetration length are done visually. Data were analyzed statistically by independent t-test (p <0.05). The results obtained showed that there was a significant difference between the sandwich restoration group and the restoration without sandwich techniques against edge leakage in class II cavities.
Downloads
Download data is not yet available.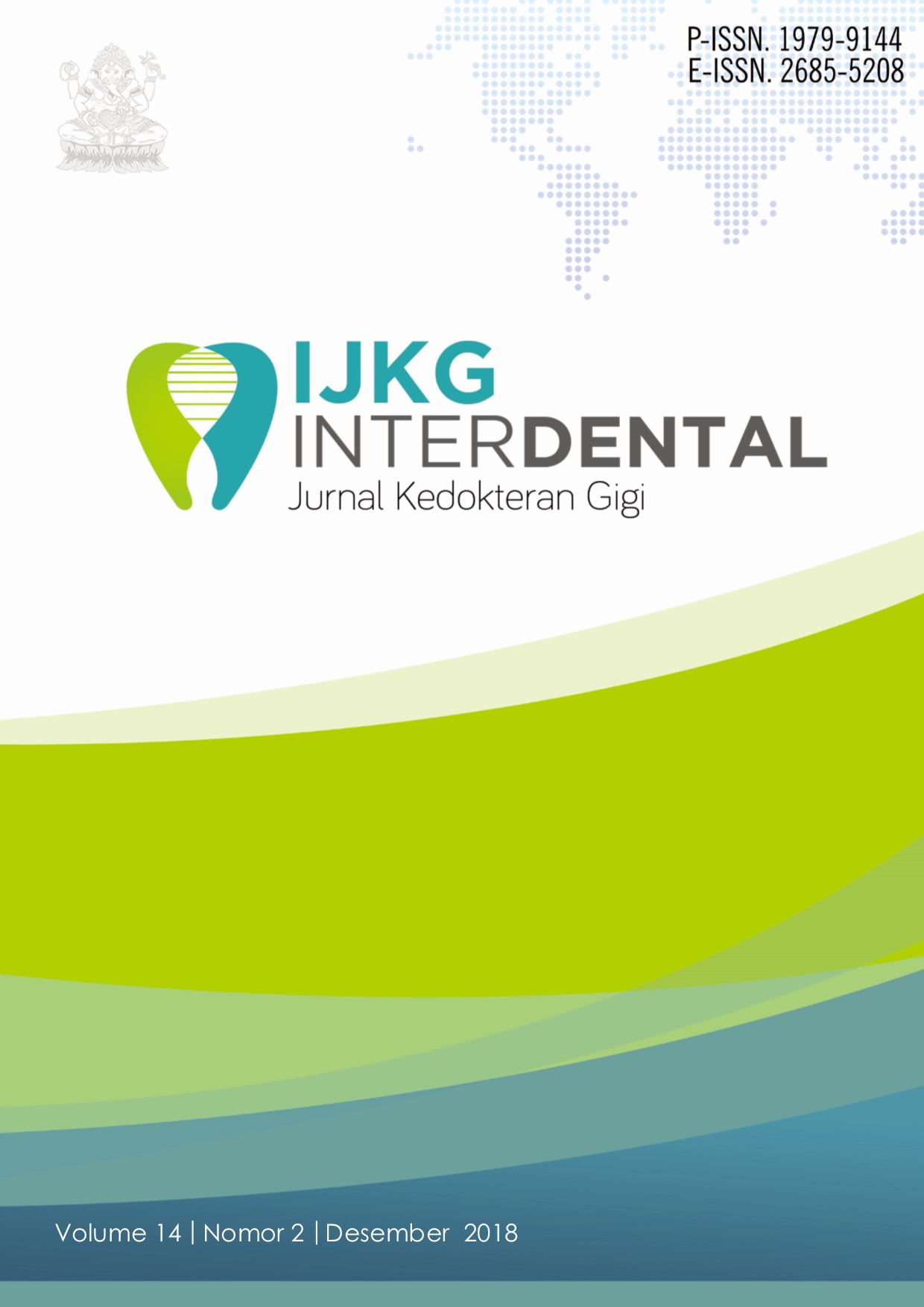 Downloads
How to Cite
Hartini, I. G. A. A., Sumantri, S., & Angelina, Y. (2018). Pengaruh Teknik Sandwich Terhadap Kebocoran Tepi Pada Restorasi Kavitas Kelas II. Interdental Jurnal Kedokteran Gigi (IJKG), 14(2). https://doi.org/10.46862/interdental.v14i2.374