SINGLE VISIT ENDODONTIC TREATMANT ON LEFT MAXILLARY FIRST MOLAR WITH RECIPROCAL SYSTEM
Keywords:
single visit endodontic, one file reciprocal system
Abstract
Root canal treatment is a step in order to maintain and preserve the tooth. The success rate of root canal treatment depend on the degree of severity illness and treatment techniques are performed. Reciprocal system is a techniques which use rotary one file endodontic. Single visit endodontic on this treatment was chosenbecause this techniques provide distinct advantages, more economical cost and risk contamination can be reduced.Female 25 years-old with irreversible pulpitis in maxillary left first molar, on the X-ray picture of the root canal looks normal without any narrowing. Root canal treatment performed with anesthetic infiltration pehacain 2 %, using rubber dam during treatment to prevent bacterial contamination and access opening. Tooth preparation using rotary one file reciprocal system R#25, previously done by determining work length with apex locator and confirm with X-ray picture. Obturation with single cone gutta percha R#25 and top seal paste, cotton pellet and temporary material filling. Control after 24 hours, percussion is negative, patient feel little ofpain.Success of endodontic is depend on eliminate bacterial product. One visit endodontic with reciprocal technique is a relatively reliable and simple technique for dentist.
Downloads
Download data is not yet available.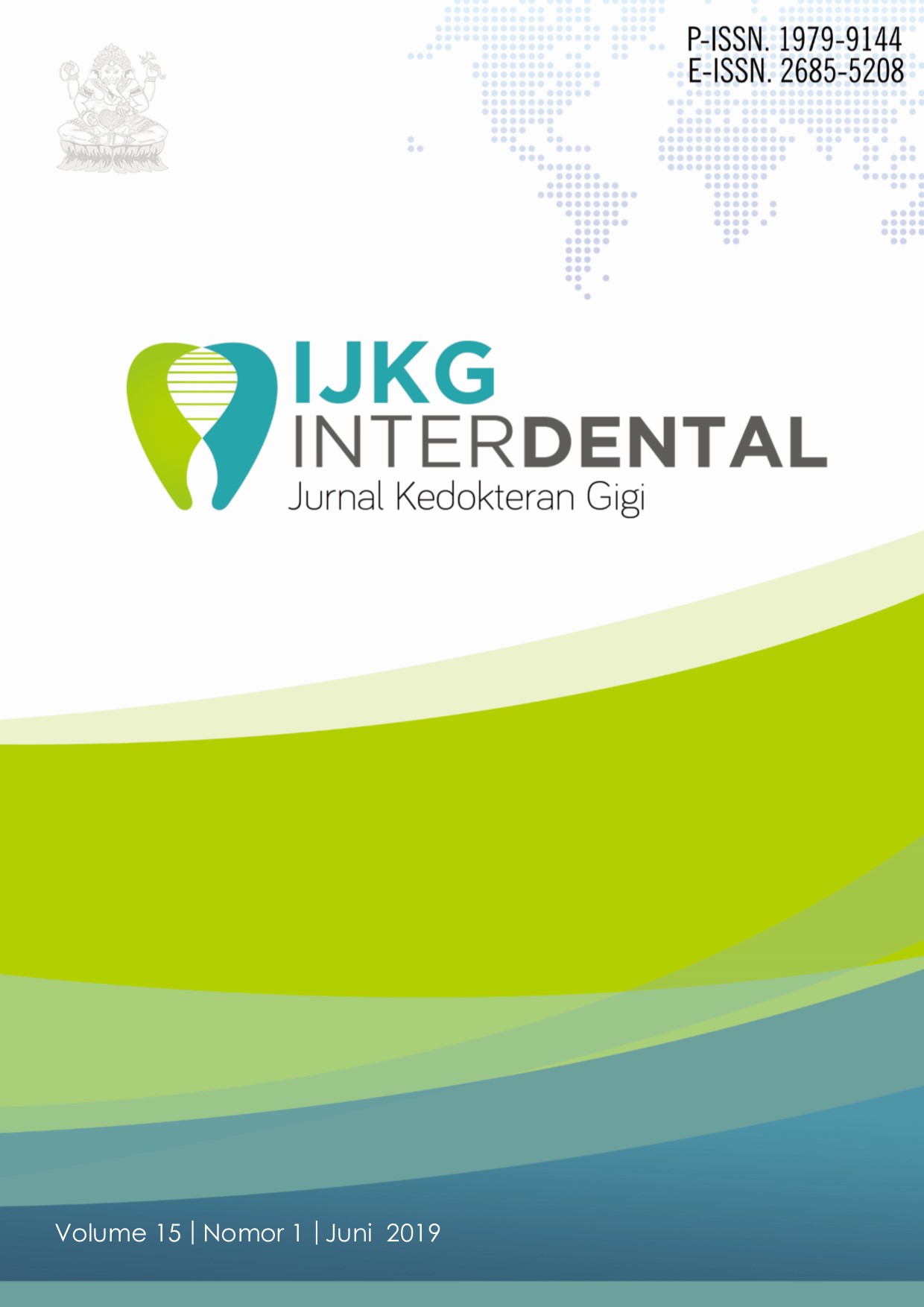 Downloads
How to Cite
Wedagama, D. M., Hartini, A., & Ernawati, L. (2019). SINGLE VISIT ENDODONTIC TREATMANT ON LEFT MAXILLARY FIRST MOLAR WITH RECIPROCAL SYSTEM. Interdental Jurnal Kedokteran Gigi (IJKG), 15(1). https://doi.org/10.46862/interdental.v15i1.341