UJI MUTU FISIK DAN UJI HEDONIK BODY BUTTER MASERAT BERAS MERAH JATILUWIH
Keywords:
beras merah, body butter, uji hedonik, uji mutu fisik
Abstract
Jatiluwih merupakan salah satu tujuan wisata andalan Kabupaten Tabanan Bali. Beras merah hasil pertanian dari Jatiluwih terkenal sebagai beras merah organik bermutu tinggi. Beras merah dikenal memiliki aktivitas antioksidan yang tinggi, sehingga komoditi tesebut sangat potensial untuk dikembangkan menjadi sediaan body butter. Dengan dasar pertimbangan tersebut peneliti tertarik untuk melakukan penelitian yang bertujuan untuk menguji mutu fisik dan kenyamanan penggunaan melalui uji hedonik body butter maserat beras merah. Formulasi body butter dilakukan dengan membuat empat jenis formula body butter beras merah (F1, F2, F3, F4). Uji mutu fisik yang dilakukan meliputi uji organoleptis, pH, daya serap, daya sebar, homogenitas, dan daya lekat. Uji hedonik dilakukan terhadap aroma, penampilan fisik, tekstur, dan kenyamanan saat menggunakan body butter maserat beras merah. Kenyamanan saat penggunaan body butter meliputi: kemampuan melembabkan kulit, kelengketan saat digunakan, tingkat kesulitan saat dibersihkan, dan kemampuan body butter menyerap dengan baik ke dalam kulit. Hasil penelitian menunjukkan setiap Formula (F1, F2, F3, F4) memiliki kestabilan yang baik. Berdasarkan uji hedonik didapatkan bahwa formula F3 adalah formula yang terbaik dengan total nilai 100 (dari nilai tertinggi 120). Berdasarkan uji mutu fisik, formula yang terbaik adalah formula F3 karena memiliki daya serap paling tinggi (5,15 ml), daya sebar yang baik (6,12 cm) dan daya lekat yang baik (1,48 detik) yang tidak berbeda bermakna dengan daya lekat produk pembanding.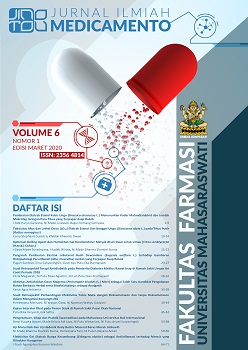 Downloads
How to Cite
Suena, N. M. D. S., Meriyani, H., & Antari, N. P. U. (2020). UJI MUTU FISIK DAN UJI HEDONIK BODY BUTTER MASERAT BERAS MERAH JATILUWIH. Jurnal Ilmiah Medicamento, 6(1). https://doi.org/10.36733/medicamento.v6i1.843
Section
Original Articles
License
The copyright holder for the work is the Jurnal Ilmiah Medicamento.
Jurnal Ilmiah Medicamento is licensed under a Creative Commons Attribution-NonCommercial-NoDerivatives 4.0 International License.
You are free to:
Share — copy and redistribute the material in any medium or format
The licensor cannot revoke these freedoms as long as you follow the license terms.
Under the following terms:
No additional restrictions — You may not apply legal terms or technological measures that legally restrict others from doing anything the license permits.