PENGETAHUAN, SIKAP DAN PRAKTIK SWAMEDIKASI PADA MAHASISWA UNIVERSITAS BALI INTERNASIONAL
Keywords:
mahasiswa, pengetahuan, praktik, sikap, swamedikasi
Abstract
Swamedikasi bila dilakukan secara irasional dapat menimbulkan masalah seperti efek samping obat. Hal tersebut dapat diturunkan dengan meningkatkan pengetahuan masyarakat, dimana hal tersebut terwakilkan dari pengetahuan mahasiswa. Oleh karena itu penelitian ini bertujuan untuk mengevaluasi  pengetahuan, sikap dan praktik swamedikasi mahasiswa Farmasi dan Non-Farmasi di Universitas Bali Internasional.  Penelitian ini menggunakan desain cross-sectional. Instrumen kuisioner yang mengandung 20 pertanyaan digunakan pada penelitian. Data dianalisis menggunakan SPSS (21.0). Chi-square test digunakan untuk membandingkan distribusi proporsi tiap kelompok sampel. Prevalensi swamedikasi antara mahasiswa Farmasi (77,4%) dan Non-Farmasi (40,4%) berbeda signifikan (p=0,000). Pengetahuan dan Praktik swamedikasi mahasiswa Farmasi signifikan lebih tinggi dibandingkan mahasiswa Non-Farmasi. Gejala flu merupakan indikasi obat yang paling banyak digunakan oleh mahasiswa Farmasi dan Non-Farmasi (43,1%). Mahasiswa Non-Farmasi (24,8%) signifikan (p=0,001) lebih tinggi menganggap penggunaan antibiotika aman untuk swamedikasi dibandingkan mahasiswa Farmasi (5,1%). Terdapat perbedaan signifikan lebih tinggi pengetahuan dan praktik swamedikasi pada  mahasiswa Farmasi dan Non-Farmasi.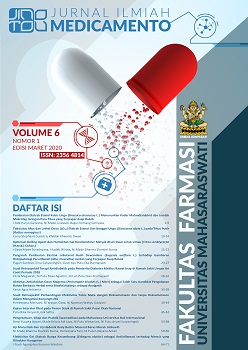 Downloads
How to Cite
Apsari, D. P., Jaya, M. K. A., Wintariani, N. P., & Suryaningsih, N. P. A. (2020). PENGETAHUAN, SIKAP DAN PRAKTIK SWAMEDIKASI PADA MAHASISWA UNIVERSITAS BALI INTERNASIONAL. Jurnal Ilmiah Medicamento, 6(1). https://doi.org/10.36733/medicamento.v6i1.780
Section
Original Articles
License
The copyright holder for the work is the Jurnal Ilmiah Medicamento.
Jurnal Ilmiah Medicamento is licensed under a Creative Commons Attribution-NonCommercial-NoDerivatives 4.0 International License.
You are free to:
Share — copy and redistribute the material in any medium or format
The licensor cannot revoke these freedoms if you follow the license terms.
Under the following terms:
No additional restrictions — You may not apply legal terms or technological measures that legally restrict others from doing anything the license permits.