PROFIL PENGGUNAAN ANTIBIOTIKA UNTUK PENGOBATAN ISPA NONPNEUMONIA DI PUSKESMAS KEDIRI II TAHUN 2013 SAMPAI DENGAN 2015
Keywords:
antibiotika, ISPA, Nonpneumonia
Abstract
ISPA adalah penyakit infeksi akut yang menyerang salah satu bagian atau lebih dari saluran nafas. Infeksi pada saluran pernafasan merupakan penyakit yang umum terjadi di masyarakat, dan penyebarannya sangat mudah dan cepat. Secara umum penyebab dari infeksi saluran nafas adalah berbagai mikroorganisme, namun yang terbanyak akibat infeksi bakteri dan virus. Pengobatannya juga disesuaikan dengan penyebabnya. Penggunaan antibiotika diperlukan apabila penyebab penyakitnya sudah dipastikan bakteri. Kenyataannya dimasyarakat penggunaan antibiotika begitu mudah. Hal ini menimbulkan kekhawatiran terjadinya pengobatan yang tidak rasional dan kemungkinan terjadinya resistensi. Penelitian ini mengumpulkan data yang disajikan sedemikian rupa, untuk menggambarkan penggunaan antibiotika untuk pengobatan ISPA nonpneumonia di Puskesmas Kediri II. Penelitian ini dilakukan dengan metode deskriptif observasional, yaitu penelitian berdasarkan data-data yang sudah ada tanpa melakukan perlakuan terhadap subyek uji. Data diperoleh dari hasil penghitungan resep yang diberikan kepada pasien yang didiagnosa ISPA nonpneumonia, seperti pilek (common cold), sinusitis, faringitis, tonsilitis, laringitis dan ISPA lainnya yang tidak spesifik, yang berobat di Puskesmas Kediri II pada tahun 2013 sampai dengan tahun 2015. Dari penelitian yang dilakukan diperoleh hasil penggunaan antibiotika tahun 2013 sebesar 86,16%, tahun 2014 sebesar 88,61% dan tahun 2015 sebesar 82,73%, dengan Amoxycillin menduduki peringkat tertinggi penggunaan antibiotika yaitu sebesar 92,76%, Cefadroxil 4,19%, Ciprofloxacin 1,34% dan Cotrimoxazole 1,71%.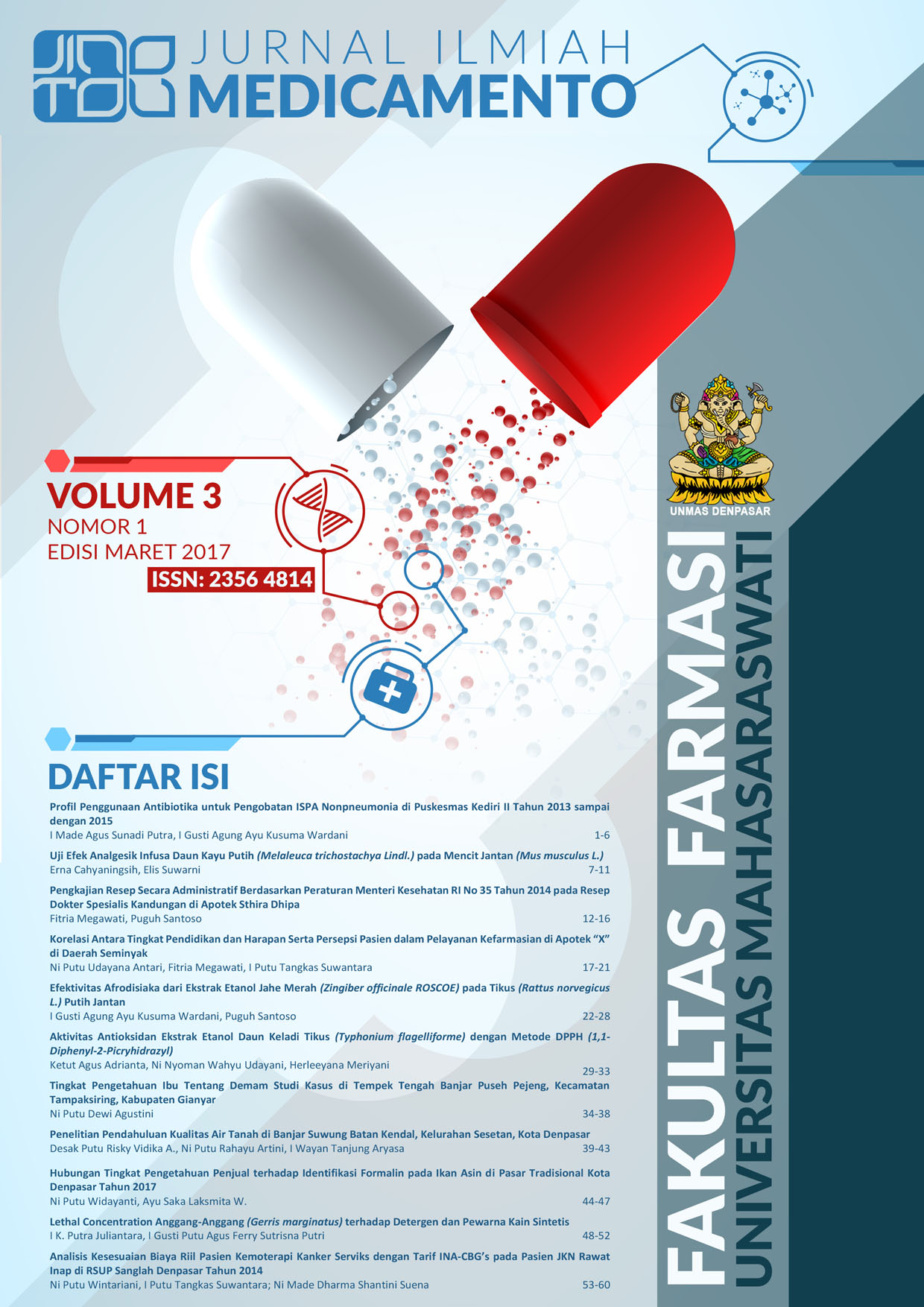 Downloads
How to Cite
Putra, I. M. A. S., & Wardani, I. G. A. A. K. (2017). PROFIL PENGGUNAAN ANTIBIOTIKA UNTUK PENGOBATAN ISPA NONPNEUMONIA DI PUSKESMAS KEDIRI II TAHUN 2013 SAMPAI DENGAN 2015. Jurnal Ilmiah Medicamento, 3(1). https://doi.org/10.36733/medicamento.v3i1.1037
Section
Original Articles
License
The copyright holder for the work is the Jurnal Ilmiah Medicamento.
Jurnal Ilmiah Medicamento is licensed under a Creative Commons Attribution-NonCommercial-NoDerivatives 4.0 International License.
You are free to:
Share — copy and redistribute the material in any medium or format
The licensor cannot revoke these freedoms if you follow the license terms.
Under the following terms:
No additional restrictions — You may not apply legal terms or technological measures that legally restrict others from doing anything the license permits.