UJI AKTIVITAS ANTIINFLAMASI GEL EKSTRAK KULIT MANGGIS DENGAN VARIASI KONSENTRASI
Keywords:
ekstrak kulit manggis, uji aktivitas antiinflamasi, variasi konsentrasi
Abstract
Inflamasi merupakan respon pertahanan tubuh terhadap invasi benda asing, kerusakan jaringan atau keduanya. Inflamasi ditandai dengan adanya rubor (kemerahan), kalor (panas), dolor (nyeri) dan tumor (pembengkakan). Di alam terdapat berbagai senyawa yang dapat memberikan aktivitas sebagai antiinflamasi, salah satunya adanya senyawa yang terkandung dalam kulit buah manggis. Ekstrak kulit buah manggis yang memiliki aktivitas sebagai antiinflamasi, yakni γ-mangostin. Kandungan γ-mangostin pada kulit buah manggis diketahui dapat menghambat jalur aktivitas siklooksigenase (COX-2) dan dapat menurunkan level dari PGE2 (Nakatani dkk., 2004).Penelitian dilakukan dengan 6 ekor mencit yang menjadi 2 kelompok uji. Kelompok I sebagai kelompok kontrol (1 ekor mencit untuk Kontrol Positif, 1 ekor mencit untuk Kontrol Negatif dan 1 ekor mencit untuk Kontrol Normal) dan kelompok II sebagai kelompok uji sebanyak 3 ekor mencit. Pada tiap kaki kanan belakang mencit pada kontrol negatif dioleskan 100mg basis sediaan uji, pada mencit kontrol positif dioleskan 100mg voltaren emulgel dan pada kontrol normal tidak diberikan apapun. Sedangkan pada kelompok II dioleskan 100mg sediaan uji. Setelah diberi perlakuan, terhadap kaki kanan belakang mencit seluruh kelompok kecuali kelompok kontrtol normal diinjeksikan larutan karagenan sebanyak 0,1mL. Diukur volume kaki kanan belakang mencit hingga tanda batas yang telah diberikan pada menit ke-30, 60, dan 90 terhitung setelah pemberian injeksi karagenan (Vt). Nilai persen aktivitas antiinflamasi sediaan uji yang paling mendekati kontrol positif (voltaren emulgel) adalah sediaan uji dengan konsentrasi 0,1% yaitu 25,07%; 55,28%, dan 82,33% pada menit ke-30, 60 dan 90 secara berturut turut.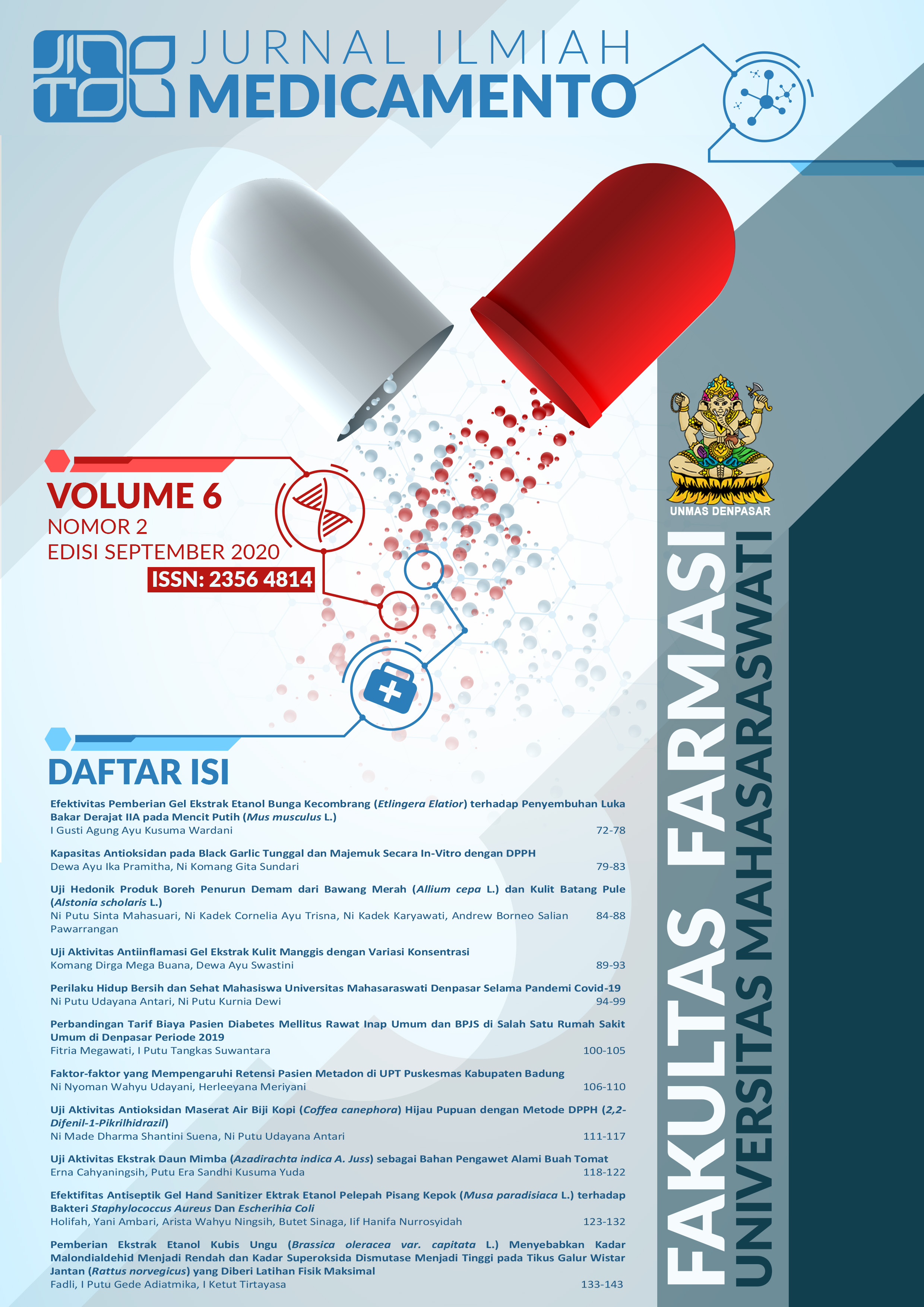 Downloads
How to Cite
Buana, K. D. M., Dewi, K. N. M., Pratiwi, N. K. R., Permatahati, D. M., Putri, P. R. J., Yanti, L. P. D., & Swastini, D. A. (2020). UJI AKTIVITAS ANTIINFLAMASI GEL EKSTRAK KULIT MANGGIS DENGAN VARIASI KONSENTRASI . Jurnal Ilmiah Medicamento, 6(2). https://doi.org/10.36733/medicamento.v6i2.1033
Section
Original Articles
License
The copyright holder for the work is the Jurnal Ilmiah Medicamento.
Jurnal Ilmiah Medicamento is licensed under a Creative Commons Attribution-NonCommercial-NoDerivatives 4.0 International License.
You are free to:
Share — copy and redistribute the material in any medium or format
The licensor cannot revoke these freedoms if you follow the license terms.
Under the following terms:
No additional restrictions — You may not apply legal terms or technological measures that legally restrict others from doing anything the license permits.