IMPLEMENTASI MODEL PEMBELAJARAN THINK PAIR SHARE DAN KEBIASAAN BELAJAR TERHADAP KECERDASAN INTERPERSONAL PESERTA DIDIK KELAS X SMA(SLUA) SARASWATI I DENPASAR
Keywords:
Think pair share, learning habbit, Interpersonal intelligent
Abstract
The purpose of this research is to analyze interpersonal intelligent of the student by think pair share (TPS) learning model and learning habbit. Various of this research is pre-experimental  by one group pretest- posttest control design(Sugiyono,2016). This research was held from February-May 2019, located at SMA(SLUA) Saraswati 1 Denpasar in even semester 2018/2019.Population in this research is all of the student of X class of SMA (SLUA) Saraswati 1 Denpasar. Sample taking in this research is using purposive sampling technique. By taking sample of X MIA3 class amount 28 people. Independent variable in this research is Think Pair Share learning models and learning habbit. Dependent variable is Interpersonal intelligent.Data collecting used interpersonal intelligent rubric instrument and learning habbit quesionaire which has been treated by validity and reliability test. Data is analyzed by using parametric statistic by test average difference (Paired sample t-test) and prerequisite test by using normality test. Tabulation of data was done by using SPSS programme of 23.0 version and exell program. The result of hypothesis analysis test showed that there is the significant differency to the student Interpersonal intelligent pre and post learned think pair share model and learning habbit. The result of research showed in all of student interpersonal intelligent is in high category, its mean the student is ability to make good social relation in biology subject learning. Hence it can be concluded that there is increase of student interpersonal itelligent of X MIA3 class of SMA(SLUA) Saraswati 1 Denpasar after learned by think pair share (TPS) and learning habbit.
Downloads
Download data is not yet available.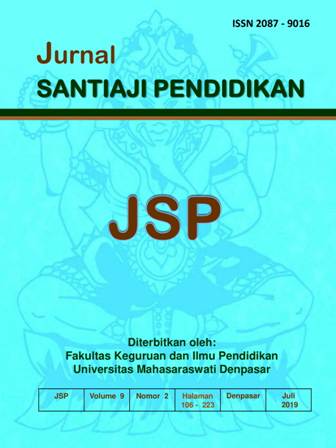 Downloads