MANAGEMENT OF HERPES LABIALIS TRIGGERED BY STRESS
Tatalaksana Herpes Labialis yang dipicu kondisi stress (Laporan Kasus)
Keywords:
HSV-1, Stress, Herpes Labialis
Abstract
Introduction: Herpes Labialis is the most common form of orofacial herpes, beginning with a feeling of vesicle formation at the vermilion margin of the lips and the surrounding area within 24 hours and then rupture, superficial erosion occurs which is then covered with crusts. Herpes labialis occurs in 50-75% of individuals exposed to HSV-1 infection in the oral cavity and often has a recurrence followed by prodromal symptoms. Reactivation can occur due to triggers in the form of decreased immune conditions due to weather changes, fever, sun exposure, emotional stress, trauma, menstruation, systemic diseases, allergies, and immunosuppression. Case: 22 years old female with a complaint of a wound on the angular lip, initially the patient had a fever for 2 days then a fluid-filled blister appeared which then rupture. Case management: The diagnosis is made using anamnesis, clinical and supporting examination. CBC and Antybody Titer HSV-1 show value under normal for eosinophil and reactive for IgG HSV-1 established. Patient take medicine topical antiinflammation 3 time a day and multivitamins 1 time a day. Discussion: HSV-1 infektion is latent and can reaktivation. Under Stress Condition can caused a reduced circulating population of immune cells such as IL-6, TNFα, Lymphocites B, NK cell, dan Monocytes which HSV-1 Reactivation. Conclusion: Management in case can be successful if the clinician understand HSV-1 Infection Manifestation and added Suporting Examination. In Addition, cooperation from the patien is needed to manage stress so that the disease no more recurrence
Downloads
Download data is not yet available.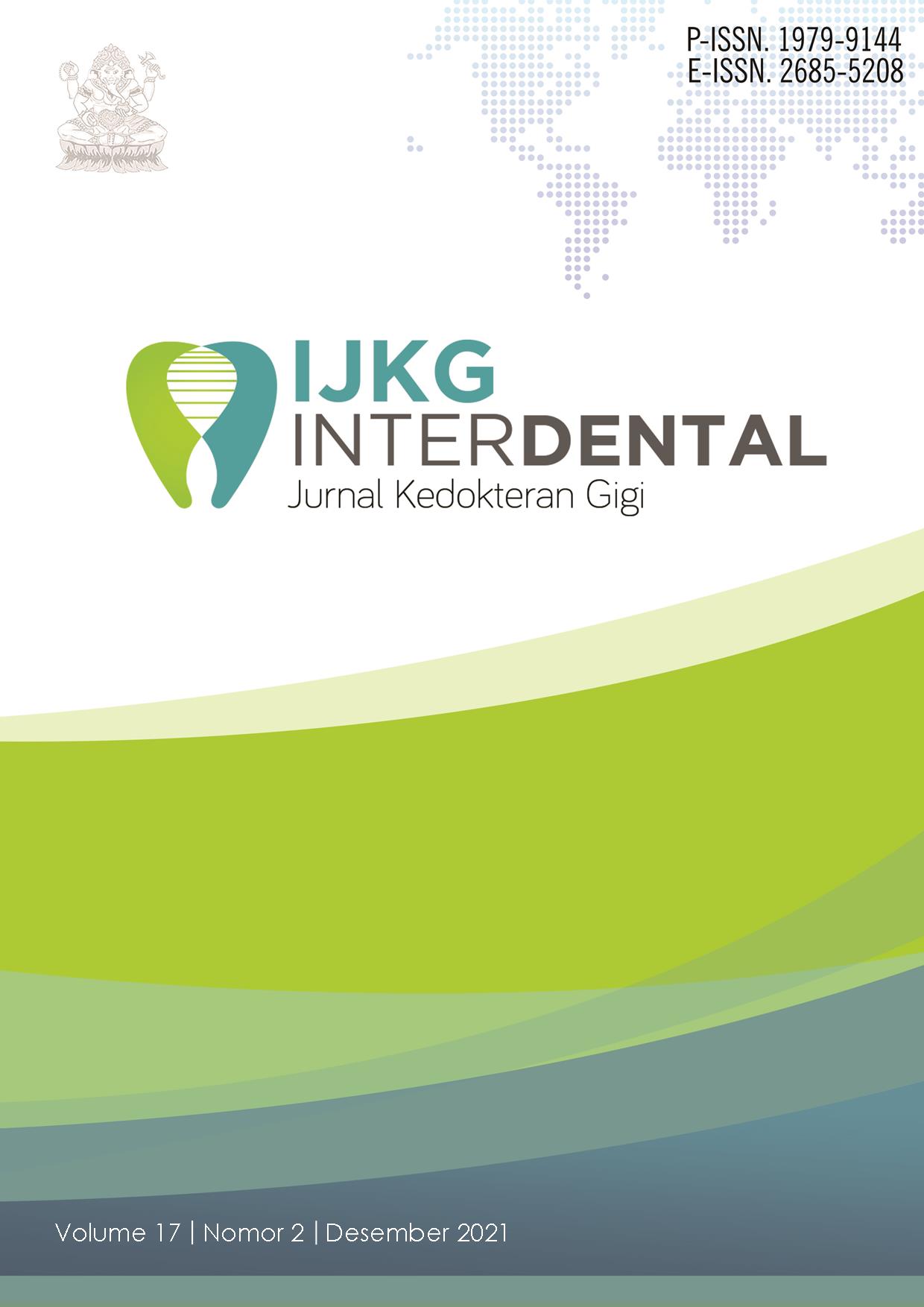 Downloads
How to Cite
Ganesha, R., Sari, R. K., & Putra, I. N. G. J. (2021). MANAGEMENT OF HERPES LABIALIS TRIGGERED BY STRESS: Tatalaksana Herpes Labialis yang dipicu kondisi stress (Laporan Kasus). Interdental: Jurnal Kedokteran Gigi, 17(2), 56–62. https://doi.org/10.46862/interdental.v17i2.2966