MANAGEMENT OF PRIMARY HERPETIC GINGIVOSTOMATITIS IN TEENAGER PATIENT
PERAWATAN GINGIVOSTOMATITIS HERPETIKA PRIMER PADA PASIEN REMAJA
Keywords:
HSV-1, Primary Herpetic Gingivostomatits, Teenager
Abstract
Introduction: Primary Herpetic Gingivostomatitis (PHGS) is a primary infection to Herpes Simplex Virus type 1 (HSV-1). PHGS often occurs in pre-school-aged children, but also occur in school-age children and teenager. This case report purpose to discuss management of PHGS in teenager. Case: Patient a 12-year-old with chief complaints are many ulcers in mouth. Ulcer appears after the patient has a fever for 2 days. The patient has never experienced like this before. On Intra Oral examination found ulcers, varying in size, pain in the upper labial, lower labial, lower gingival and lower mucobucalfold. Case Management: patient was given a complete blood count and IgG antigen HSV-1, with reactive results. Patients received treatment in the form of aloe vera extract gel, immunomodulator syrup, and ulcers healed after 12 days of treatment. Conclucion: Primary Herpetic
Gingivostomatitis caused by HSV infection. This case often occurs in children but does not rule out the possibility that it can occur in teenager, adults and the elderly. Management in this case is aimed at pain control by topical analgesics and supportive therapy with immunomodulatory. In this
case, a proper history and examination, accompanied by laboratory examinations, is needed to establish a diagnosis and cooperation between dentists and patients to accelerate recovery.
Downloads
Download data is not yet available.
References
Kumar,V., Abbas, A. & Aster,J.C., 2015. Robbins and Cotran: Pathologic Basis of Disease 9th Ed. Philadelphia: Elseiver Ltd.
Scully,C.,2010. Medical Problems in Dentistry, Available at: http://discovery.ucl.ac.uk/ 166609/.
Samaranayake, L., 2012. Essential Microbiology for Dentistry 4th Ed. Alison Taylor, ed., Edinburg: Churchill Livingstone Elseiver Ltd
Glick M. Burket's Oral Medicine. 12th ed. Connecticut (USA): People's Medical Publishing House; 2015; p104-110
Flint, S.R., 2013. Herpes Simplex Virus infection.,1(october), pp.1–7.
Tovaru S, Parlatescu I, Tovaru M, Cionca L. 2009. Primary herpetic gingivostomatitis in children and adults. Quintessence Int. 2009; 40(2): p.119-24.
Carole Wade dkk,. 2006. Psikologi. Penerbit Erlangga-Jakarta.
JaniceJ. Beaty 2013. Observasi Anak Usia Dini. Kencana Prenadamedia-Jakarta.
Field A, Longman T. 2004. Tyldesley's oralmedicine. 5th ed. New York: Oxford. p.40-4
WHO Update. Herpes Simplex 2017. Available at http://www.who.int/mediacentre /factsheets/fs400/en/
Erni Marlina & Hadi Soenartyo. Prymary Herpetic Gingivostomatitis pada individu dewasa muda. Dentofasial. 2012; 11(2):111 -114
Fatahzadeh M, Schwartz AR. Human herpes simplex virus infection: epidemiology, pathogenesis, symptomatology, diagnosis and management. J Am Acad Dermatol. 2007; 17: 5.
KEMENKES. 2011. Pedoman Intepretasi Data Klinik. Jakarta.
Baratawidjaja, KG. 2000. Imunologi Dasar, Balai penerbit FKUI – Jakarta.
Samaranayake, L., 2012. Essential Microbiology for Dentistry 4th Ed. Alison Taylor, ed., Edinburg: Churchill Livingstone Elseiver Ltd.p.
Kalbemed A. Aloclair Plus [Internet]. Kalbemed.com. 2013. Available from: http://www.kalbemed.com
Almatsier, Sunita. 2004. Penuntun Diet edisi baru. Jakarta: PT Gramedia Pustaka Utama.
Wiryana, M. Nutrisi Pada Penderita Sakit Kritis. J Peny Dalam. 2007;8(2): p.176-186
Dewoto HR. 2012. Farmakologi dan Terapi. Ed 5. Jakarta: FKUI.p 283,505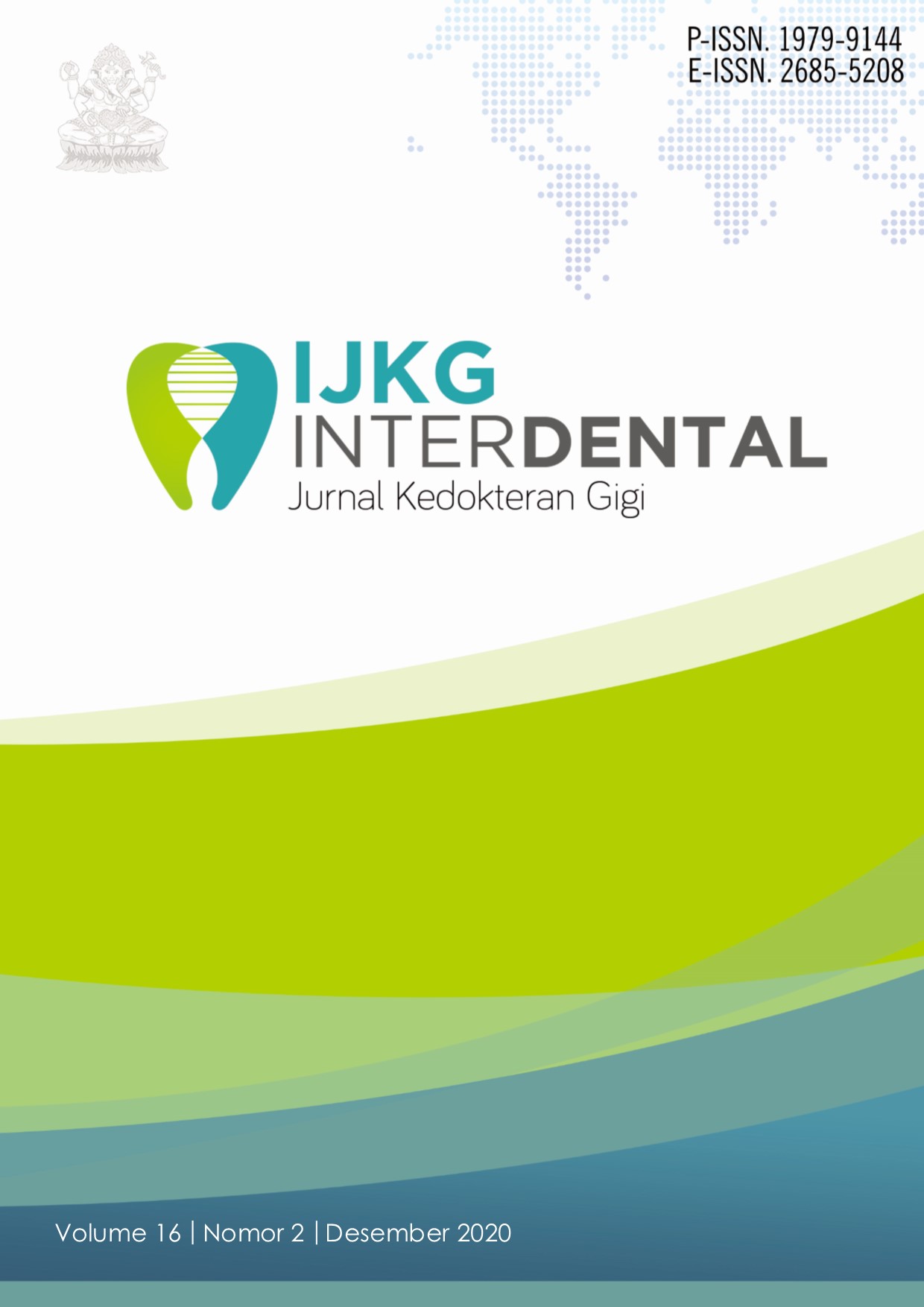 Downloads
How to Cite
Ganesha, R. (2020). MANAGEMENT OF PRIMARY HERPETIC GINGIVOSTOMATITIS IN TEENAGER PATIENT : PERAWATAN GINGIVOSTOMATITIS HERPETIKA PRIMER PADA PASIEN REMAJA . Interdental Jurnal Kedokteran Gigi (IJKG), 16(2), 45–51. https://doi.org/10.46862/interdental.v16i2.1132