A LITTLE THINGS YOU GIFT TO OTHER, IS SOMETHING BIG FOR THEM
Keywords:
Covid-19, dedication, Orphanage
Abstract
This community service activity was carried out in commemoration of Kartini Day which also aims to fulfill obligations in the implementation of the Tri Dharma of Higher Education and to ease the burden on the children at the Hindu Dharma Jati 1 Orphanage and Yassika Orphanage who were directly affected by the economic impact of the pandemic.  Covid-19.  This activity was carried out by distributing basic necessities, stationery, and toilets and not to forget a little entertainment in the form of fun games.  The results of this Social Service activity show that partner problems, with the Covid-19 pandemic, have caused the Hindu Dharma Jati 1 Orphanage and Yassika Orphanage to lose several permanent donors.  We, from the Management Study Program Student Association, Mahasaraswati Denpasar University, took the initiative to help government programs in easing the burden on the community, especially the lower middle class who were greatly affected by the Covid-19 outbreak.  The method of activity used is to collaborate with the administrators of the Hindu Dharma Jati 1 Orphanage and Yassika Orphanage.  Before the activity was carried out, we made initial communication with the local orphanage management who then conducted a field survey to find out the real conditions and identify targets in the implementation of Community Service activities.  After getting the data for the orphanage that meets the criteria as targets, then further communication is needed to the orphanage management in determining the implementation time and technical activities.
Downloads
Download data is not yet available.
References
Departemen Sosial Republik Indonesia. 2004. Acuan Pelayanan Sosial Anak di Panti Sosial Asuhan Anak. Jakarta : Departemen Sosial Republik Indonesia.
Uno, Hamzah. (2007). Teori Motivasi dan Pengukurannya. Jakarta: Bumi Aksana
Riduwan. (2016). Pelaksanaan kegiatan pengabdian kepada masyarakat oleh perguruan tinggi" researchgate. Dikutip dari http://www.researchgate.net/publication/31377846_pelaksanaan_kegiatan_pengabdiankepada_masyarakat_oleh_perguruantinggi.
Sa'adah, Ainun., Ropiqa, Meri., Astuti, Puji., & Mufidah, Zahro. (2021). Pengabdian Kepada Masyarakat Bakti Sosial Bersama Panti Asuhan Ar-Ridho, Siantan. Jurnal Inovasi & Terapan Pengabdian Masyarakat, 1(2), 67-71
Yuliana. (2020). Corona virus diseases (Covid -19); Sebuah tinjauan literatur. Wellness and Healthy Magazine, 2(1), 187–192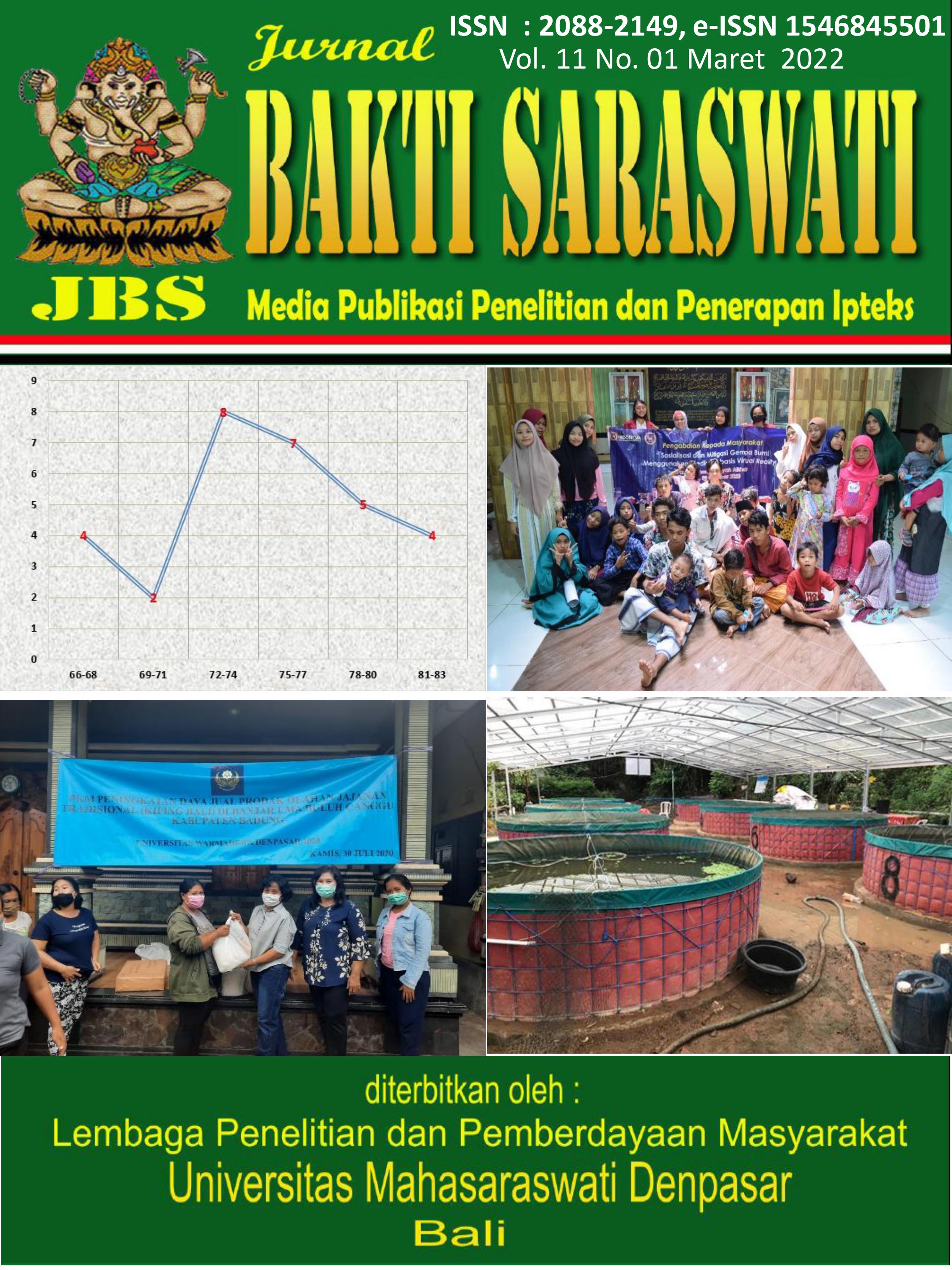 Downloads