Effect of Glimepiride on Blood Glucose Reduction in Diabetic-Kidney Dysfunction Mice
Keywords:
blood sugar, diabetes melitus, glimepiride, mice
Abstract
Diabetes mellitus (DM) is a disease or chronic metabolic disorder that can cause long-term complications such as damage to the liver, heart, eyes, and kidneys. One of the diabetes drugs is glimepiride. Glimepiride has the main mechanism of action of lowering blood glucose by stimulating insulin secretion from the granules of Langerhans cells. This study aims to determine the effect of glimepiride on reducing blood glucose in diabetic-kidney dysfunction mice. The design of this research is Post-test Only Control Group Design. This study used 105 mice which were divided into 7 groups. The dose of glimepiride was made in three variations: 1 mg/kgBW, 2 mg/kgBW and 4 mg/kgBW. The results showed no significant effect on decreasing blood glucose levels in diabetic-kidney dysfunction mice at various doses of glimepiride (p>0.05). Furthermore, further tests were carried out which showed that there was a significant effect on the duration of administration of various doses of glimepiride in reducing blood glucose levels in diabetic-kidney dysfunction mice (p<0.05). From the results of this study, it can be concluded that the pathology of the disease does not significantly affect the mechanism of action of glimepiride. Still, the length of time glimepiride is administered to diabetic-renal dysfunction mice shows a significant effect.
References
Al-Kaff, Z. S. (2021). Perbandingan Kadar dan Profil Disolusi serta Mutu Fisik Tablet Glimepirid 2 mg Generik dan Generik Bermerek (Bachelor's thesis, FKIK UIN Jakarta).
American Diabetes Association (2020) Standards of Medical Care in Diabetes. J Clin Appl Research Educ. 2020;43(Supplement 1): S1–14.
Eliansyaputra, M. F., Parisa, N., & Theodorus, T. (2021). Drug Use Pattern Of Glimepirid In Patient With Diabetes Mellitus Type 2 At Rsup Dr. Mohammad Hoesin Palembang On 1 June 2019–30 June 2020 Period (Doctoral Dissertation, Sriwijaya University).
Fatimah, S. (2019). Studi potensi interaksi obat pada terapi pasien penyakit ginjal kronis (PGK) di instalasi rawat inap RSUD Jombang tahun 2016 (Doctoral dissertation, Universitas Islam Negeri Maulana Malik Ibrahim).
International Diabetes Federation (2019) IDF Diabetes Atlas. 9 Ed.
Kovy, M. (2016). Evaluasi Penggunaan Obat Antidiabetes Oral Pada Pasien Diabetes Melitus Tipe 2 Rawat Jalan di RSUD. Prof. Dr. Soekandar Tahun.
Kusumawati Diah, (2016). Bersahabat Dengan Hewan Percobaan. Yogyakarta. Gadjah Mada University Press.
Pakaya, M., Rasdianah, N., & Dalu, M. C. (2022). POTENSI INTERAKSI OBAT PASIEN HIPERTENSI DAN DIABETESMELITUS TIPE2 DI INSTALASI RAWAT JALAN RSUD TOTO KABILA. Pharmacoscript, 5(1), 56-61.
Perkumpulan Endokrinologi Indonesia. (2015). Konsensus Pengelolaan dan Pencegahan Diabetes Melitus tipe 2 di Indonesia. Jakarta: PB Perkeni. Hal.27-47.
Perkumpulan Endokrinologi Indonesia. (2014). Konsensus Pengolahan Dan Pencegahan Diabetes Melitus Tipe 2 Di Indonesia.
Sarel, Z., & Simanjuntak, K. (2020). Pengaruh Pemberian Ekstrak Teh Hijau (Camellia Sinensis L.) Terhadap Penurunan Kadar Kolesterol Total Tikus Wistar (Rattus Norvegicus) Diabetes Induksi Aloksan. Jurnal Sehat Mandiri, 15(1), 98-111.
Sihotang, R. C., Ramadhani, R., & Tahapary, D. L. (2018). Efikasi dan keamanan obat anti diabetik oral pada pasien diabetes melitus tipe 2 dengan penyakit ginjal kronik. Jurnal Penyakit Dalam Indonesia, 5(3), 150-155.
Simangunsong, Y. (2019). Uji Efek Penurunan Kadar Glukosa Darah Dari Ekstrak Etanol Biji Mahoni (Swietenia Mahagoni Jacq) Terhadap Tikus Putih (Rattus Novergicus) Dengan Glibenklamid Sebagai Pembanding.
Soheir E.M. Khadre Et Al. (2011). Effect Of Metformin and Glimepiride on Liver And Kidney Functions In Alloxan-Induced Diabetic Rats. Vol. 41 No. 2. Bulletin Of High Institute of Public Health.
Tarigan TJE, Yunir E, Subekti I, Pramono LA, Martina D. (2015) Profile and analysis of diabetes chronic complications in outpatient diabetes clinic of Cipto Mangunkusumo Hospital, Jakarta. MJI.;24(1):156-62.
World Health Organization. (2019 ) Classification Of Diabetes Mellitus.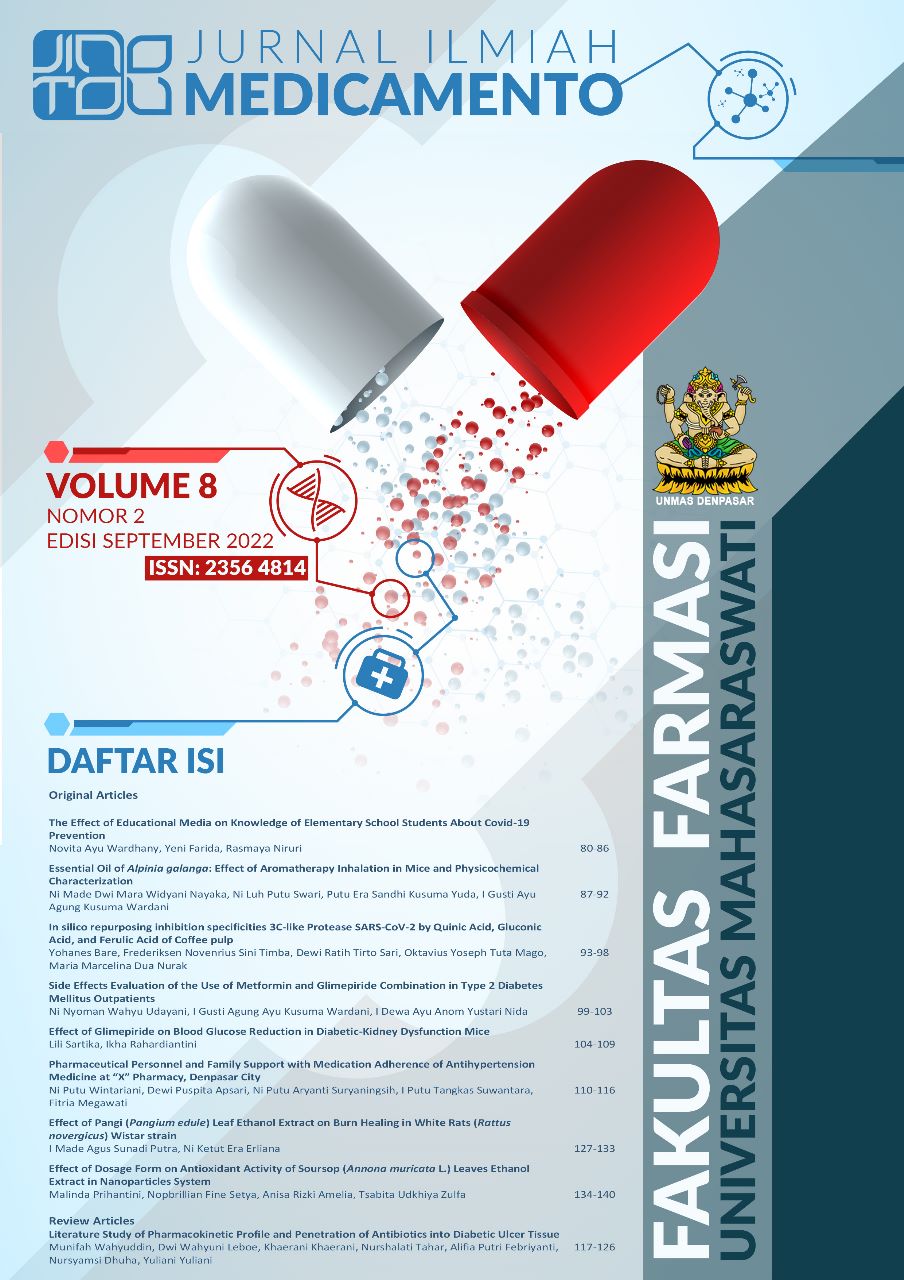 Downloads
How to Cite
Sartika, L., & Rahardiantini, I. (2022). Effect of Glimepiride on Blood Glucose Reduction in Diabetic-Kidney Dysfunction Mice. Jurnal Ilmiah Medicamento, 8(2), 104–109. https://doi.org/10.36733/medicamento.v8i2.3517
Section
Original Articles
License
Copyright (c) 2022 Lili Sartika, Ikha Rahardiantini
This work is licensed under a Creative Commons Attribution-NonCommercial-NoDerivatives 4.0 International License.
The copyright holder for the work is the Jurnal Ilmiah Medicamento.
Jurnal Ilmiah Medicamento is licensed under a Creative Commons Attribution-NonCommercial-NoDerivatives 4.0 International License.
You are free to:
Share — copy and redistribute the material in any medium or format
The licensor cannot revoke these freedoms if you follow the license terms.
Under the following terms:
No additional restrictions — You may not apply legal terms or technological measures that legally restrict others from doing anything the license permits.