PEMBENTUKAN MEMORANDUM OF UNDERSTANDING SEBAGAI PENGEMBANGAN SISTEM PEMBELAJARAN DI MASA PANDEMI COVID-19
Keywords:
Memorandum of Understanding, Learning System, Covid-19, Memorandum ofUnderstanding, Sistem Pembelajaran
Abstract
For educational institutions during the Covid-19 pandemic, in carrying out learning and developing learningsystems, they can collaborate with other institutions tobecome resource persons. This learning system can use a Memorandum of Understanding as a basis for cooperation. Based on this, it is interesting to conduct further studiesregarding thereasonsfortheneed to form a Memorandum of Understanding in implementing a cooperative-based learningsystem during the Covid-19 pandemi cand the methodof compiling a Memorandum of Understanding as a legal basis forworking together to carry outlearning during the Covid-19 pandemic. In the discussion, the Memorandum ofUnderstanding can be used for educational institutions to cooperate with other institutions in implementing an onlinelearning system by inviting the institutions they invite to cooperate as resourcepersons. A Memorandum of Understandingisused as a basis for cooperation because its for missimpleand its implementation is flexible depending on thecommunication of the parties regarding the conditions and technical implementation. With regard to drafting a Memorandum of Understanding, the anatomy of a Memorandum of Understanding is more or less the same as theanatomy of an agreement, only that its contents are simpleranddo not regulate in detail because a Memorandum ofUnderstanding is aninitial agreement which later needs to be followedup with a written or oral agreement.
Bagi lembaga penyelenggara pendidikan pada masa pandemi covid-19 dalam melaksanakan pembelajaran serta mengembangkan sistem pembelajaran dapat bekerjasama dengan lembaga lain untuk menjadi narasumber. Sistem pembelajaran ini dapat menggunakan Memorandum ofUnderstanding sebagai landasan kerjasama. Berdasarkan hal tersebut, maka menarik untuk melakukan kajian lebih lanjut mengenai alasan dibutuhkannya membentuk Memorandum ofUnderstanding dalam melaksanakan sistem pembelajaran berbasis kerjasama di masa pandemi covid-19 serta Metode menyusun Memorandum of Understanding sebagai dasar hokum bekerjasama melaksanakan pembelajaran di masa pandemi covid-19. Pada pembahasan, Memorandum of Understanding dapat digunakan bagi lembaga pendidikan untuk bekerjasama dengan lembaga lain dalam melaksanakan sistem pembelajaran online dengan mengundang lembaga yang diajak bekerjasama menjadi narasumber. Memorandum of Understanding digunakan sebagai landasan kerjasama karena bentuknya simpel dan pelaksanaannya fleksibel tergantung pada komunikasi para pihak mengenai kondisi dan teknis pelaksanaannya. Berkenaan dengan menyusun Memorandum ofUnderstanding, anatomi dari Memorandum ofUnderstanding kurang lebih sama dengan anatomi perjanjian, hanya saja isinya lebih simpel dan tidak mengatur secara terperinci karena Memorandum ofUnderstandingmerupakan kesepakatan awal yang nantinya perlu ditindaklanjuti dengan perjanjian tertulis maupun lisan.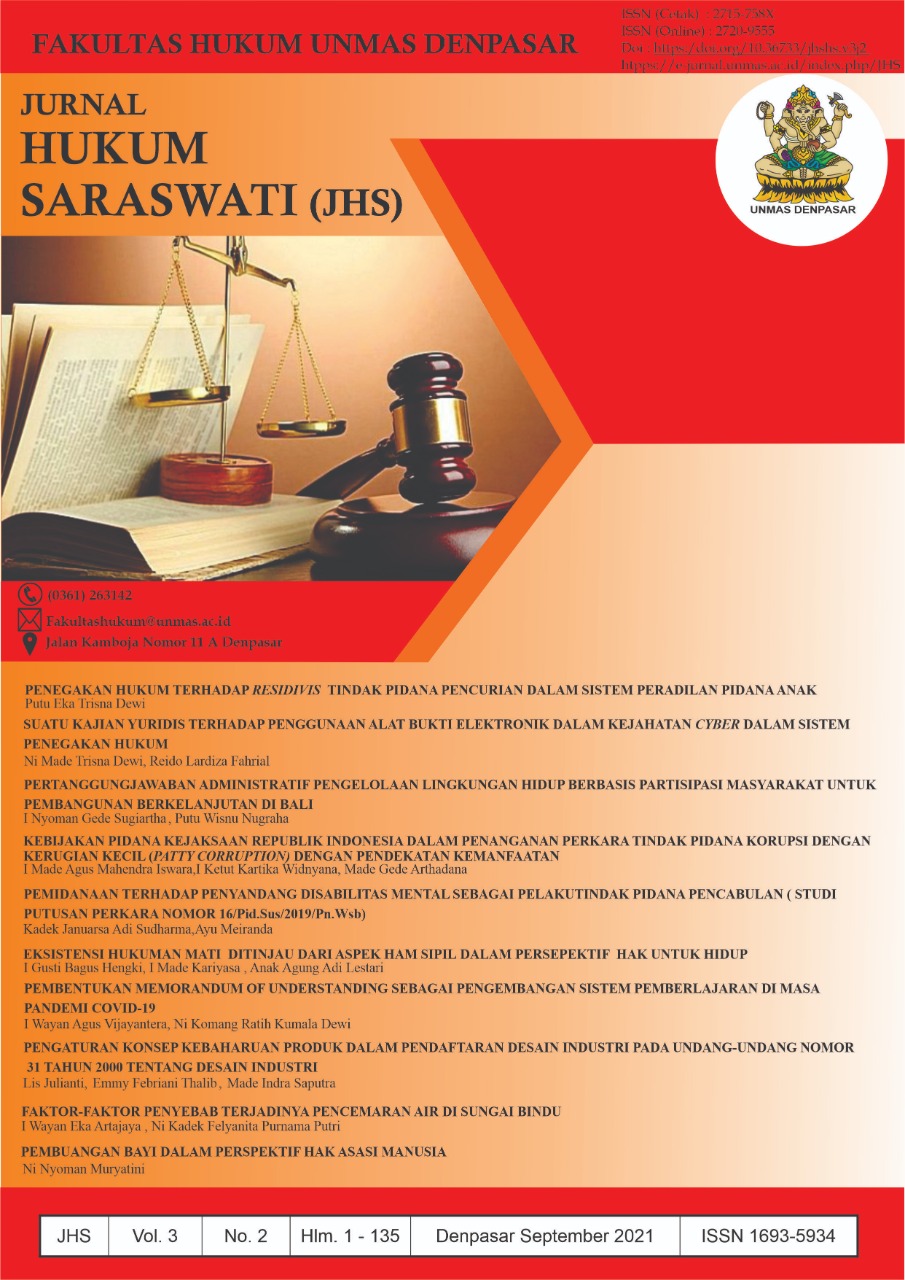 Downloads
How to Cite
I Wayan Agus Vijayantera, & Ni Komang Ratih Kumala Dewi. (2022). PEMBENTUKAN MEMORANDUM OF UNDERSTANDING SEBAGAI PENGEMBANGAN SISTEM PEMBELAJARAN DI MASA PANDEMI COVID-19. Jurnal Hukum Saraswati (JHS), 3(2). https://doi.org/10.36733/jhshs.v3i2.2959
License
Copyright notice
Authors who publish with this journal agree to the following terms:
Authors retain copyright and grant the journal right of first publication with the work simultaneously licensed under aCreative Commons Attribution License that allows others to share the work with an acknowledgement of the work's authorship and initial publication in this journal.
Authors are able to enter into separate, additional contractual arrangements for the non-exclusive distribution of the journal's published version of the work (e.g., post it to an institutional repository or publish it in a book), with an acknowledgement of its initial publication in this journal.
Authors are permitted and encouraged to post their work online (e.g., in institutional repositories or on their website) prior to and during the submission process, as it can lead to productive exchanges, as well as earlier and greater citation of published work (See The Effect of Open Access).