PENERAPAN MODEL PEMBELAJARAN JIGSAW ARONSON TERHADAP HASIL BELAJAR BIOLOGI PESERTA DIDIK
Flaviana Maria Mbambuk

Program Studi Pendidikan Biologi Fakultas Keguruan dan Ilmu Pendidikan Universitas Mahasaraswati Denpasar

Cornelius Sri Murdo Yuwono

Program Studi Pendidikan Biologi Fakultas Keguruan dan Ilmu Pendidikan Universitas Mahasaraswati Denpasar

Ni Wayan Ekayanti

Program Studi Pendidikan Biologi Fakultas Keguruan dan Ilmu Pendidikan Universitas Mahasaraswati Denpasar
Keywords:
Aronson Jigsaw, biology study result, posttest-pretest
Abstract
Current phenomena indicate that the biology learning process has used several types of existing learning models, but in the implementation it has not shown the students' activeness in optimizing their basic potential in understanding the concept of biology, as a result the students' absorptive power is still low so that students' biology learning outcomes are not optimal. The Aronson jigsaw cooperative learning model is a learning model that emphasizes active and responsible learning in the learning process. The main objective in this study was to improve the learning outcomes of biology students of class XI MIA SMA (SLUA) Saraswati 1 Denpasar academic year 2017/2018. The type of research used is preexperimental design. The study was conducted from April 4 to May 7 involving 45 students.
The data collected in this study in the form of qualitative data were collected using 30 objective test questions consisting of 4 aspects, namely understanding, applying, analyzing, and evaluating. Data were analyzed using descriptive statistical techniques and inferential data by using Kolmogrov-Smirnov Test statistics to test its normality, using Leven's statistics Test of Quality of Error Variance to test homogeneity and then using paired t test to test the learning hypothesis. The results of testing hypotheses using paired t-test known jigsaw type of cooperative learning model affects the results of student biology learning with the acquisition of sig values (p = 0.000 <0.05). Thus the conclusion of this study is the application of the Aronson type jigsaw cooperative learning model can improve student biology learning outcomes
Downloads
Download data is not yet available.
References
Adiwarsito. (2010). Model Pembelajaran Jigsaw. Tersedia pada Depdiknas.
_______. (2003). Pengajaran Berdasarkan Masalah. Departemen Pendidikan Nasional. Jakarta. Driana, E. (2013). Gawat Darurat Pendidikan Nasionalhttp://jsplife.wordpress.com/tag/timss diakses pada Jum'at, 5 Desember 2014.
Haryana. (2012). Penerapan Pembelajaran Kooperatif Metode Jigsaw pada Materi Perubahan Pencemaran Lingkungan untuk Meningkatkan Motivasi Dan Hasil Belajar Siswa. (PDF Dokumen). Universitas Sanata Dharma, Yogyakarta.
Kemendikbud. (2016). Peringkat dan Capaian PISA Indonesia. Diunduh dari http://puspendik.kemdikbud.go.id/seminar/upload/. Diakses tanggal 3 Mei 2018.
Partadjaja, T. R. & Sulastri, M. (2007). Penerapan Model Pembelajaran kooperatif Jigsaw untuk meningkatkan aktivitas dan penalaran mahasiswa pada mata kuliah ilmu budaya dasar. (PDF Dokumen). Diunduh dari www.askep.net/penerapan. Diakses tanggal 26 Februari 2018.
Puspendik. (2011). Instrumen Penilaian Hasil Belajar Matematika SMP:Belajar dari PISA danTIMMS. Jakarta: Puspendik, Balitbang Depdiknas.
Rahmawati. (2016). "Hasil Timss 2015 Diagnosa Hasil Untuk Perbaikan Mutu Dan Peningkatan Capaian. Diunduh dari http://www.puspendik.kemdikbud.go.id. Diakses tanggal 3 Mei 2018.
Suarsana. I. G. N. (2015). Penerapan Model Pembelajaran Kooperatif Jigsaw Untuk Meningkatkan Hasil Belajar Siswa Kelas X MM (MULTI MEDIA) dalam Mata Pelajaran Jaringan Dasar. e- Journal Jurnal JPTE, Vol 4 No 1 Tahun 2015.
Suparman, Wondal, dan Djamrud. (2014). Penerapan Model Pembelajaran Kooperatif Tipe JigsawUntuk Meningkatkan Aktivitas Dan Hasil Belajar IPA Pada Konsep Pencemaran Lingkungan. Jurnal ßIOêduKASI, 3 (1), 294-298.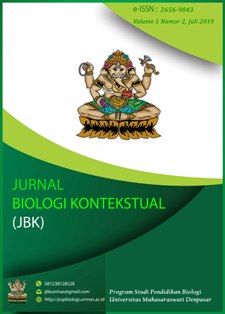 How to Cite
Mbambuk, F. M., Yuwono, C. S. M., & Ekayanti, N. W. (2019). PENERAPAN MODEL PEMBELAJARAN JIGSAW ARONSON TERHADAP HASIL BELAJAR BIOLOGI PESERTA DIDIK. Jurnal Biologi Konstektual (JBK), 1(2), 98-104. Retrieved from http://e-journal.unmas.ac.id/index.php/JBK/article/view/622