KOMPARASI KEPEDULIAN LINGKUNGAN TENTANG LANSKAP BUDAYA SUBAK ANTARA SISWA MADRASAH TSANAWIYAH DAN MADRASAH ALIYAH 45 GIANYAR
Muliawati

Program Studi Pendidikan Biologi, Fakultas Keguruan dan Ilmu Pendidikan, Universitas Mahasaraswati Denpasar

Dewa Ayu Puspawati

Program Studi Pendidikan Biologi Fakultas Keguruan dan Ilmu Pendidikan Universitas Mahasaraswati Denpasar

Sang Putu Kaler Surata

Program Studi Pendidikan Biologi Fakultas Keguruan dan Ilmu Pendidikan Universitas Mahasaraswati Denpasar
Keywords:
Compare, Environmental awareness, Subak cultural landscape, Islamic Junior High School (MTs), Islamic Senior High School (MA)
Abstract
So far, research on the subak cultural landscape has been carried out, but there are no studies that examine environmental concerns about the subak cultural landscape of students of Islamic Junior High School (MTs) and Islamic Senior High School (MA) 45 Gianyar. Madrasah are schools whose curriculum contains lessons about Islam. This research is a survey research conducted in March - May. The purpose of the study was to compare the environmental concerns of MTs and MA 45 students in Gianyar. The sampling technique uses purposive sampling method with a sample of 45 people (25 women and 20 men). The data collected in this study is quantitative data using questionnaires that have been tested for validity and reliability in their statements and questions using a Likert scale. Data were analyzed using descriptive statistical techniques in the form of frequency distribution tables and histograms, and inferential using the Mean Whitney U-Test test. The results of this study indicate that the level of education has a significant effect on the results of subak cultural landscape environmental care with the results (p = 0.05). The conclusion of this study is that there are differences in the results of environmental concern for the subak cultural landscape between MTs and 45 MA Gianyar students.
Downloads
Download data is not yet available.
References
Budiningsih, C.A. 2005. Belajar dan pembelajaran. Jakarta : PT Asdi Mahasatya
Dunlap, R.E., Van Liere, K.D., Mertig, A.G., & Jones, R.E. (2000). Measuring endorsement of the new ecological paradigm : a revised nep scale. Journal of social issues. 56(3), 425─442.
Jamilah. (2013). pengaruh penerapan model pembelajaran Quantum learning (QL) terhadap hasil belajar IPA biologi siswa. (skripsi tidak dipublikasikan). Universitas Mahasaraswati Denpasar, Denpasar.
Setiawati, D. (2013). Pemanfaatan Subak dalam Pembelajaran IPA (Upaya Mewujudkan Pembelajaran IPA yang Mendukung Implementasi Kurikulum 2013). [dokumen PDF]. Diunduh dari web site: http//ejournal undiksha.ac.id
Sugiyono. 2017. Metode penelitian kualitatif, kuantitatif, dan R&D. Cetakan ke-25. Bandung:Alfabeta
Sukrawan, I.K.B.A. Upaya Peningkatan Motivasi Belajar Dalam Pembelajaran Kooperatif Jigsaw Melalui Pemanfaatan Lingkungan Subak Dengan Media Papan Buletin Di SMA Amarawati Tampaksiring. (skripsi tidak dipublikasikan). Universitas Mahasaraswati Denpasar, Denpasar.
Surata, S.P.K. 2013. Lanskap budaya subak. Denpasar: Unmas Press
Surata, S.P.K. (2017). How do student teacher's beliefs change when the new ecological paradigm is grounded into a local context related to the Balinese subak landscape heritage?. International Journal of Environmental & Science Education. 12(3), 329─337. doi:10.12973/ijese.2017.01230a
Sya'ban, M.F. (2014). Kepedulian lingkungan dengan pembelajaran IPA terintegrasi kearifan lokal. Jurnal Inovasi Pendidikan Sains. 5(2), 82-86.
Yossinia. (2016). Kepedulian siswa dalam lingkungan sebagai outcome program adiwiyata di SMAN 4 Padang. (dokumen PDF). Diunduh dari : jim.stkip-pgri- sumbar.ac.id>download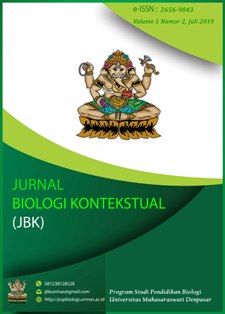 How to Cite
Muliawati, Puspawati, D. A., & Surata, S. P. K. (2019). KOMPARASI KEPEDULIAN LINGKUNGAN TENTANG LANSKAP BUDAYA SUBAK ANTARA SISWA MADRASAH TSANAWIYAH DAN MADRASAH ALIYAH 45 GIANYAR. Jurnal Biologi Konstektual (JBK), 1(2), 89-97. Retrieved from http://e-journal.unmas.ac.id/index.php/JBK/article/view/621