PENERAPAN MODEL PEMBELAJARAN KOOPERATIF TIPE STAD BERBASIS MEDIA MIND MAPPING TERHADAP MINATBELAJAR IPA PESERTA DIDIK
Agustinus Handi

Program Studi Pendidikan Biologi, Fakultas Keguruan dan Ilmu Pendidikan, Universitas Mahasaraswati Denpasar

Desak Nyoman Budiningsih

Program Studi Pendidikan Biologi, Fakultas Keguruan dan Ilmu Pendidikan, Universitas Mahasaraswati Denpasar

I Made Diarta

Program Studi Pendidikan Biologi, Fakultas Keguruan dan Ilmu Pendidikan, Universitas Mahasaraswati Denpasar
Keywords:
STAD, Mind Mapping, Interest Learning
Abstract
This research is based on the fact that students' learning interest is decreasing especially in science subjects. This incident is due to the learning done by the teacher still using the conventional learning method. This study aims to analyze the influence of the application of cooperative learning model of Student Teams Achievement Divisions (STAD) type based on mind mapping on the interest of learning science of learners. The type of this research is Quasi Experimental Design and the research design used is Nonequivalent Control Group Design implemented in SMP (SLUB) Saraswati 1 Denpasar which took place in February - May 2018. The data collected in this research is quantitative data by using questionnaire (questionnaire ) which consists of four aspects, namely, Attention (PH), Relevance (RL), Self-Confidence (PD), Satisfaction (KP) which has been tested its validity in the statement and petanyaannya using five Likert scales. Data were analyzed using descriptive technique done by using Gain score analysis while for hypothesis test using Mann Withney U Test. The results of this study indicate that the experimental class get the highest value on the satisfaction aspect (KP) with the value of 0.28 and the lowest value is on the relevance aspect (RL) get the value of 0.21, while in the control grade the highest value is on the attention aspect (PH ) obtained a value of 0.24 and the lowest value is on the aspect of confidence (PD) with a value of 0.11, obtained probability value (p) = 0,000 <0.05 significance level this shows there is a real difference between the control class and the experimental class so that it can be concluded that Ho is rejected and Ha accepted. So the application of STAD type cooperative learning model based on mind mapping media can increase interest in learning IPA learners.
Downloads
Download data is not yet available.
References
Djamarah, S. B. (2011). Psikologi Belajar. Jakarta: PT Rineka Cipta.
Hariyati, Jeni. (2012). Pengaruh Penerapan Metode Pembelajaran Kooperatif STAD (Student Teams Achievement Divisions) Melalui Peta Konsep Terhadap Hasil Belajar Biologi Siswa Semester Genap SMA Negeri 1 Petang Tahun Pelajaran 2011/2012 (Skripsi Tidak Dipublikasikan). Universitas Mahasaraswati, Denpasar
Rusman, (2010).Model-Model Pembelajaran: Mengembangkan Profesional Guru. Jakarta Press
Setyawan, H. (2008). Pengertian, kelebihan, dan kekurangn metode ceramah.Tersedia pada http://zonainfosemua.blogspot.com/2011/01/pengertian-kelebihan-dan-kekurangan.html. Diunduh pada tanggal 3 januari 2018
Slavin, E. (2008). Cooperative Learning: teori, riset, dan praktik. Bandung: Nusa Media.
Sugiyono, (2011).Statistik Untuk Penelitian. Bandung: Penerbit Alfabeta
Suparno, P. (2007). Metodologi pembelajaran fisika konstruktifisme dan menyenangkan. Yogyakarta: UniversitasSanata Dharma.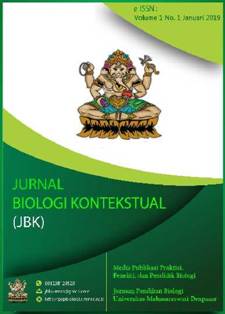 How to Cite
Handi, A., Budiningsih, D. N., & Diarta, I. M. (2019). PENERAPAN MODEL PEMBELAJARAN KOOPERATIF TIPE STAD BERBASIS MEDIA MIND MAPPING TERHADAP MINATBELAJAR IPA PESERTA DIDIK. Jurnal Biologi Konstektual (JBK), 1(1), 1-8. Retrieved from http://e-journal.unmas.ac.id/index.php/JBK/article/view/217