DOES KWL STRATEGY IMPROVE STUDENTS' READING COMPREHENSION DURING DISTANCE LEARNING?
Keywords:
KWL, Picture, Reading Comprehension
Abstract
Reading cannot be separated from comprehension. Students need to comprehend what they have read to get the information. This study aimed to determine whether the subjects' reading comprehension can be improved through the Know, Want to know, Learnt (KWL) strategy combined with pictures. The subjects were the eighth-grade students of SMP Dharma Wiweka Denpasar in the academic year 2021/2022, especially the students of the VIII H class which consisted of 36 students. Classroom action research is chosen as the design of the study. There were two cycles with two sessions in each cycle. Each cycle consists of initial reflection, planning, action, observation, and reflection. A questionnaire was also distributed to the students. Based on the result, the mean scores of pre-test, post-test 1, and post-test 2 were 51.31, 66.92, and 76.53. The result of the post-tests showed that there were significant improvements in subjects' reading comprehension. Moreover, the questionnaire result showed that the students responded positively to using the KWL strategy combined with pictures. Therefore, this study proved that reading comprehension could be improved through KWL Strategy combined with pictures.
Downloads
Download data is not yet available.
References
Apriliani, D. M. D., Pramerta, I. G. P. A., & Sawitri, N. L. P. D. (2021). Role of vocabulary mastery in students' reading comprehension. Jurnal Santiaji Pendidikan (JSP), 11(3). Available online: http://ejournal.unmas.ac.id/index.php/jsp/article/view/3091/2428
Ary, D., Jacobs, L. C., Sorensen, C., & Razavieh, A. (2010). Introduction to research in education (8th ed). USA: Wadsworth.
Burns, A. (2010). Doing action research in English language teaching a guide for practitioners. New York and London: Routledge.
Dewi, R. S., Hasanah, U., & Wahyudi, A. (2020). Reading interest and reading comprehension a correlational study in Syarif Hidayatullah State Islamic University, Jakarta. Available online: https://repository.uinjkt.ac.id/dspace/handle/123456789/50885
Ogle, D. M. (1986). KWL: A teaching model that develops active reading of expository text. The reading teacher, 39(6), 564-570. Available online: https://www.jstor.org/stable/20199156
Pustika, R. (2018). Considering Students' Reading Interest in Text-Selection to Foster Literacy in the English Classroom. ADJES (Ahmad Dahlan Journal of English Studies), 5(2), 69-77. Available online: http://download.garuda.kemdikbud.go.id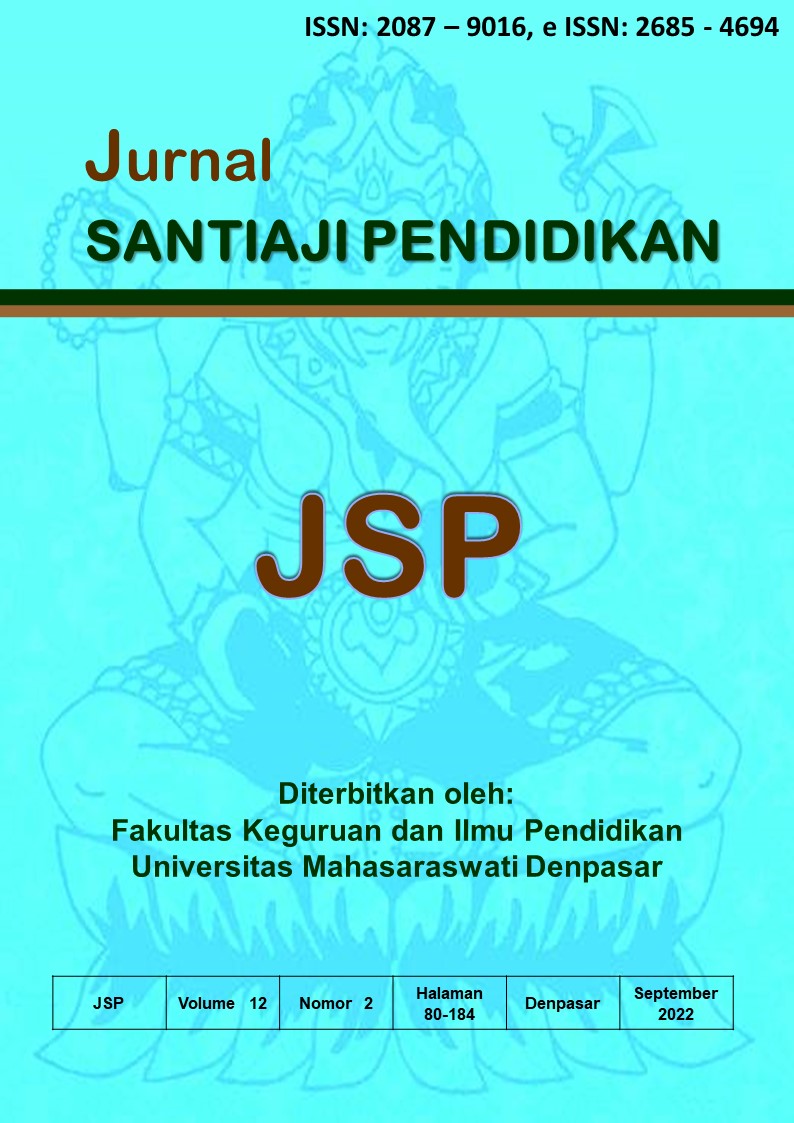 Downloads
License
Copyright (c) 2022 FKIP Unmas Denpasar
This work is licensed under a Creative Commons Attribution 4.0 International License.