GINGIVEKTOMI SEBAGAI TATALAKSANA GINGIVAL ENLARGEMENT PADA PASIEN PERAWATAN ORTHODONTIK CEKAT
Keywords:
gingival enlargement, gingivektomy, orthdontik appliances
Abstract
Gingival enlargement is an increase in gingival size which is a common feature of gingival disease. One of the treatment for gingival is gingivectomy. The purpose of deciding gingivectomy is to remove the gingival tissue which is a pocket wall to enhance visibility and accesbility for self cleaning. A 30 years old female patient presents gingiva that appear enlarged in the lower anterior region. The patient has a history of using fixed orthodontic appliances for 2 years. Gingival enlargement is in the right canine to the left canine. Gingivectomy has performed with conventional techniques using a scalpel. Two weeks control results showed satisfactory results where there was no enlargement of the gingiva. Orthodontic appliances are one of the factors that initiating gingival enlargement. Plaque increased can caused gingival enlargement. Increased pocket depth will cause plaque accumulation and this condition will continue to recur. The diagnosis of enforcement based on etiological decisions is very important in the gingival enlargement treatment requirements.
Downloads
Download data is not yet available.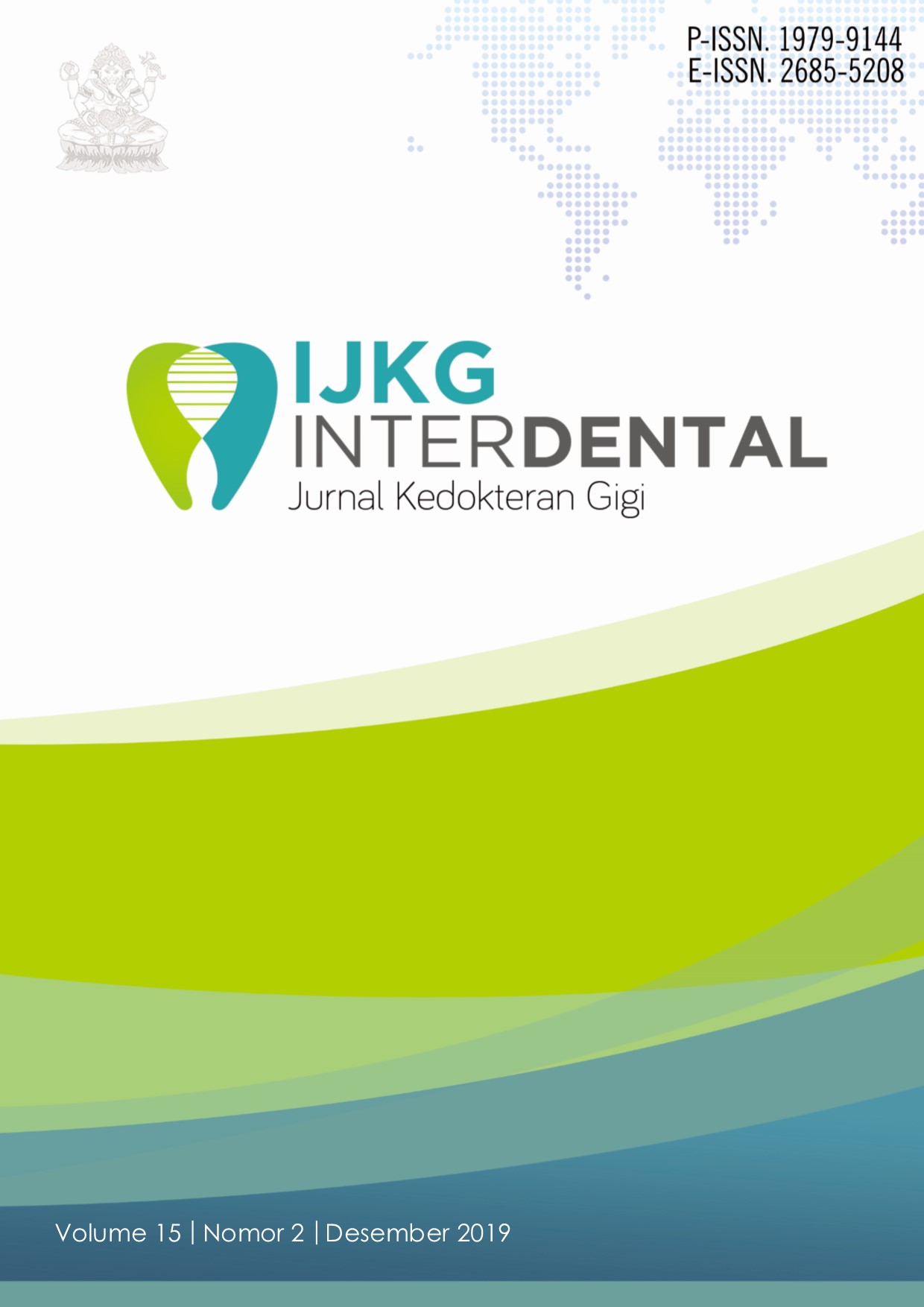 Downloads
How to Cite
Ramadhany, E. P. (2019). GINGIVEKTOMI SEBAGAI TATALAKSANA GINGIVAL ENLARGEMENT PADA PASIEN PERAWATAN ORTHODONTIK CEKAT. Interdental Jurnal Kedokteran Gigi (IJKG), 15(2). https://doi.org/10.46862/interdental.v15i2.597