CHRONIC PERICORONITIS MANAGEMENT WITH OPERCULECTOMY USING SCALPEL
TATALAKSANA PERIKORONITIS KRONIS DENGAN OPERKULEKTOMI MENGGUNAKAN SCALPEL
Keywords:
Pericoronitis , operculectomy, scalpel
Abstract
Introduction: Pericoronitis is defined as inflammation of the gingiva caused by infection of the soft tissue around a partially erupted tooth. Pericoronitis is caused by the accumulation of food debris under the operculum surrounding a partially erupted tooth, which provides a place for a wide variety of polymicrobial flora. The most common area for pericoronitis is the partially erupted lower third molar. According to the international classification, pericoronitis can be classified as acute and chronic. Case: A 23-year-old female patient came with complaints of pain in the lower left side. Clinical and radiographic examination showed 38 partially erupted teeth with vertical grade 1 A impaction. The operator decided to perform operculectomy on tooth 38. Case Treatment: The procedure was carried out under infiltration anesthesia with lidocaine HCl + epinephrine, the incision was made using a blade no.12 on the bleeding point that had been made previously, after excision of the operculum, the operating area was irrigated with saline solution and controlled bleeding with the application of a periodontal pack. Discussions: After one week of control, there was still redness and pain when palpated, then oxyfresh gel was applied. four week follow up shows, there was no redness, and pain when palpated. Wound healing after operculectomy looks good, no reccurent and inflammation sign and the patient has no complaints Conclusion and Suggestions: Operculectomy can be the main therapy in cases of pericoronitis with vertical IA and partial eruption.
Downloads
Download data is not yet available.
References
Wehr, C.; Gianncarlo, C.; Simon, Y.; Walid, D.G. An Insight into Acute Pericoronitis and the Need for an Evidence-Based Standard of Care. Dent. J. 2019.
Dhonge, R.P.; Zade, R.M.; Gopinath, V.; Amirisetty. An Insight into Pericoronitis.Int J dent Med Res. 2015. 171-175
Indrasari, S.D. Management of Pericoronitis of Newly-erupted Permanent Tooth using Electrosurgery-A Case Report. CDK. Vol.43. 2016.
Rao, S.; Rai, G.; Sinha, S.S.Comparison of Healing Process of Operculectomy With Laser and Surgical Knife- A Clinical Study. International Journal of Current Research.
Widagdo, A.K.; Herawati, D.; Syaify, A. Aplikasi Chlorine Dioxide Gel Pada Periodontitis Kronis Paska Kuretase. J Ked Gi. 2016; 6(2): 265-270
Balamurugan R. Naveen Benson, Comparison of Two Modalities: Opercuilectomy vs Third Molar Removal for Management of Pericoronitis. J Dent Res Prac. 2019;1(1):7-10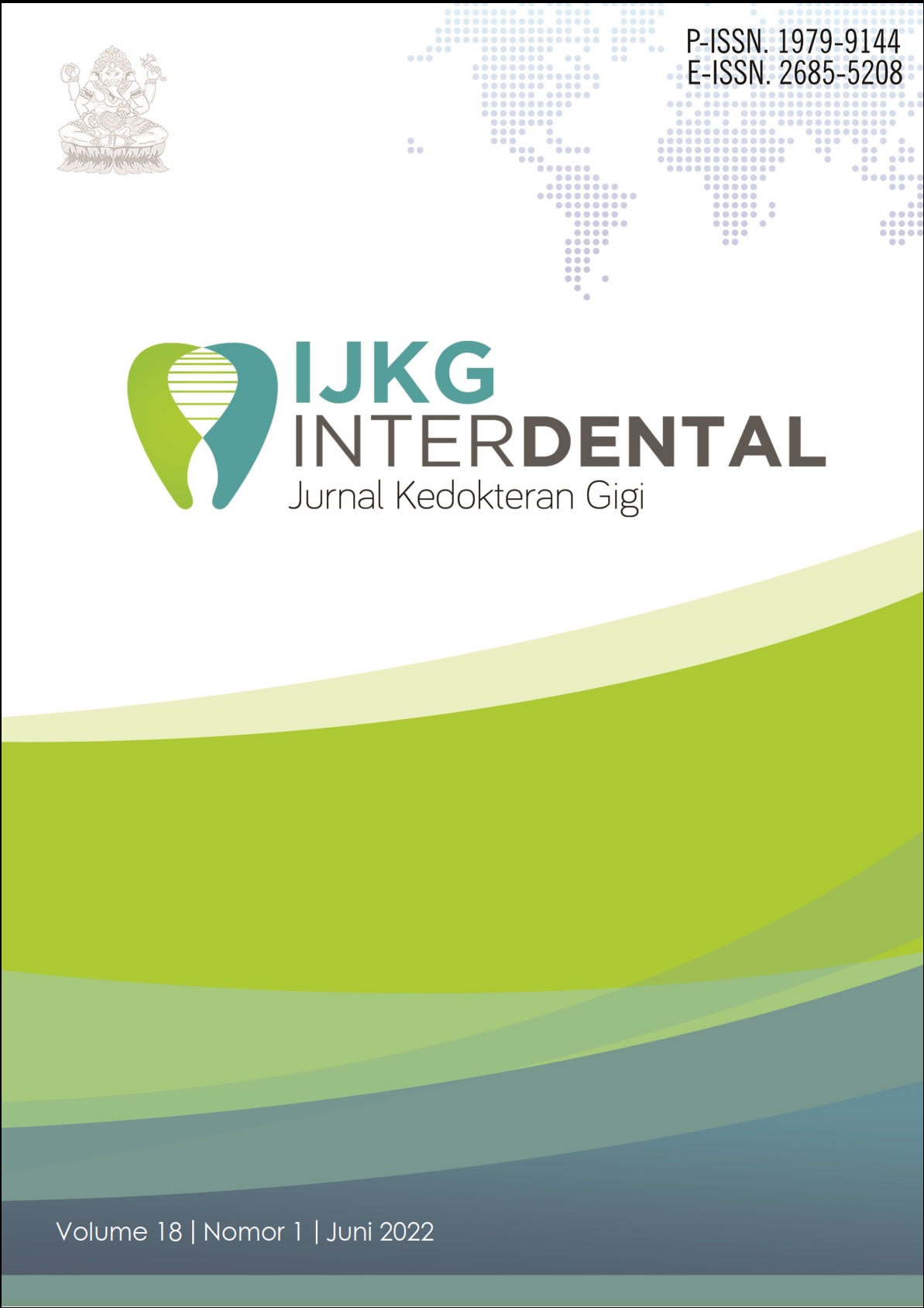 Downloads
How to Cite
Ramadhany, E. P., Adibah , M. S. ., Surya , P. F. ., & Syahrul, D. . (2022). CHRONIC PERICORONITIS MANAGEMENT WITH OPERCULECTOMY USING SCALPEL: TATALAKSANA PERIKORONITIS KRONIS DENGAN OPERKULEKTOMI MENGGUNAKAN SCALPEL. Interdental Jurnal Kedokteran Gigi (IJKG), 18(1), 1–6. https://doi.org/10.46862/interdental.v18i1.2965