HUBUNGAN TINGGI WAJAH BAWAH DENGAN LEBAR SENYUM PADA SUKU BALI DI FKG UNIVERSITAS MAHASARASWATI DENPASAR
Keywords:
smile, lower facial height, smile width
Abstract
Physical attractiveness plays an important role in how we see ourselves and how we are seen by others. Individuals mainly focus on the eyes and mouth of others during interpersonal interactions. An attractive smile will create good interpersonal relationships. A perfect smile is created when there is harmony and balance between the shape of the face and teeth. Measurement of the lower anterior facial height is one of the vertical evaluations that has a close relation to a person's aesthetics and to orthodontic treatment. The width of the smile is the distance between the outer commissures of the lips. The aim of the study was to determine whether there is or no correlation between lower facial height and smile width in the Balinese at FKG Mahasaraswati Denpasar University. This study was an observational analytic study with a cross sectional design using a sample of 50 Balinese subjects aged 18-25 years at FKG Mahasaraswati Denpasar University. The sample used in this study was taken by simple random sampling technique based on inclusion and exclusion criteria. Data collecting was done by direct measurement of the sample using calipers to measure the lower facial height and the width of the smile. The results showed a significant correlation between lower facial height and smile width with a significance value of 0.028 (p ≤0.05) and a correlation coefficient of 0.312 . A positive correlation indicates that the greater the lower facial height value, the greater the smile width value tends to be.
Downloads
Download data is not yet available.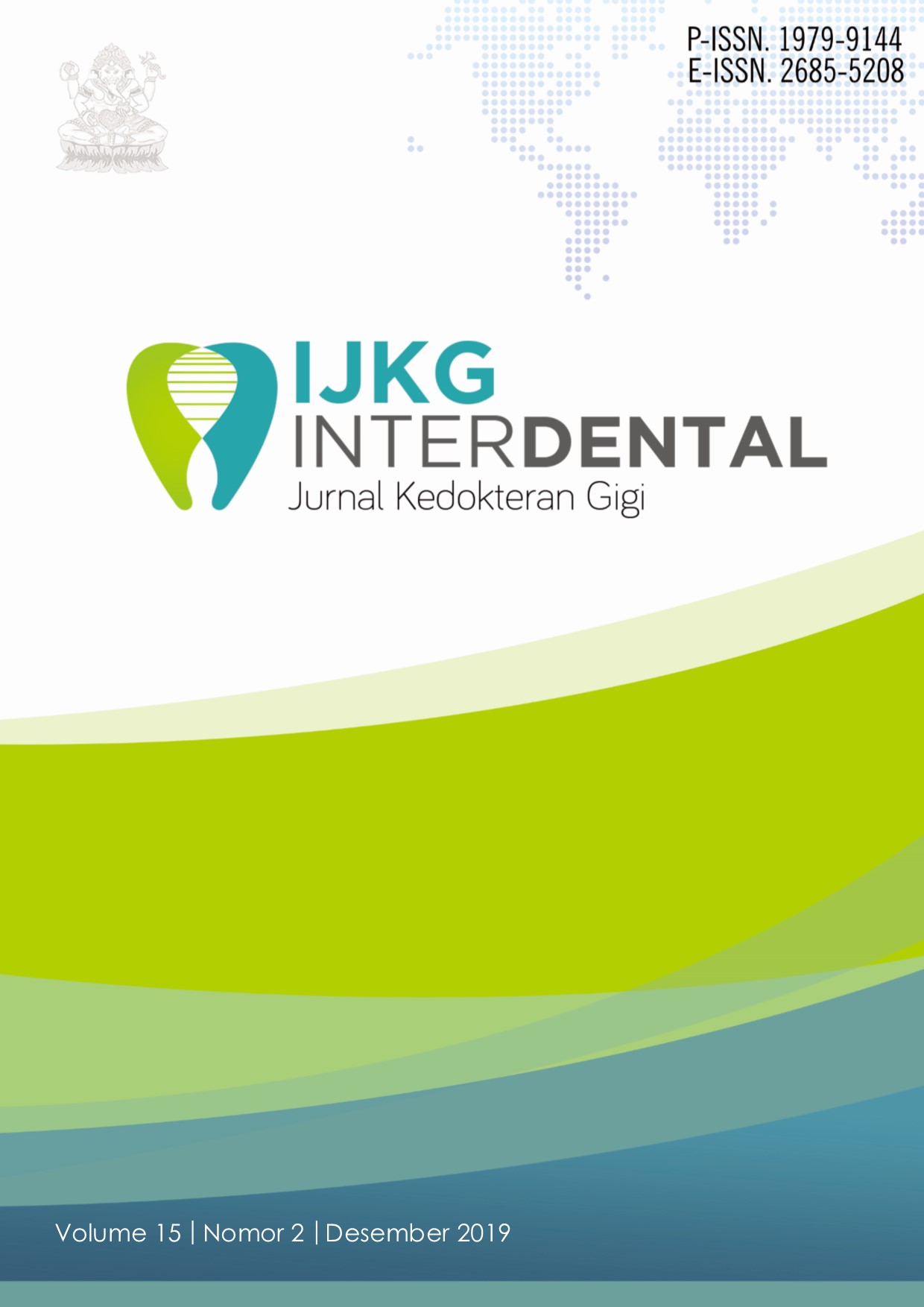 Downloads
How to Cite
Hidajah, N., Budijanana, I. D. G., Syahrul, D., & Himawan, R. A. (2019). HUBUNGAN TINGGI WAJAH BAWAH DENGAN LEBAR SENYUM PADA SUKU BALI DI FKG UNIVERSITAS MAHASARASWATI DENPASAR. Interdental Jurnal Kedokteran Gigi (IJKG), 15(2). https://doi.org/10.46862/interdental.v15i2.594