MEDIAN LINE IMMETRITY AT CENTRIC OCCLUSSION IN FKG UNMAS DENPASAR
KARAKTERISTIK KESIMETRISAN GARIS MEDIAN GIGI DENGAN GARIS MEDIAN WAJAH SAAT OKLUSI SENTRIS PADA MAHASISWA FKG UNMAS DENPASAR
Keywords:
Symmetry, Facial median line, Dental median line, Centric occlusion
Abstract
Introduction: Facial appearances especially teeth and face are some of the most important things in this era. The symmetry of the dental median line with the facial median line needs to be considered to create a balanced, harmonious, and attractive facial structure, especially when smiling. The position of the maxillary median line to the facial median line is an important factor in orthodontic diagnosis. This research aims to obtain the symmetry of the dental median line with the facial median line during centric occlusion in dentistry students of Mahasaraswati University of Denpasar. Materials and Methods: The type of this research is descriptive with a cross-sectional approach that involved 57 participants. Results and Discussions: The results of this research are the percentage of the students whose dental median line with a facial median line is symmetrical (≤1 mm) was 77% that obtained 44 participants, while the percentage of students who had a dental median line with a facial median line is not symmetrical (> 1 mm) were 23 % that obtained 13 participants with a shift of median line 2 mm in 7 participants, 3 mm in 5 participants, and 5 mm in 1 participant. Conclusion: Based on the results it can be concluded that the
dentistry students of Mahasaraswati University of Denpasar whose dental median line with their facial median line was symmetrical is more dominant than those who were not symmetrical.
Downloads
Download data is not yet available.
References
Walianto, S. Asimetri Dental dan Wajah. Interdental Jurnal Kedokteran Gigi. 2007; 5(2): 23-29.
Singh, A., Nagpal, A., Vats, R., Kaur, M., Kaur, B., Mahajan, M. The Relationship of Facial and Dental Midlines with Various Anatomic Landmarks of Face and Oral Cavity. Journal of Dentistry and Oral Hygiene. 2016; 34(2): 17-23.
Foster, T.D. Buku Ajar Ortodonsi. Jakarta: Penerbit Buku Kedokteran EGC; 1999.
Kokich, V.O., Kivak, H.A., Shapiro, P.A, Comparing the Perception of Dentist and Lay People to Altered Dental Esthetics. J Esthet Dent. 1999; 15(2): 34-40.
Ferreira, J.B., Silva, L.E., Caetano, M.T.O., Motta, A.F.J., Cury-Samarago, A.A, Mucha, J.N. Perception of Midline Deviation in Smile Esthetics by Layperson. Dental Press Journal of Orthodontics. 2016; 25(1): 34-39.
Silva, B.P., Jimenes-Castelanos, E., Martines-de-Fuentes, R., Fernandez, A.A.V., Chu S. Perception of Maxillary Dental Midline Shift in Asymmetric Faces. The International Journal of Esthetic Dentistry. 2015; 5(4): 21-30.
Chandra, B. Biostatisti untuk kedokteran & Kesehatan, editor Fema Solekhah Belawati, Jakarta: EGC; 2009.
Rahardjo, P. Ortodonti Dasar. Surabaya: Pusat Penerbitan dan Percetakan Unair. 2016.
Varma, M., Singh, G. Occlusion in Orthodontics. Textbook of Orthodontics. 2004; h.51-8.
Soares, G.P., Valentino, T.A., Lima, D.A.N.L., Paulilo, L.A.M.S., Silva, F.A.P., Lovadino, J.R. Esthetic Analysis of the Smile. Braz J Oral Sci. 2007; 6(21): 54-61.
Johnston, C.D., Burden, D.J., Stevenson, .R. The influence of dental to facial midline discrepancies on dental attractiveness ratings. European Journal of orthodontics. 1999.
Soegiono, R.P. Penggunaan Posisioner sebagai Perawatan Pendahuluan pada Kasus Pergeseran Garis Median disertai Asimetri Wajah. Fakultas Kedokteran Gigi Universitas Indonesia. 2000.
Lundstorm, A. Some Asymmetries of the Dental Arches, Jaws and Skull, and their Etiological Significance. American Journal of Orthodontics. 1961; 47(2): 81-106.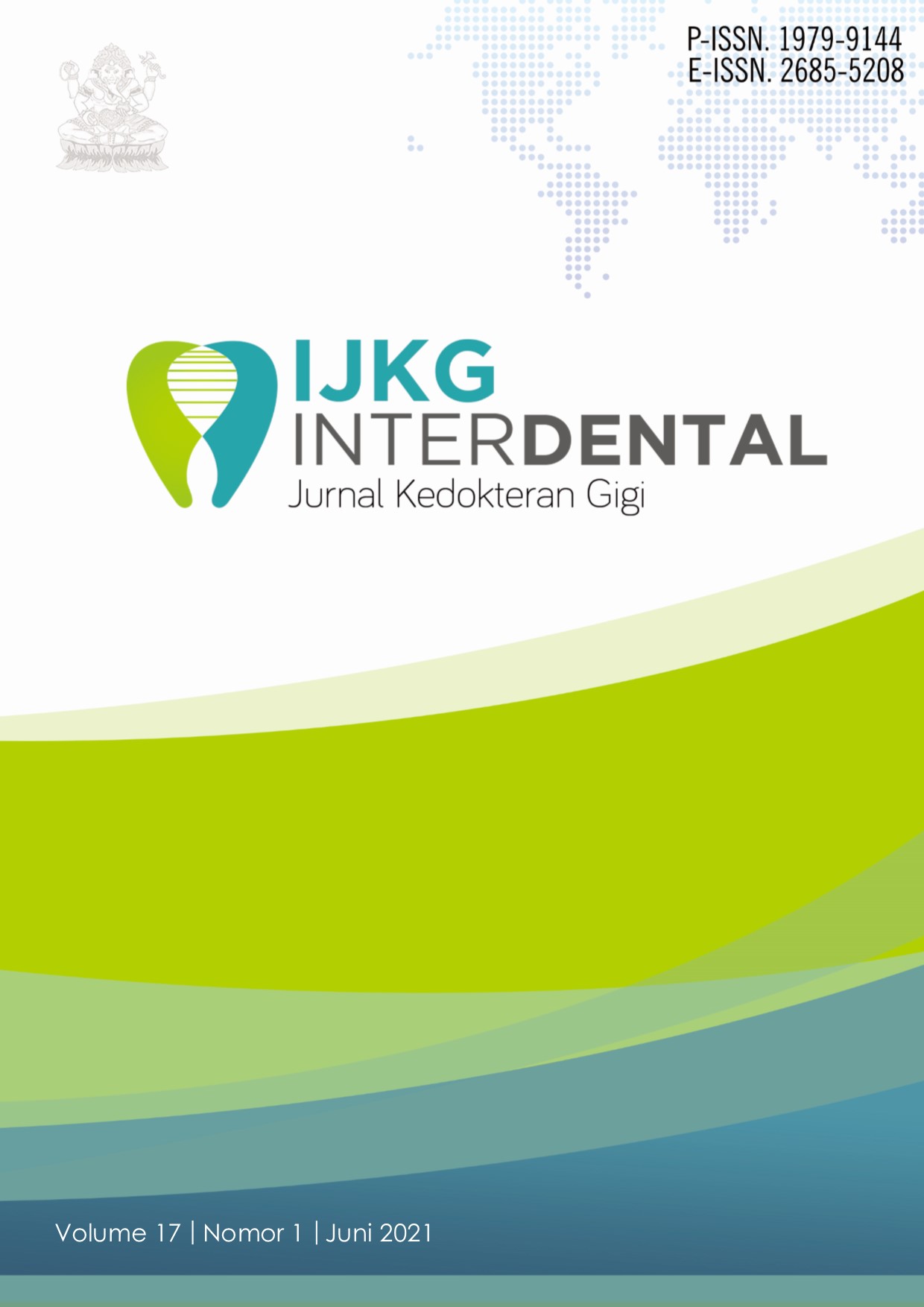 Downloads
How to Cite
Hidajah, N., & Ayu, K. V. (2022). MEDIAN LINE IMMETRITY AT CENTRIC OCCLUSSION IN FKG UNMAS DENPASAR : KARAKTERISTIK KESIMETRISAN GARIS MEDIAN GIGI DENGAN GARIS MEDIAN WAJAH SAAT OKLUSI SENTRIS PADA MAHASISWA FKG UNMAS DENPASAR. Interdental Jurnal Kedokteran Gigi (IJKG), 17(1), 15–21. https://doi.org/10.46862/interdental.v17i1.1260