EFEK INDUKSI LPS TERHADAP JUMLAH OSTEOBLAS PADA RESORPSI TULANG ALVEOLAR TIKUS PUTIH JANTAN (Rattus norvegicus) GALUR SPRAGUE DAWLEY
Keywords:
Osteoblast, alveolar bone resorption, LPS
Abstract
In recent years, a growing number of Indonesian people perform maintenance on the oral cavity including
periodontitis if not treated will cause alveolar bone resorption that would lead to bone fractures, tooth loss and the difficulty of post-orthodontic treatment. The main factors that cause periodontitis is bacterial plaque. The bacteria that most contribute to the onset periodontitis is Gram-negative bacteria that will release products including biologically active endotoxin or lipopolysaccharide (LPS) that causes inflammation and induce cellular events in periodontal tissues, especially in the alveolar bone. This stimulation becomes an induced activation function and activity of osteoclasts increased and decreased number of osteoblasts, which in turn will lead to the destruction of the alveolar bone inorganic minerals and alveolar bone resorption. Essential to these problems, the researcher wanted to know more about the decrease the number of osteoblasts in alveolar bone resorption in white male rats (Rattus norvegicus), Sprague Dawley strain induced by LPS. This study is a preliminary study using 6 white male rats Sprague Dawley strain were divided into two groups: control group (normal rats were not induced LPS) and the treatment group (induced by LPS) using Post Test Only Control Group Design. Results showed that the average number of osteoblasts in the treatment group (37 cells per five field of view) is lower than the control group (76 cells per five field of view). This preliminary study concluded that decreased the number of osteoblast in alveolar bone resorption in white male rats Sprague Dawley strain induced by LPS.
Downloads
Download data is not yet available.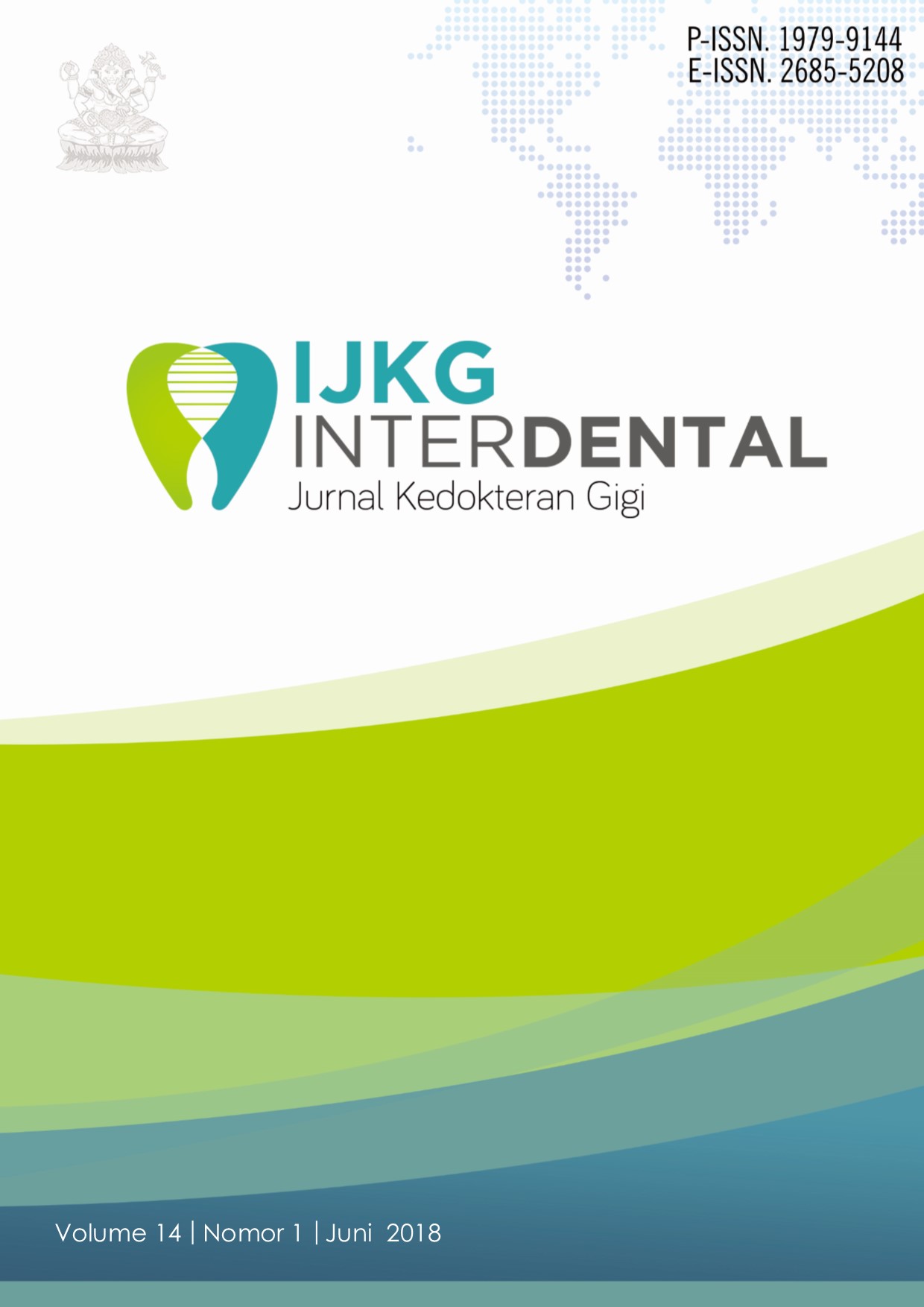 Downloads
How to Cite
Ayu, K. V. (2018). EFEK INDUKSI LPS TERHADAP JUMLAH OSTEOBLAS PADA RESORPSI TULANG ALVEOLAR TIKUS PUTIH JANTAN (Rattus norvegicus) GALUR SPRAGUE DAWLEY. Interdental Jurnal Kedokteran Gigi (IJKG), 14(1). https://doi.org/10.46862/interdental.v14i1.368